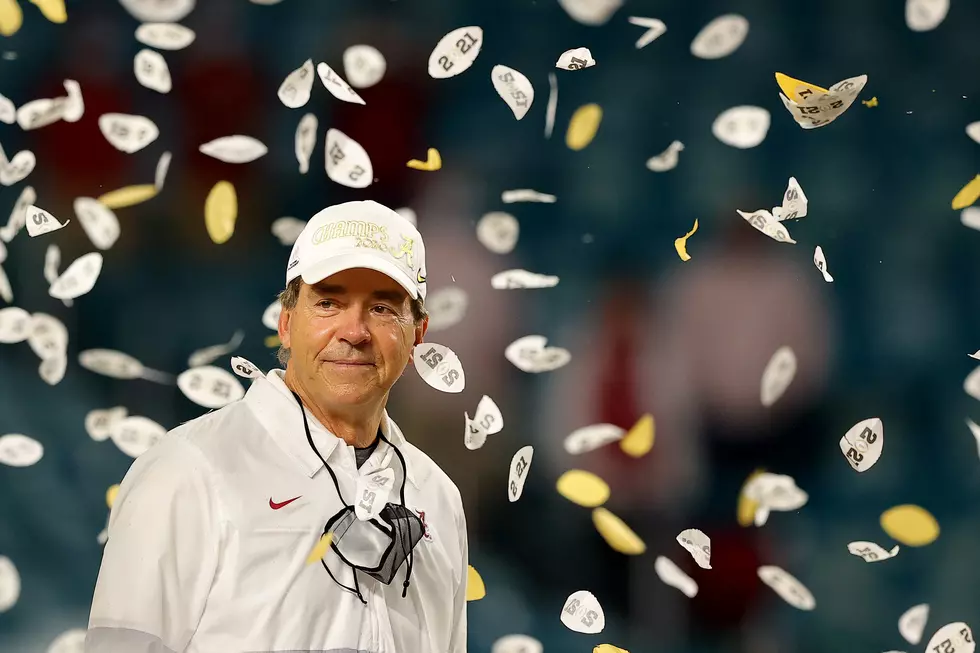 Harrison Mock 2.0: Bama Breaks the Record
Getty Images
Believe it or not, there is one thing Nick Saban hasn't done in 13 years with the Alabama Crimson Tide. With the 2021 NFL Draft quickly approaching, maybe this will be the year he gets it done.
It seems every year when NFL draft talk ramps up, Alabama is in a position to break the 17-year old record of the Miami Hurricanes when the NFL franchises selected six players from "The U." It's bound to happen eventually, and the 2021 NFL Draft is the next opportunity for the Crimson Tide to take a record befitting of the juggernaut program that rostered 69 professionals during the 2020 season.
The record lies in the selections of two players: center Landon Dickerson and running back Najee Harris. Dickerson is a first-round lock if not for injuries, including the ACL tea he is currently recovering from. Still, his name has appeared in the late first round of many mock drafts. As for the all-time leading rusher in Crimson Tide history, Harris will have to prove through the next month that teams should covet his abilities in the first round, a feat difficult to find among the running back position in recent years.
Most mocks will see five Crimson Tide players selected, but few see six, and even fewer see Alabama break Miami's 2004 record.
This mock is one of the few that finds seven Crimson Tide alumni in the first round. Alongside trades and intrigue in the other 25 picks, and with the bulk of NFL free agency sorted, here is my second mock draft of the 2021 season.
This mock draft was created using the mock simulator provided by Pro Football Network!
1. Jacksonville Jaguars - Trevor Lawrence, QB, Clemson
We're just waiting for the card to be turned in on draft night at this point. Trevor Lawrence is the future of the Jaguars, but he'll need help. From a certain point of view, hitting on the other first-round pick in 2021 could be more important to the short-term success of the Teal & Black.
2. New York Jets - Kyle Pitts, TE, Florida
The Jets haven't made a pick this exciting since taking Keyshawn Johnson first overall in 1996. The Jets have yet to make it clear if the team is rolling with Sam Darnold into the future, even with the signing of former Titan WR Corey Davis. I say stick with Darnold for now and load up the offense. If Darnold can't get it done, the next guy will have weapons.
As for Pitts, he's just too dynamic to pass up. The position is becoming more and more vital in modern offenses because of the mismatches great ones make in coverage. Kyle Pitts is the mismatch for New York that can create openings for other weapons in the offense.
Being drafted this high would make him the highest-drafted tight end in NFL history. Mike Ditka in 1961 and Riley Odoms in 1972 were both drafted 5th-overall for the record.
3. San Francisco 49ers (From MIA through HOU) - Zach Wilson, QB, BYU
TRADE: San Francisco trades its 12th, 43rd, and 2022 1st-round pick to the Miami Dolphins for the third overall pick.
Zach Wilson has been vocal in the past that he would feel at home in head coach Kyle Shanahan's offense, and I'm inclined to agree. Not only does Wilson have a much stronger arm than Jimmy Garoppolo, but he also carries a clean bill of health and a renewed excitement at the position. While that last point has nothing to do with his ability, it has a lot to do with the makeup of a team.
The 49ers need to feel confident in its quarterback if it is to return as a Super Bowl contender in the coming years. Drafting Wilson will go a long way in getting back to that status, and trading up is the only way to accomplish it.
4. Atlanta Falcons - Justin Fields, QB, Ohio State
Atlanta has the unfortunate situation of preparing for its future while the key players begin to wear into the twilights of their careers. The Falcons have such a roster, too, that no one would be particularly surprised to see as an 8-8 team in 2021 that locks the team out of starting its true rebuild on time.
To make a convoluted situation concise, the Falcons are a weird team.
Combat the weirdness by placing a direction for the future of the franchise by selecting Justin Fields.
5. Cincinnati Bengals - Penei Sewell, OT, Oregon
The Cincinnati Bengals have made some solid moves in free agency so far, including signing right tackle Riley Reiff. However, Reiff is a nine-year veteran and is but one man. The Bengals still have massive questions up front when it comes to protecting Joe Burrow when he returns from his knee injury.
Penei Sewell has been discussed as a better guard and right tackle prospect by those low on his value, and though his body structure will allow him to play across the line, the Bengals would have some serious decisions to make on the makeup of the starting five. Though one of these players will have to play somewhat out of position, the Bengals have filled in other pressing needs, leaving the option to take the draft's best lineman pressure-free.
6. Philadelphia Eagles - Ja'Marr Chase, WR, LSU
I'm not changing my stance on this one. Ja'Marr Chase fits what the Eagles need more than DeVonta Smith. That does not mean he's better than "Smitty." Nonetheless, with the speedy Jaelen Raegor being the first-round pick for the Eagles a year ago, Chase gives the offense more variety amongst its pass catchers for Jalen Hurts.
7. Detroit Lions - Jaylen Waddle, WR, Alabama
Detroit needs an explosion on its offense after losing the strong arm of Matthew Stafford and the playmaking ability of Kenny Golladay. As Alabama fans know, Waddle can score from anywhere on the field and that unpredictability goes a long way in making him the third pass-catcher off the board over DeVonta Smith.
This pick is inspired by the Las Vegas Raiders selecting Henry Ruggs III as the first wide receiver of the 2020 NFL Draft, despite most analysts believing him to be the third-best player at the position. The Raiders needed a guy who could put points on the board and make game-altering plays out of nowhere. That's Jaylen Waddle for the Lions.
8. Carolina Panthers - Trey Lance, QB, North Dakota St.
I like Trey Lance, but I still contend he needs to wait behind a veteran before taking over a team.
I like Teddy Bridgewater, but I am accepting the fact that his career is soon to take on a Ryan Fitzpatrick-style arc, without all the pizzaz.
Joe Brady will make an excellent first OC for Trey Lance and teach him how to utilize his strengths to attack defenses at the next level. And even should Brady find a head coaching gig sooner than later, Matt Rhule is the type of coach to continue with a Brady-style of offense that suits Lance in the long run.
Everyone wins here, including the Panthers front office who avoids a trade-up to grab its quarterback of the future, thus securing assets to build around him.
9. Denver Broncos - Patrick Surtain II, CB, Alabama
While I made this selection for the mock before the signing of Kyle Fuller, I was willing to stick with it because Fuller and Ronald Darby are savvy veterans who can continue to teach Patrick Surtain the NFL ropes and the Broncos can preserve Surtain for the future of the franchise.
Besides, Darby is more of a nickel corner, freeing up an outside position.
While this long-mocked selection may be a tad more unrealistic thanks to free agency, If the Broncos want to create a defensive backfield that can stand up to Patrick Mahomes and the Chiefs's offense, it may not be a bad route to go.
10. New England Patriots (From DAL) - DeVonta Smith, WR, Alabama
TRADE: New England trades its 15th, 96th, and 2022 2nd-round pick to the Dallas Cowboys for the 10th overall pick.
After watching the 2020 Heisman Trophy winner slip to the tenth pick, Bill Belichick makes an unusual move for the Patriots, trading up to take DeVonta Smith.
The Patriots realized after a quiet 2020 offseason that its team isn't the quick-reload firearm it once was. While New England stumbled into a 7-9 record, there's little doubt the team could have finished much worse. Now an unprecedented free agency sweep by Belichick has me with the feeling this franchise isn't in the mindset of rebuilding. Instead, the Patriots have made moves to get back to the promised land, and giving Cam Newton a receiving threat like DeVonta Smith may be just what the madman ordered.
Read More: DeVonta Smith Will Not Participate in Drills At Pro Day
11. New York Giants - Rashawn Slater, OT, Northwestern
12. Miami Dolphins (from NE) - Christian Darrisaw, OT, Virginia Tech
13. Los Angeles Chargers - Caleb Farley, CB, Virginia Tech
14. Washington Football Team (From MIN) - Mac Jones, QB, Alabama
TRADE: Washington trades its 19th, 74th, and 2022 2nd-round pick to the Minnesota Vikings for the 14th overall pick.
This was as far up as I could feasibly get the Washington Football Team to trade up without giving up the entire District of Columbia, so to speak. Washington needs a quarterback. Whether it's the newly signed Ryan Fitzpatrick, Kyle Allen or playoff star Tyler Heinike taking the reigns in 2021, none of these three are the long-term answer.
For all of those that don't believe in Mac Jones, this move actually works out because regardless of who the WFT keeps around, Jones doesn't have to touch the field as a rookie. While that is less than ideal for Washington after making the 2020 playoffs, prepping for the future is what the NFL Draft is all about.
For those that do believe in Jones, Washington is heading in the right direction under head coach Ron Rivera, bringing in weapons and preserving a defense that can keep the long-maligned franchise in the race for the NFC East. With a season under his belt and another offseason to stack the deck in his favor, Jones would be given ample opportunity when he does see the field to make good on those goat-ish comparisons.
Read More: Count Tagovailoa as the Latest to Compare Mac Jones to Tom Brady
Plus, Alabama fans have been waiting long enough for the starting quarterback of the NFL franchise in D.C. to be Alabama alumni.
15. Dallas Cowboys (From NE) - Jaycee Horn, CB, South Carolina
16.  Cleveland Browns (From ARZ) - Micah Parsons, LB, Penn State
TRADE: Cleveland trades its 26th, 91st, and 2022 2nd-round pick to the Arizona Cardinals for the 16th overall pick.
17. Las Vegas - Alijah Vera-Tucker, OT, USC
18. Miami Dolphins - Kadarius Toney, WR, Florida
19. Minnesota Vikings (From WAS) - Gregory Rousseau, EDGE, Miami
20. Chicago Bears - Teven Jenkins, OT, Oklahoma St.
21. Indianapolis Colts - Kwity Paye, EDGE, Michigan
22. Tennessee Titans - Azeez Ojulari, EDGE, Georgia
23. New York Jets (From SEA) - Jalen Mayfield, OT, Michigan
24. Buffalo Bills (From PIT) - Najee Harris, RB, Alabama
TRADE: Buffalo trades its 30th, 93rd, and 2022 3rd-round pick to the Pittsburgh Steelers for the 24th overall pick.
Buffalo's biggest need is running back, and Najee Harris fits the mold of what Sean McDermott wants out of his backs. It's a perfect pairing, and with the first round of the draft closing down, it makes sense for the Bills to move up a few spots to grab its guy.
25. Jacksonville Jaguars (From LAR) - Rashod Bateman, WR, Minnesota
26. Arizona Cardinals (From CLE) - Travis Etienne, RB, Clemson
27. Baltimore Ravens - Rondale Moore, WR, Purdue
28. DAL Trade (44, 99, & 2022 2nd for NO 28) - Christian Barmore, DL, Alabama
TRADE: Dallas trades its 44th, 99th, and 2022 2nd-round pick to the New Orleans Saints for the 28th overall pick.
Dallas has some quality collateral after trading back with New England and would be wise to spend it on guys in that can contribute to a playoff push immediately. Christian Barmore is scheme versatile and with a team like Dallas that likes to mix up its defensive front schemes, he seems like a great pick.
Jumping Green Bay, which was interested in hometown hero JJ Watt in free agency, makes sense too for the Cowboys.
29. Green Bay Packers - Pat Freiermuth, TE, Penn State
30. Pittsburgh Steelers (From BUF) - Landon Dickerson, C, Alabama
Pittsburgh needed the ammo to help restock the team thanks to a horrendous cap situation and fielding a team that will honestly look to compete. While the jury may be out on the latter of the team's goals ( and may just laugh out of the courtroom, to be honest,) there's no denying that effort number one is a direction the Steelers's front office should seriously entertain.
With the retirement of franchise legend, center Maurkice Pouncey, it only makes sense for the Steelers to rebuild the next iteration of its offensive line (and offense as a whole) around a guy with a great team mentality, grit and football intelligence in Landon Dickerson.
And for those keeping score at home, yes this pick breaks the 17-year record of the Miami Hurricanes for most draft picks in a single first round. Ironically, the lone remaining quarterback from the iconic 2004 NFL Draft, Ben Roethlisberger, would take snaps from the player selected to break the record.
31. Kansas City Chiefs - Dillon Radunz, OT, North Dakota St.
32. Tampa Bay Buccaneers - Zaven Collins, EDGE, Tulsa
Wanna check out a great mock draft before free agency turned the league upside down?
Read More: The Joe Will NFL Mock Draft 1.0
Harrison's Fantasy Draft: All Alabama 2021 Mock Draft
What if the 2021 Draft only consisted of the 69 current Alabama alumni in the NFL and the 12 prospects on their way to the next level? Let's take a look with a fantasy mock draft!