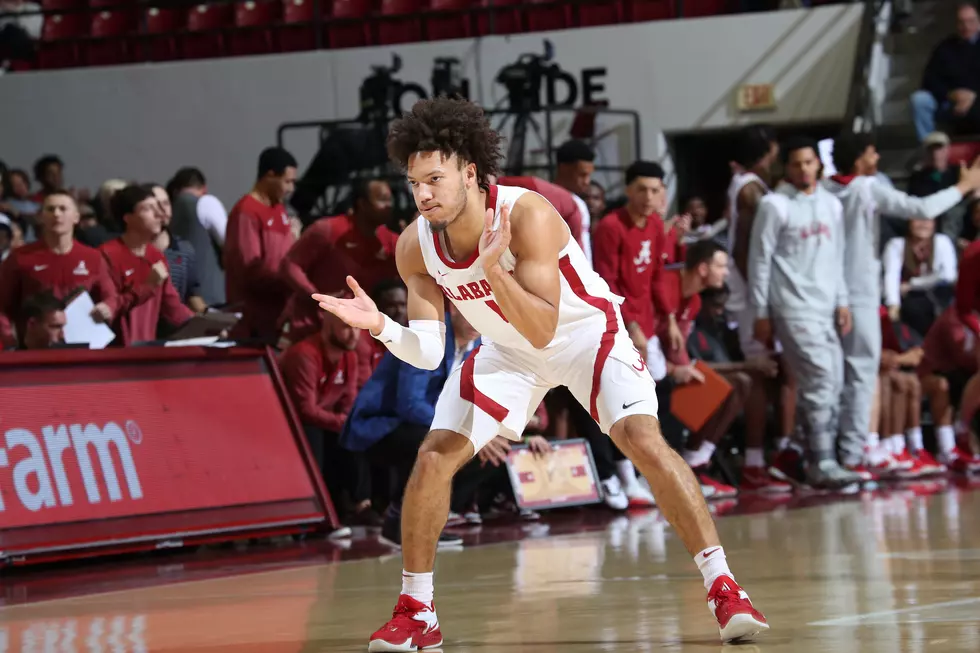 Mark Sears' First Half Explosion Helps Lift Crimson Tide to Victory
Photo Curtesy Alabama Men's Basketball via Twitter
The Alabama Crimson Tide hosted the Jacksonville State Gamecocks on Friday night in Coleman Coliseum. After a barrage of three pointers from both teams in the first half, the Crimson Tide pulled ahead to win the game by a final score of 104-62.
Mark Sears came out of the gate firing on all cylinders shooting 4-of-6 from three-point range and 6-of-8 overall to tally 16 total points in the first half. This led all scorers in the game at the break.
Sears finished the game with 18 points shooting, 4-of-10 from three-point range and 6-of-14 from the field. Sears added three assists, a block and a steal to lead the team in plus/minus with 36. The team had a stellar shooting performance overall from behind the arc hitting 21-of-56.
When asked about the style of basketball being played Nate Oats said, "I don't think this is the last time we will hit 20 (three-pointers) on the season."
When asked about his performance on the night Sears said, "we moved the ball a lot better and that allowed shooters to make their shots...and everyone was shining tonight." The Crimson Tide ended the game with a season-high 23 assists.
The junior transfer from Muscle Shoals, Ala. has been a standout for the Crimson Tide up to this point in the season, serving as the team's second leading scorer. Sears only trails Wooden Award watch list forward Brandon Miller in points scored.
Sears also praised the defensive effort the team has shown throughout the early part of the season and said the team is "thrilled" heading into the Phil Knight Invitational next week.
"We're very thrilled.. we've been one of the best defensive teams in the country, we've been rebounding the ball at a high rate, and to see our offense go well the way it did today, I feel like we're headed off on a good note headed into the tournament."
Sears was the second leading scorer in the Mid-American Conference (MAC) last year averaging 19.5 points per game for the Ohio Bobcats. As a member of the Crimson Tide, the transfer has found his place in the absence of Jahvon Quinerly who recently returned to the court after tearing his ACL in the NCAA Tournament last season.
Saraland vs. Hillcrest in Round 2 6A AHSAA Playoffs
Saraland defeated Hillcrest 56-31 in round two of the 6A AHSAA Playoffs.
ACA Falls at Home in Second Round of AHSAA Playoffs
Andalusia defeats American Christian Academy, 31-7, to move on the 4A playoffs.