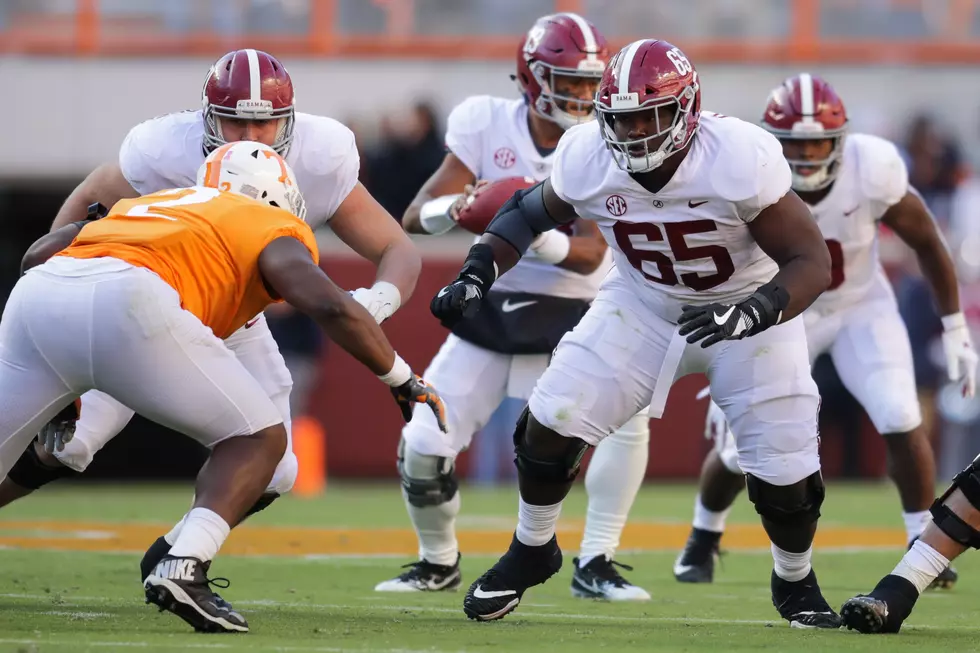 What Measurements Mean for Crimson Tide Senior Bowl Prospects
Photo Courtesy of @BleacherReport on Twitter
Football is a game of inches and the tape measure was putting the work in Tuesday morning at the Senior Bowl. Six of the seven Crimson Tide prospects weighed in for the NFL scouts.
While these numbers don't tell the whole story for an NFL prospect, it can be the difference in a round grade at the least.
For a fringe first-rounder like Alex Leatherwood, Tuesday's measurements could mean the difference in being selected in the first 32 picks or waiting until day two to hear his name called.
Leatherwood measured in at 6'5-1/8" tall, 312 pounds with a 85-3/8" wingspan, 34-3/8" arms and 9-1/2" hands. Most of those measurements do fall on the lower side of the spectrum for an ideal left tackle. The numbers don't mean Leatherwood can't play left tackle in the NFL, but they can hamper his chances at getting an opportunity to do it.
As for his teammate on the offensive line, Deonte Brown broke the scales. Brown weighed in at 364 pounds, standing 6'3-1/4" with 80-3/4" wingspan, 32-3/8" arms and 9-1/8" hands.
His height is excellent while his arm length is slightly shorter than preferred. As mesmerizing as a 364 pound guard can be, Brown has to prove he can get to his assignments quickly despite his gargantuan stature. That means pulling to block edge defenders, reaching to interior defenders in the trenches and taking on linebackers in the second level quickly as well as violently.
Also on the offensive line of the American team, Landon Dickerson weighed in despite his knee injury. Dickerson was finally announced as a member of the Carolina Panther coached American team Monday night on the official rosters sent to media personnel.
Read More: The Senior Bowl Rosters Are Set
Dickerson stand at an even 6'6", 326lbs with 81" wingspan, 32-1/2" arms and 10-3/8" hands. While his arm length is slightly lower than ideal, Dickerson will still make for a fine interior NFL lineman with these numbers. Some teams won't like a 6'6" center, but there's nothing here or on tape suggesting he couldn't move to guard if need be. Dickerson won't do much else outside of meeting with teams and going through interviews. Nonetheless, Tuesday morning was already a good day for number 69.
Unlike Dickerson, DeVonta Smith chose not to weigh in as he rehabs his hand injury.
Smith is listed as 6'1", 175lbs on the official roster of the 2002 Alabama Crimson Tide. If Chase Goodbread's measurements are accurate, Smith will be considered very undersized at the numbers. Winning a Heisman Trophy and leaving a four-year career with every record under the sun can change teams' opinions, but it's vital to Smith that it sway the right teams at the top of the draft. The expectation has not changed that Smith should still be a top-10 pick, regardless.
Enter your number to get our free mobile app
As for the lone member of the National team that will play Saturday, Najee Harris blew away the measurement game.
Harris has been called a mini-Derrick Henry throughout the Draft process and these numbers back up the nickname. Henry measurements at the NFL Combine: 6'3", 247lbs, 33" arms and 8-3/4" hands. Harris is 6"1-7/8", 230lbs with an 81" wingspan, 33-3/8" arms and 10" hands. Harris actually projects as more compact version of Henry with larger hands according to the tale of the tape alone.
Still, Harris wrecking the measuring tape was expected. What he does in practice the remainder of the week will be the biggest tell on how he'll fit into teams' plans in April.
As for the quarterback, Mac Jones is underwhelming in the measurement game.
Jones stands 6'2-5/8", 217lbs and 9-3/4" hands. Mac is still rather skinny to NFL standards, even with his famous dad-bod. However, the closer to 10" for a hand size, the better and Jones hitting right at 9-3/4" is a win for him.
---
The 2021 Senior Bowl can be seen on NFL Network Saturday, January 30 at 1:30 p.m. CST. The event is sold out due to COVID-19 protocols and restrictions. Tide 100.9 will be on location throughout the week, providing practice, game and press conference coverage.
2021 Alabama Crimson Tide Record Book