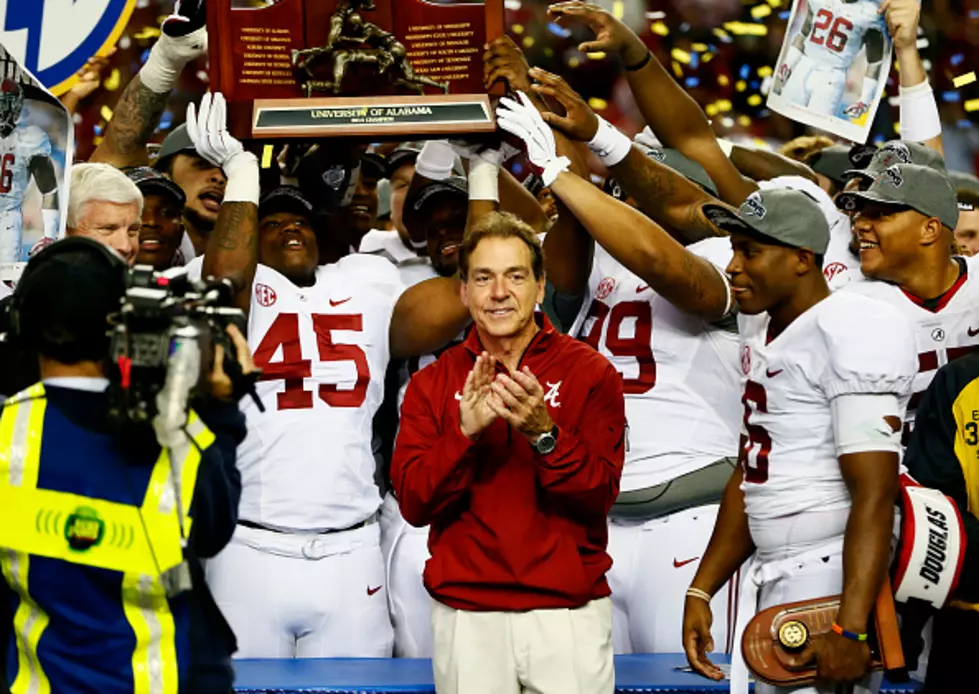 Alabama Hands Out Individual Awards at Annual Team Banquet
(Photo by Kevin C. Cox/Getty Images)
BIRMINGHAM -- On a weekend that included an SEC Championship and a berth in the inaugural College Football Playoff, Alabama had even more to celebrate Sunday night.
To recognize personal player achievements for the 2014 season, the Crimson Tide held its annual award banquet at the Cahaba Grand Conference Center.
Awards ranging from "Most Valuable Player" to "Unsung Hero" were presented at the ceremony. In all, the team handed out 17 different awards, some with multiple winners. Landon Collins, Amari Cooper, Jalston Fowler and Blake Sims were all selected as permanent team captains and will have their hands and feet cemented into the concrete surrounding Denny Chimes forever.
Following the awards session, Alabama coach Nick Saban spoke to a crowd that included players, coaches, school administration and support staff to recap the season and highlight the team's goals for the upcoming semifinal game at the Allstate Sugar Bowl in New Orleans on New Year's Day.
Here's the complete list of award winners as provided by UA Athletics:
To the player who has made significant contributions to the success of the team and received the least recognition for it
Jarrick Williams, Denzel Devall, Leon Brown, Kenyan Drake
Outstanding Senior Scholar
To the senior with the highest GPA
Nick Perry, Arie Kouandjio
Commitment to Academic Excellence Award
To the player who has demonstrated the greatest commitment and achievement in his academic endeavors during the previous year
Denzel Devall, Adam Griffith, Jonathan Allen, JK Scott, O.J. Howard, Geno Smith
To the player(s) who have shown the most dedication to the individual and team goals of the Crimson Tide's year-round strength and conditioning program
Ryan Anderson, Derrick Henry, Brandon Greene, D.J. Pettway
To the player who affects the whole team by his attitude as well as his performance (voted on by the players)
To a senior player whose character and contributions to the Alabama Football Team most personify the All-American youth of today and has reflected qualities of Integrity, Character, Importance of Academics and Inspirational Leadership during their time at Alabama
Brandon Ivory, Brian Vogler
Outstanding Defensive Performer
To the player with the most tackles/points
Landon Collins, Trey DePriest
To the outstanding lineman from each unit
Arie Kouandjio, Cam Robinson, A'Shawn Robinson, Jarran Reed
Defensive Achievement Award
To the player who has played a critical role in the effectiveness of this unit
Cyrus Jones, Reggie Ragland, Xzavier Dickson, Eddie Jackson
Offensive Achievement Award
To the player who has played a critical role in the effectiveness of this unit
Austin Shepherd, Derrick Henry, Amari Cooper, DeAndrew White
To a player from each unit who has shown perseverance in making outstanding contributions to the team's success
Ryan Kelly, T.J. Yeldon, Jalston Fowler, Blake Sims
Jefferson County Distinguished Alumnus Award
A former player who has exemplified the principles, values, character and attitude that make a person successful either during a particular life experience or over a period of time
Special Teams Player of the Year Award
To the most valuable special teams player
Christion Jones, JK Scott, Adam Griffith, Dillon Lee
Offensive Player of the Year Award
To the most valuable offensive player
Defensive Player of the Year Award
To the most valuable defensive player
Trey DePriest, Landon Collins
Most Valuable Player Award
To the overall most valuable player on the team (voted on by the players)
To the players elected by their teammates as permanent team captains (voted on by the players)
Landon Collins, Amari Cooper, Jalston Fowler, Blake Sims