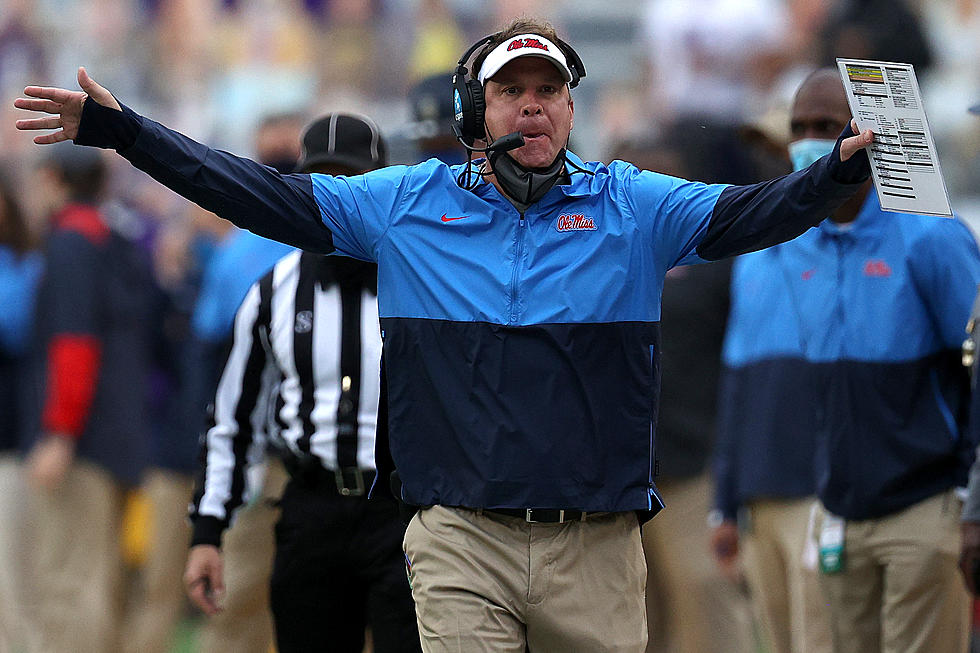 Lane Kiffin Ready to Challenge the Crimson Tide
Getty Images
Every college football Saturday from 2014-2016, a man in a white Alabama jacket paired with a visor walked along the sidelines with Nick Saban. That man was Lane Kiffin.
Kiffin was the offensive coordinator for the Crimson Tide during this time period. He helped shape players like Derrick Henry, Amari Cooper and Calvin Ridley into who they are today.
Kiffin helped the Tide win the 2015 National Championship and get to the 2016 National Championship.
Today, he is the head coach for the Ole Miss Rebels.
For the last decade, Ole Miss has taken a backseat in the SEC as they are no longer near the top.
However, this year is different.
The Rebels are currently 3-0 and have dominated every one of their games.
The secret weapon to their success is quarterback Matt Corral. Corral is beating Bryce Young in nearly every category as he is the current Heisman trophy front-runner.
Kiffin has been criticizing the Alabama football program two weeks ahead of their blockbuster matchup.
"They go to cherry-pick players for any holes they may have," Kiffin said. "Not only do they get the best draft picks but they get to go into free agency and take players, so it really is going to set up one of the most talented teams ever," he said.
For a coach who had such high praise by the university, Tide fans have really changed their impression of Lane Kiffin
Kiffin went on to say that he is ready to face whatever Saban puts in front of him.
On Oct. 2, No. 1 Alabama will host No. 13 Ole Miss at Bryant-Denny Stadium.
The 2021 Alabama Football Schedule in Photos
Photos from Alabama's Fall Practice on Monday, Aug. 16
The Alabama Crimson Tide took to the practice field on Monday to prepare for their season opener against No. 14 Miami in Atlanta.
The Definitive Ranking of Chicken Finger Baskets in Tuscaloosa, AL
Y'all ready for a deep-fried hot take? CLUCK YEAH! Meg Summers is ranking the best chicken finger baskets in the Druid City.