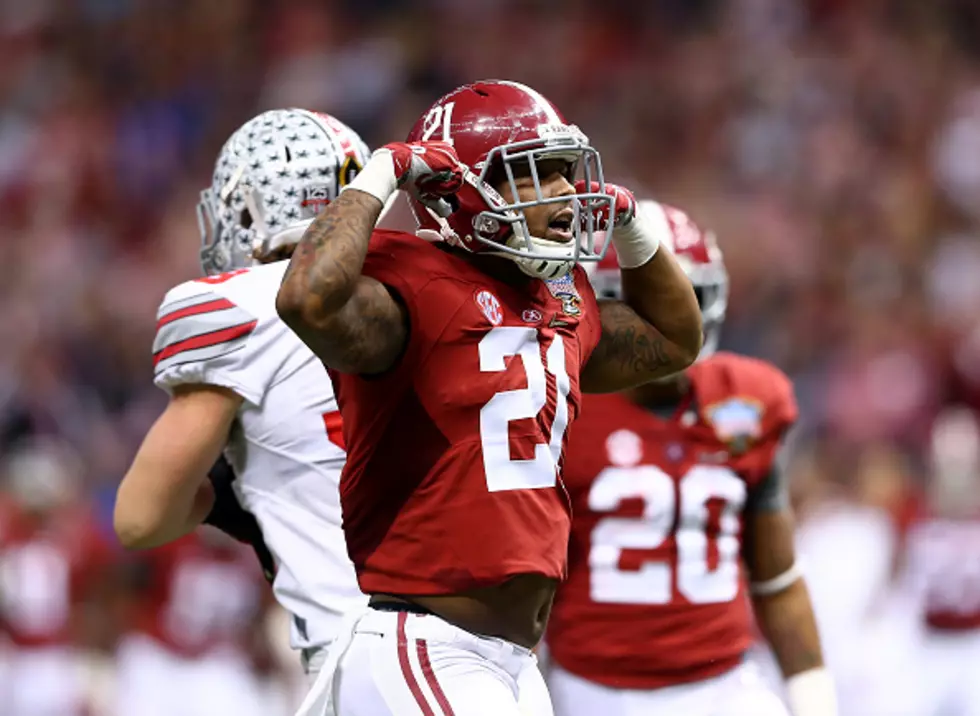 Maurice Smith Granted Conditional Waiver to SEC Transfer Bylaws
Getty Images
Maurice Smith, a former student-athlete at the University of Alabama, has received a conditional waiver to Southeastern Conference rules that will permit Smith to transfer to the University of Georgia to pursue a graduate degree while having the option to complete his final year of athletic eligibility in either 2016 or 2017, with provisions dependent on the achievement of Smith's stated academic objectives should he play in 2016.
"Graduate transfer rules were established with the intent to be grounded in the academic interests of the student-athlete," said SEC Commissioner Greg Sankey.  "This conditional waiver permits Maurice Smith to receive financial aid to pursue his stated academic goals at the school of his choice while connecting his athletic participation directly to those goals."
Georgia requested the SEC make an exception to two SEC bylaws for Smith, one that requires incoming transfers to have at least two years of eligibility remaining and the second that requires student-athletes that transfer from one SEC institution to another SEC institution to sit out a full academic year prior to competing.
"The standard for granting waivers has been clear and compelling evidence that there is reason for allowing an exception to SEC rules," Sankey said. "I found, among other contributing factors, that a student-athlete who graduates in three years and exhibits a strong commitment to his or her academic future provides compelling motivation to help them achieve their goals on and off the field.
"An institution has an obligation to provide opportunities for graduate student-athletes to earn a graduate degree.   Similarly, student-athletes have accountability to the universities that are providing the educational opportunities they enjoy.   Maurice has clearly and passionately stated his desire for a graduate degree in Public Health.  The conditions of the waiver allow him to achieve that goal and provide the institution with greater incentive to make his educational interests a priority."
The waiver grants Smith a graduate-student exemption to SEC Bylaw 14.1.15 (Two-Year Eligibility) which requires a student-athlete to have at least two years of eligibility remaining to be eligible to receive financial aid, practice and compete.  Based on the waiver, Smith will be allowed to receive financial aid and practice with the Georgia team immediately.  Smith is required to enroll in his stated degree program, the Master of Public Health graduate program, as a full-time student and must earn all possible Academic Progress Rate (APR) points for each term of his enrollment.  If the APR points are not earned, the university may not utilize the graduate-student exemption in football until after the 2019-20 academic year.
The waiver also grants provisional relief to SEC Bylaw 14.5.5.1 (Transferring within the Southeastern Conference) which governs intra-conference transfers.  The bylaw requires a student-athlete to spend one full academic year in residence at the institution to which he/she is transferring.  The conditions of the waiver state that Smith may play in 2017 as outlined by the bylaw, or he may play in 2016 contingent on completing at least nine credits of graduate level coursework in his degree program during the fall 2016 semester, and ultimately achieving his stated goal of earning a graduate degree in Public Health.
Should Smith play in 2016 and fail to complete nine hours of coursework, he will not be eligible for post-season competition.  Should he fail to graduate prior to the beginning of the 2018-19 academic year, Georgia would be precluded from requesting a waiver of either the two-year eligibility requirement or the intra-conference transfer rule for a graduate transfer in football until the beginning of the 2021-22 academic year (three years) or Smith's graduation from the graduate program, whichever comes first.
"Our SEC institutions adopted the intra-conference transfer rule in 2000 due to concerns that the transfer of current student-athletes within the conference would be viewed as unhealthy for student-athletes, the institutions and the conference alike, so this waiver is not granted lightly," Sankey said.  "The University of Alabama vigorously defended this SEC rule for good reason and has assisted this process in every way.   The current rule places our coaches and administrators in untenable situations so it is time for us to address graduate transfer rules.  An individual university does not possess the authority to activate that change, so adherence to these rules and the process by which exceptions are sought remain critical for every institution in the SEC."