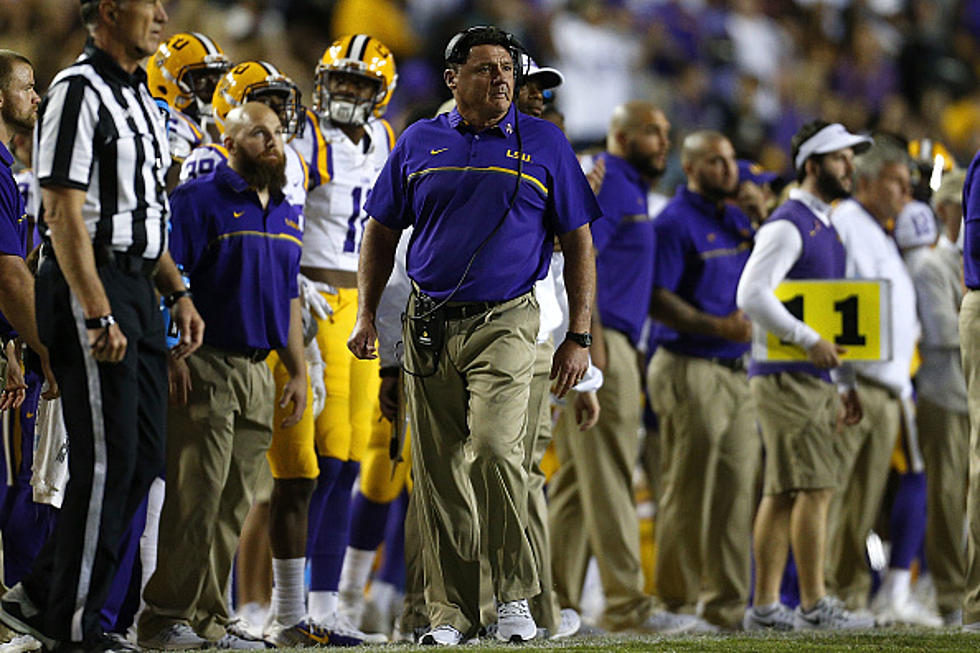 Staff Predictions for LSU vs Alabama
(Photo by Jonathan Bachman/Getty Images)
We're counting down the hours to the annual meeting between the Tide and Tigers. Alabama. LSU. Are you ready?
The Crimson Tide have won the past five meetings in the series, but the Bayou Bengals seem to have found some new life after firing longtime head coach Les Miles and promoting Ed Orgeron to interim head coach. But will it be enough to get past the boys from Tuscaloosa? Nick Saban and company come into this match-up as the consensus #1 team in college football, and many believe this could be the best team Saban has ever had.
So, who do our staff think will win this gargantuan SEC West game?
Martin Houston, Host of The Morning Blitz
It's finally here! The game that many pointed to at the beginning of the season! If there is a team that can rival the stockpile of talent in Tuscaloosa, it's LSU. Unfortunately, talent alone will not beat the Crimson Tide. The resurgent Tigers will make this game interesting early and Leonard Fournette and company will improve over last year's performance. However, the Orgeron effect will not be enough to secure the upset. Look for Alabama's offense to travel and the defense to be stout and force LSU QB Danny Etling into a few mistakes, one of which will lead to another defensive touchdown. Eddie Jackson's leadership will be missed, but look for Minkah Fitzpatrick and company to lead Alabama to a solid victory. Alabama 38, LSU 17
Wimp Sanderson, Co-Host of Inside the Locker Room
This will be the best defense Bama has seen this season.  Look for this to be a hard fought game that will not be decided to the end of the 4th quarter. Jalen Hurts will end up being the difference. Alabama 24 LSU 21
Barry Sanderson, Co-Host of Inside the Locker Room
I look for this to be the stiffest challenge for Alabama on both sides of the ball. Both teams will battle hard in the trenches but JK Scott will play a huge role with a great day punting. Bama will pull away late in the 4th quarter ironically with Jalen Hurts making big plays in the passing game. Alabama 27 LSU 17
Gary Harris, Host of The Gary Harris Show
Since Nick Saban arrived at Alabama, the Crimson Tide is 3-1 in Baton Rouge. All the games have been close though. Bama won in OT in 2008, lost a close one in 2010, won in the final seconds in 2012 and needed OT again in 2014. This game will be a tough one as well but the Tide will prevail in the end. Alabama 27, LSU 16
Travis Reier, Host of Southern Fried Sports
Riding the trend of recent games we've seen between these two in Baton Rouge. My grind than glamour. Ultimately, Alabama's ability to run the ball in a variety of way will trump LSU's running back-centric approach. Alabama 23, LSU 16
Aaron Suttles, Host of The Suttles Approach
The Tigers haven't allowed more than 21 points all season, and the last four trips to Baton Rouge have been difficult for the Tide. Expect another close one. Alabama 21, LSU 17
Ryan Fowler, Host of The Game
LSU is a better team, but they are not yet ready for the Crimson Tide. The 2016 rush defense is Nick Saban's best run stopping defense since he arrived at Alabama. Lane Kiffin calls a better game on the road than he does inside Bryant-Denny Stadium and Jalen Hurts has better QB rating on the road than he does inside Bryant-Denny Stadium. Alabama 34, LSU 17
Ben George, Digital Managing Editor
LSU was a popular pick in the preseason to win the SEC and now it seems like people are jumping back on board after three straight wins for interim head coach Ed Orgeron. Sure, the Tigers are a much better team with a healthy Leonard Fournette, but I'm still not seeing the balance needed to beat Alabama. Take away the Southern Miss win and quarter Danny Etling is still averaging fewer than 200 passing yards per game. Alabama should keep its undefeated season alive with its sixth straight win over LSU. Alabama 27, LSU 10
James Hardy, Producer
Historically, Alabama has paid as much if not more property taxes on LSU's Tiger Stadium as they have on Tennessee's Neyland Stadium. While Ed Orgeron will have his troops emotionally up for the game, Alabama's composure led by true freshman signal caller Jalen Hurts catapults the Tide to victory. Alabama 28, LSU 17
Ryan McMunn, Producer
Nick Saban and Alabama have defeated the Bayou Bengals five straight times, so LSU will be looking to end this string consecutive losses this Saturday in Death Valley. Ed Orgeron has this team flirting with the College Football Playoff Top 10, but without the play of a solid quarterback, they've about reached their ceiling as a team. Leonard Fournette is the best running back since Adrian Peterson, but they'll need more than that to take down an extremely explosive Alabama offense and a defense that could very well be Nick Saban's best ever. The Crimson Tide will prove indubitably that they are the best team in college football on a roudy Louisiana Saturday night. Alabama 31, LSU 14