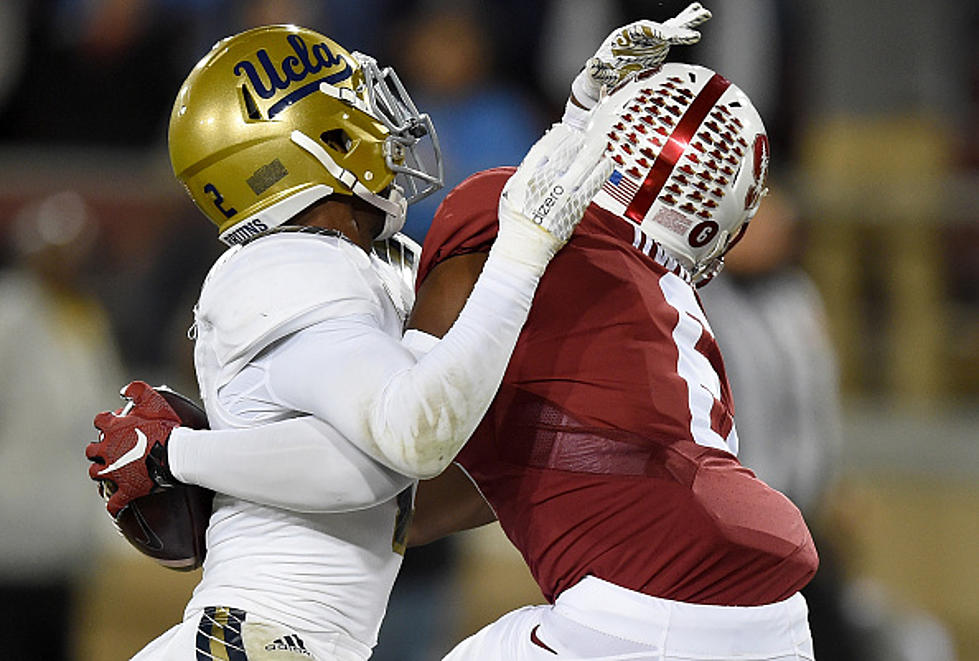 Stanford WR Makes Amazing TD Catch Reminiscent of Tyrone Prothro [VIDEO]
(Photo by Thearon W. Henderson/Getty Images)
Alabama fans have definitely seen a catch like this before.
During Thursday night's Stanford-UCLA game, Cardinal wide receiver Francis Owusu pulled in likely the catch of the year in college football, reaching around and pinning the ball on the back of Bruins defensive back Jaleel Wadood for an incredible 41-yard touchdown.
Only moments after the play occurred, ESPN announcers Joe Tessitore, David Pollack and Jesse Palmer were already comparing it to a similar catch made by former Alabama receiver Tyrone Prothro in 2005 against Southern Miss.
Like Owusu, Prothro's once-in-a-lifetime catch happened with the help of the defender's back. Oddly enough, both receptions were almost identical in length, too. (Owusu's catch went for 41 yards, while Prothro's was 42 yards.)
The biggest difference between the two catches, though, is that Prothro caught the ball with his own back facing the quarterback, while Owusu appears to have a better look at the pass as it was coming.
Prothro, who was initially awarded a touchdown for his catch, was marked down at the 1-yard line after review. Still, he won an ESPY for Best Play for his efforts, beating out Philadelphia Phillies outfielder Aaron Rowand, Chicago Bears cornerback Nathan Vasher, USC running back Reggie Bush and New York Mets third baseman David Wright.
No. 15 Stanford ultimately beat No. 18 UCLA, 56-35, in Palo Alto, California.
The Crimson Tide came back to beat the Golden Eagles, 30-21, during Prothro's game in 2005.
Prothro took to Twitter Friday morning to provide his thoughts on Owusu's catch: