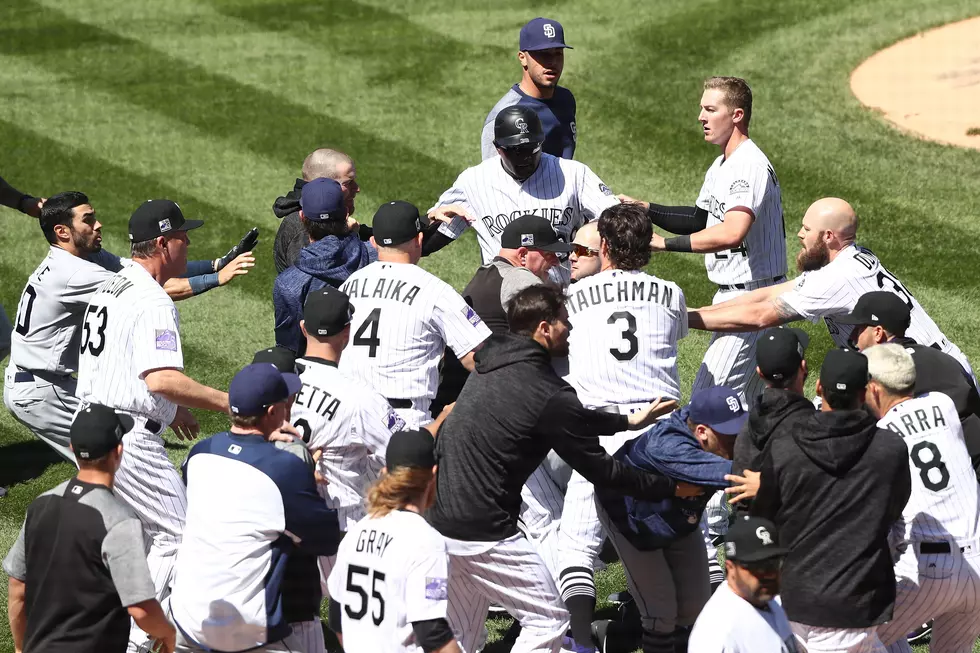 VIDEO: Arenado Charges Mound, Swings Away, Rockies and Padres Brawl
Getty Images
Colorado Rockies star Nolan Arenado charged the mound after a fastball from San Diego starter Luis Perdomo sailed behind him, setting off a wild brawl that resulted in five ejections during a testy series at Coors Field.
Perdomo tossed his glove at a furious Arenado, and the big-hitting third baseman started throwing punches at the pitcher in the third inning Wednesday. The benches cleared and relievers ran in from the bullpen. Arenado yelled at Padres catcher A.J. Ellis and had to be held back, with San Diego bench coach Mark McGwire helping keep them separated.
The night before, Rockies reliever Scott Oberg hit San Diego center fielder Manuel Margot in the ribs. Margot was placed on the 10-day disabled list on Wednesday.
That carried over to Wednesday when Rockies shortstop Trevor Story was hit in the first inning and Padres right fielder Hunter Renfroe was plunked in the second.
The umpires met for several minutes before ejecting Perdomo, Ellis, Arenado, Rockies pitcher German Marquez and Colorado outfielder Gerardo Parra.