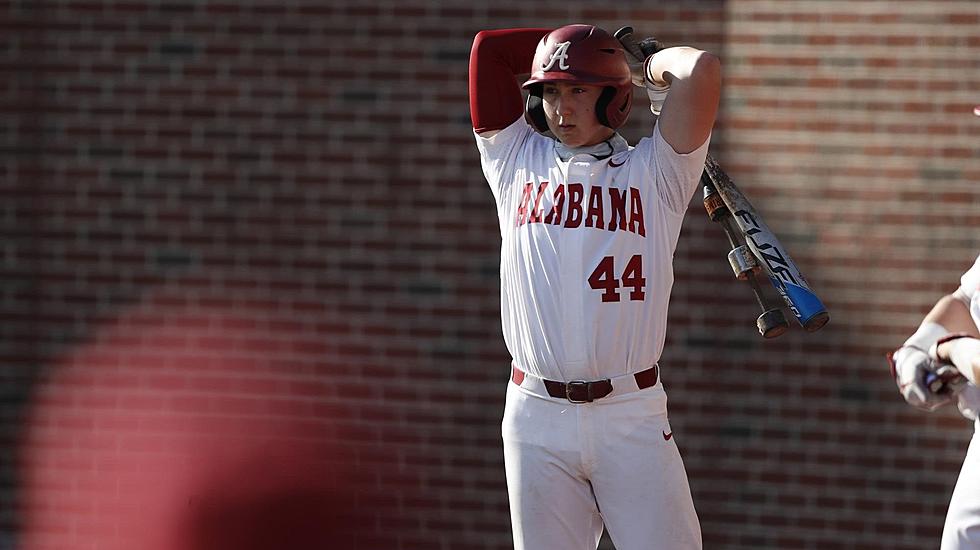 Alabama Baseball Falls to UT Martin 7-6 on Tuesday
Alabama Athletic / Crimson Tide Photos
Alabama Baseball was defeated by UT Martin by a score of 7-6 on Tuesday afternoon at Sewell-Thomas Stadium.
After a scoreless and hitless first two innings, Coach Brad Bohannon decided to pull freshman Hagan Banks in favor of senior Hunter Ruth. Ruth immediately ran into some trouble, walking the first two batters of the inning. The Skyhawks proceeded to take a 2-0 lead via a double from Reid Halfacre and a sacrifice fly.
"Hagan was a little dinged up in the preseason so he was behind getting started. He's pitched great both times he's been out there, and he's somebody we're excited about, but he's just not in shape to go any deeper yet," Bohannon said of his decision to pull Banks before he gave up a hit.
The Tide immediately got a run back in the bottom half of the third, with sophomore outfielder Andrew Pinckney destroying a leadoff home run to center field to make the score 2-1.
A stalemate occurred for the following two innings until the bottom half of the fifth, where the Tide got two across through a Jim Jarvis sacrifice fly and a Drew Williamson single to take the lead.
The lead did not last long however, with Brayden Gainey allowing back-to-back solo homers in the top of the sixth to surrender the lead back to UT Martin. The Skyhawks hit another solo shot off Braylon Myers in the seventh to take a 5-3 lead.
Myers was removed after just two hitters, allowing the home run and another hard-hit single, in favor of sophomore Hunter Furtado, who secured an immediate double play and fly out to end the inning.
In a dramatic bottom half of the seventh inning, moments after Drew Williamson was hit by a pitch, Zane Denton blasted a shot to right field to tie the score at 5-5.
In the bottom of the eighth, Alabama had a chance to take the lead after a Tommy Seidl leadoff single, followed by a Caden Rose single where Seidl was thrown out trying to get to third base. After back to back groundouts, the game moved to the ninth tied at 5.
In the top half of the ninth, Hunter Furtado, who ended up credited with the loss (3.0 IP, 2 H, 2 ER, 5 K), walked the first batter then proceeded to allow a home run to sophomore catcher Cameron Brady, making the score 7-5.
The Tide was able to score one run in the bottom of the ninth, but the rally would fall short and the final score was 7-6. Alabama is back at the Joe tomorrow afternoon against Troy at 3 p.m.
Alabama Crimson Tide Baseball Strikeouts Leaderboard
Look back on Alabama's top 10 strikeout artists in program history.
Alabama Baseball's Career Batting Average Leaders