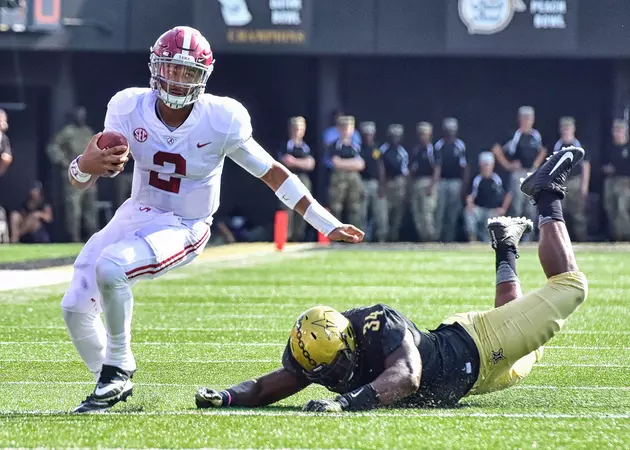 Alabama Football's Jalen Hurts Named Davey O'Brien Award Semifinalist
Getty Images
Alabama sophomore quarterback Jalen Hurts has been named a semifinalist for the 2017 Davey O'Brien Award, the Davey O'Brien Foundation announced Tuesday.
Hurts is among 16 quarterbacks from around the country named to the semifinalist list. The appearance among the semifinalists is the second of Hurts' career. He was also a candidate for the award as a freshman in 2016.
The Houston, Texas, native already ranks among the top quarterbacks in Alabama history just 24 games into his career with the Tide. Hurts is the school record-holder in quarterback rushing touchdowns (20) and ranks No. 2 in quarterback career rushing (1,570 yards), third in career touchdown responsibility (53), sixth in career total offense (5,756 yards), seventh in career touchdown passes (33) and 10th overall in career passing yards (4,186) for his career. This season Hurts has completed 106 of 175 passes for 1,406 yards and 10 touchdowns with just one interception. He is also the Tide's second-leading rusher with 616 yards and seven touchdowns on 98 carries.
The Davey O'Brien Award has been presented annually to the nation's top quarterback since 1981. The winner of the 2017 award will be announced at the ESPN College Football Awards in Atlanta, Ga., in December.