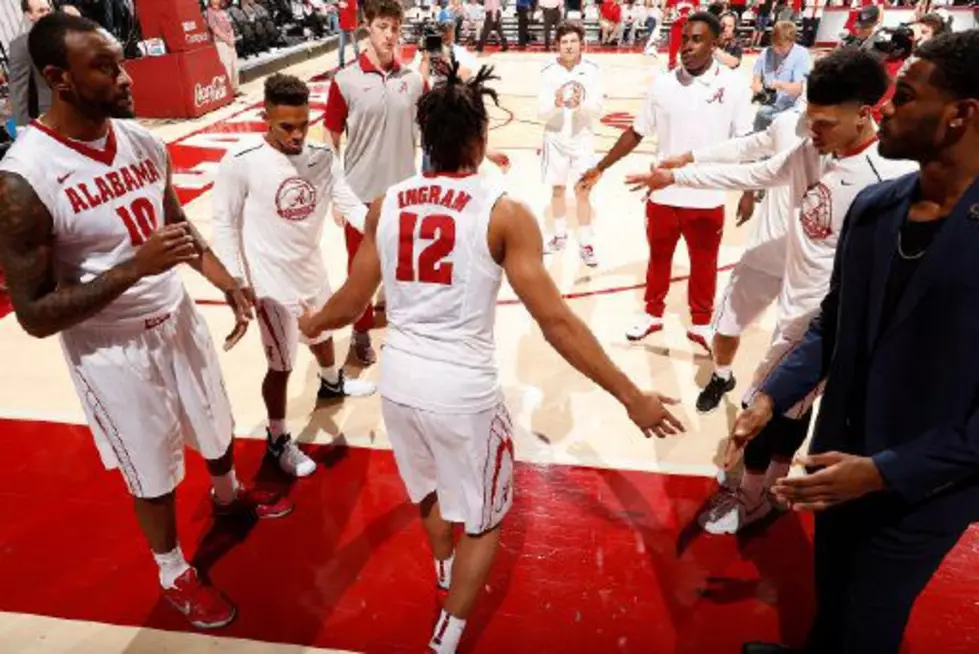 Alabama Men's Basketball Earns A No. 3 Seed In 2017 National Invitation Tournament
Photo courtesy of Alabama Athletics
The University of Alabama men's basketball team earned a No. 3 seed in the 2017 National Invitation Tournament and will host the No. 6 seed Richmond Spiders in Coleman Coliseum on Tuesday, March 14, in the opening round of the event. The Tide and the Spiders will tip off at 8:15 p.m. CT on ESPN2.
"We are excited about participating in the NIT for a second year in a row," head coach Avery Johnson said. "We felt we had a fantastic finish at the SEC Tournament overall in terms of winning games over Mississippi State and South Carolina. We came up a little short of beating a Kentucky team that was a No. 2 seed in the NCAA Tournament. We think we had a nice end to the year. We played with energy and improved in a lot of areas offensively. We are excited for our seniors to continue playing and happy that our younger guys will get more games in postseason play."
The Crimson Tide earned one of 22 at-large spots in the 32-team field by virtue of its 19-14 record during the regular season, which included an appearance in the 2017 SEC Tournament semifinals.
The Tide's first-round opponent, Richmond, finished the season with a 20-12 overall record and a 13-5 mark in Colonial Athletic Association play. The Spiders have won seven of their last 10 games entering the NIT.
Richmond and Alabama have met on three previous occasions in series history, with the last meeting coming nearly 30 years ago on Nov. 26, 1988 (Alabama won, 54-49). The Crimson Tide won each of the three meetings played between the two teams.
Alabama, which will make its third straight showing in the event and fifth appearance in the last seven years, will be playing in its 15th NIT in school history, which leads SEC schools. Tennessee, which made its last NIT appearance in 2013, is second with 13. Alabama is 24-17 (.585) all-time in the event. The 24 victories gives the Tide the most NIT wins among SEC schools, surpassing South Carolina's 22 wins in NIT play.
The winner of Tuesday's game will face the victor of No. 2 seed Clemson and No. 7 seed Oakland at a time and date to be determined.
Iowa is the top seed in the Crimson Tide's quadrant, while the other NIT No. 1 seeds include Syracuse, California and Illinois State.
Alabama is one of eight SEC teams to earn a berth in either the NCAA Tournament or NIT. Joining the Crimson Tide in the NIT is Ole Miss and Georgia, while Arkansas, Florida, Kentucky, South Carolina and Vanderbilt each earned a spot in the NCAA Tournament.
Check out the full bracket below.