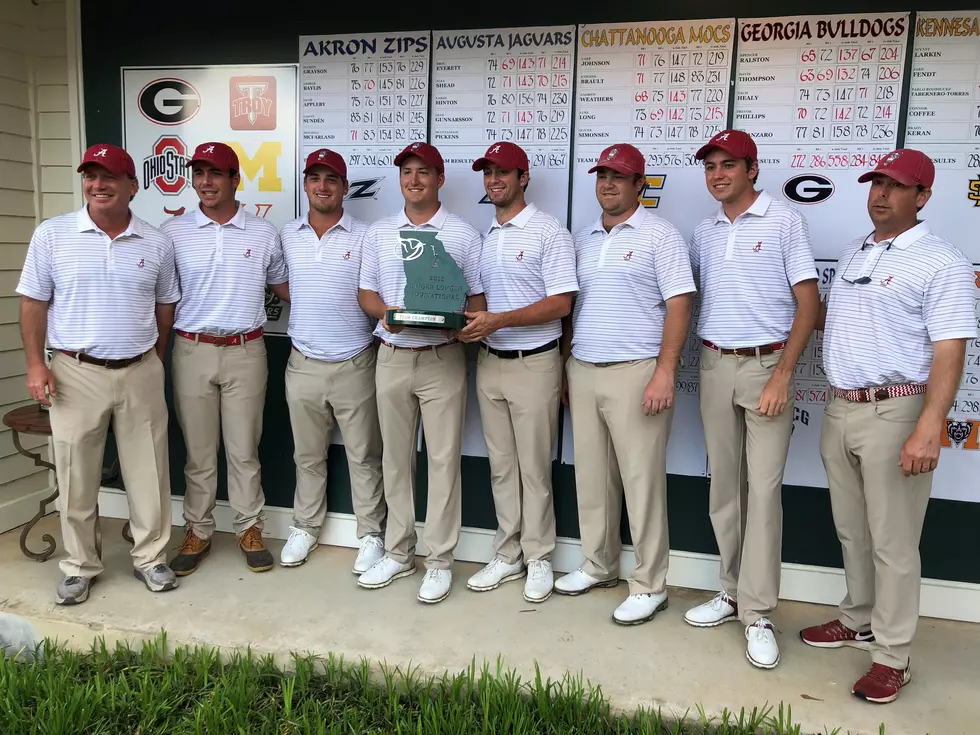 Alabama Men's Golf Earns No. 2 Seed in NCAA Pacific Regional
Photo courtesy of Alabama Athletics
The Alabama men's golf team earned the No. 2 seed in the 2018 NCAA Men's Golf Pacific Regional, held in Stockton, Calif., which was announced on Wednesday on the Golf Channel. The three-day, 54-hole regional will be held Monday through Wednesday, May 14-16, and will be hosted by Pacific University on the par 72, 7,132-yard Reserve at Spanos Park layout.
It marks the Tide's 14th consecutive invitation to NCAA postseason competition and 22nd appearance overall in the tournament. Alabama has won four NCAA Regionals overall, three of which have come over the last six years, capturing the 2009 NCAA Galloway (N.J.) Regional, the 2012 NCAA Athens (Ga.) Regional, the 2013 NCAA Baton Rouge (La.) Regional and the 2014 NCAA Auburn (Ala.) Regional.
The regional features No. 1 seed and sixth-ranked LSU, followed by the No. 2 seed and seventh-ranked Crimson Tide. Together, the Tigers and Tide are two of a record 14 Southeastern Conference teams who earned a spot in the 2018 NCAA Tournament.
The rest of the 13-team field includes: No. 3 seed and 18th-ranked Stanford, No. 4 and 19th-ranked USC, No. 5 and 30th-ranked Oregon, No. 6 and 31st-ranked TCU, No. 7 Colorado, No. 8 Kansas, No. 9 Kennesaw State, No. 10 Iowa State, No. 11 UNC Greensboro, No. 12 UC Irvine and No. 13 North Dakota State.
The top five teams from each of the six regional sites and the top individual finisher not on an advancing team will move on to the NCAA Men's Golf National Championship, which will be played at Karsten Creek Golf Club in Stillwater, Okla., on May 25-30. In all, the national championship will feature 30 teams and six individuals.
Alabama has advanced to nationals 10 times in head coach Jay Seawell's 16 years at the helm of the program, including six of the last seven seasons. The Crimson Tide has claimed two national championships (2013 and 2014) and finished runner up once (2012).