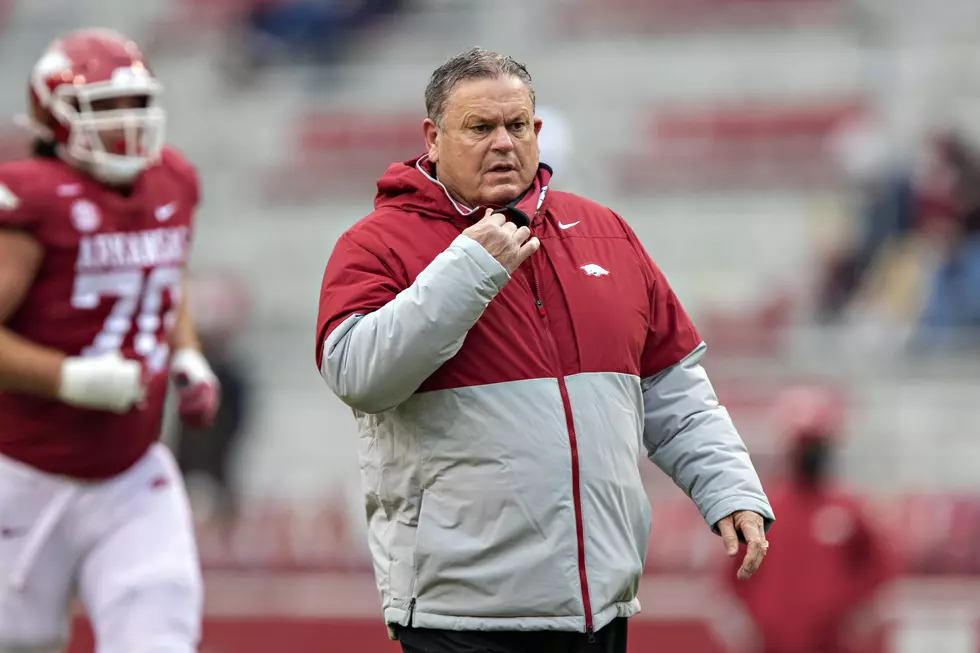 Arkansas Head Coach Analyzes Crimson Tide Stars
Getty Images
Arkansas head coach, Sam Pittman, spoke with the media on Monday to preview the upcoming Alabama game. The Razorback head coach mentioned the impact of multiple Alabama players when discussing the Crimson Tide, most notably Bryce Young and Will Anderson Jr.
"They have a great team," said Pittman. "[They] obviously have probably the best player in college football on defense and the best player in college football on offense. Bryce Young if it's possible [he's] better on offense than he was last year, then he is."
Pittman went into more detail on the 2021 Heisman winner.
"A lot of confidence in everything he does, whether he's throwing, whether he's scrambling, he'll stay in the pocket till the last second," said Pittman. "When he gets outside the pocket he just looks comfortable, like I could run it for a touchdown, I can throw it for a touchdown… so hard to tackle for the team's that he's been playing."
Pittman also shared his thoughts on Alabama's defensive star later in the press conference.
"He had a such a good year last year, he's right where he was last year. You have to have a plan for him, you have to look out there and go okay who can change the game on both sides of the ball and you have to try and eliminate him as much as you can with your schematics," said Pittman. "I've seen him, he's took over a couple of their games defensively… whether it's run or pass they got a whole bunch of good players on defense… but he sticks out still."
The last time Alabama and Arkansas faced off, the Crimson Tide escaped with a 42-35 win. Young went 31-of-40 with 559 passing yards and five touchdowns. Anderson had eleven tackles on the day, including one sack.
Kickoff in Donald W. Reynolds Razorback Stadium is set for 2:30 p.m. CST on Saturday.
Alabama vs Vanderbilt Week 4 2022
Alabama Athletes With NIL Deals
The biggest evolution in college athletics history is here. Check out which current Alabama athletes hold NIL deals in this ever-expanding and changing photo gallery.