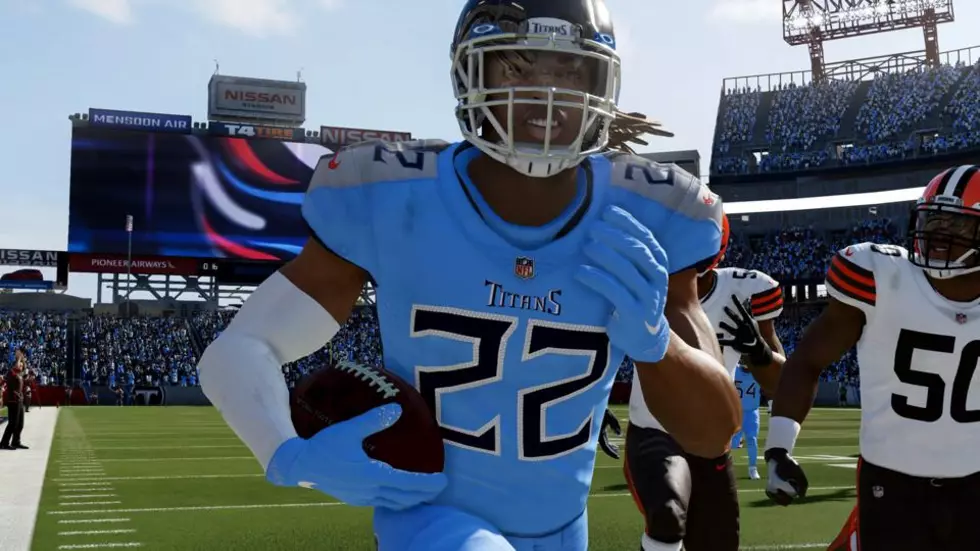 EA Sports Madden NFL 22 Cover Athlete Possibly Leaked
Photo Courtesy of EA Sports and Eric Rayweather
According to an Instagram post of a Pennsylvania GameStop's promotional material for EA Sports Madden NFL 22 and prominent Madden YouTuber Eric Rayweather, it's rumored that the next cover athlete of the feature NFL simulation video game title has been leaked.
The athlete? None other than Tennessee Titans running back, and former Crimson Tide star, Derrick Henry.
Forbes originally jumped on the rumor in February, however Rayweather, who is widely respected in the Madden gaming community, discussing the validity of the rumor brings a serious case that Henry could be the next man to have his persona line the shelves in August.
Rayweather mentions in his video that while nothing has been confirmed, the previous two iterations of the video game franchise had similar leaks that were later revealed to be true when EA announced the official covers.
Kansas City Chiefs quarterback Patrick Mahomes was leaked as the cover star of Madden NFL 20, while most recently Baltimore Ravens quarterback Lamar Jackson leaked his own announcement in April 2020 as the cover star of Madden NFL 21.
As for Henry, the former Heisman Trophy winner has led the NFL in rushing yards the past two seasons and posted a career milestone of 2,000 yards in 2020, earning him the NFL's Offensive Player of the Year Award. Henry was just the eight player in NFL history to hit the 2,000-yard benchmark.
The last player to do so, Adrian Peterson, was also the last running back to grace the cover of Madden as the XBOX One and PlayStation 4 cover for Madden NFL 25, the
2013 release. Another 2,000-yarder, Barry Sanders, was the cover athlete that year as well of the XBOX 360 and PlayStation 3 editions.
Henry would be the second Crimson Tide athlete to be featured on Madden. The first was former Seattle Seahawks running back Shaun Alexander on Madden NFL 07.
Mahomes was confirmed as the cover athlete of Madden 20 in April 2019 and after the Ravens's Twitter account let it slip early, EA announced in April 2020 as well the official cover of the most recent title, so it may be just a few weeks before Henry is confirmed as the cover athlete even if the leak dates back to February.
As for the game itself, EA Sports Madden NFL 22 will be released sometime in August, as usual, for XBOX One / Series X, PlayStation 4 / 5, PC, and as Rayweather mentions in his video, possibly the Nintendo Switch.
Alabama Crimson Tide All-Time Rushing Leaders