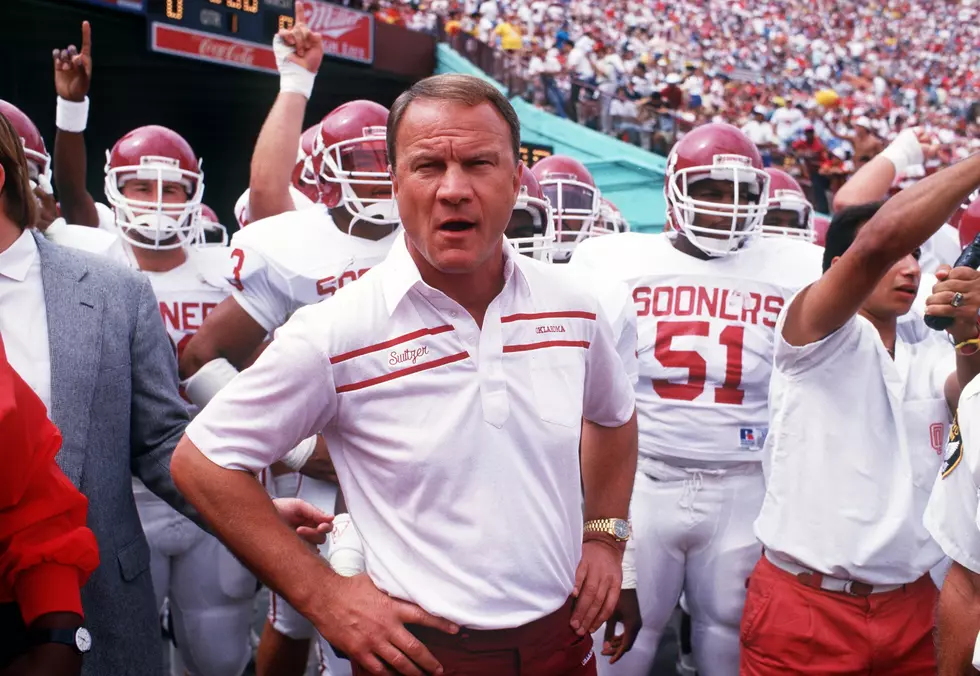 Former Oklahoma Head Coach Barry Switzer on Inside the Locker Room
Getty Images
Legendary former Oklahoma Sooners and Dallas Cowboys head coach Barry Switzer joined Wimp and Barry Sanderson on Inside the Locker Room to discuss an array of topics, including the impending move of Oklahoma and Texas to the SEC.
Coach Switzer brought up that OU is a "self-supporting entity", only making money from ticket sales, donors, and donations. He said that OU Football has to monetarily support all other sports at the university, so making the right money-grabbing moves is necessary.
"We've got twenty-something other programs here that don't make a nickel or a dime, if I was a businessman I'd cut every one of them, get rid of them tomorrow. But this is the NCAA and it's about college athletes, men and women, we have to support them, and the athletic director has to make sure they've got the dollars to support these programs," said Switzer.
He doesn't have much concern for other schools in the Big 12 like Baylor and TCU, citing the fact that they are private schools and make money through other avenues such as high tuition prices, as well as the fact that they are smaller sports markets. Switzer believes Texas will have a resurgence in the coming years and earn its new place in the SEC, citing the abundance of talented high school athletes in the state.
"Anybody else that joins the SEC is gonna do it for the money if they're invited," added Switzer. "You gotta take care of yourself first [as an athletic director]."
Coach Switzer believes OU will fit right into the SEC in football, citing their tremendous culture of success since World War II. Oklahoma is indeed the winningest program in college football since 1946, with 664 wins compared to Ohio State's 621 and Alabama's 620 as of 2019.
Switzer had a lot to say about the new name, image, and likeness rules implemented by the NCAA this year. "We've invited the third party into the recruiting process," he said about the new NIL rules. "An agent is in your home, he's not recruiting for your school, he's recruiting the best thing for that athlete, and he's gonna tell that athlete he can get him more money at one school than another school ... There's no telling what hell is fixing to break loose." Switzer continued to decry the current state of college athletics in conversation with the coaches, saying "the games changed Wimp, from when we played it, I promise you."
SoundCloud link to hear the whole conversation is attached here!
He wasn't all negative about the state of modern college football though, saying that we're in a "smarter era". Coach Switzer described the era he coached in as the "Neanderthal era", saying that everyone was "dumb" and would do things like hold back water from athletes and not implement weight training because they didn't want players to get "muscle-bound". He said the "product" of athletes leaving high school now is far better than back in his days, with many of them already receiving great coaching and fierce competition.
You can catch Inside the Locker Room with Wimp and Barry Sanderson on Monday through Friday at 7-9 a.m. CT on Tide 100.9.
Election Memes That Will Make You Laugh or Cry
Inside Amazon: A Detailed History of America's Biggest Online Retailer
Stacker
compiled a list of key moments in Amazon's history and its current business from a variety of sources. Here's a look at the events that turned an online bookstore into a global conglomerate and a self-made entrepreneur into the world's second-richest man.
Coronavirus Pandemic: Which Tours and Festivals Are Canceled (and Not)?