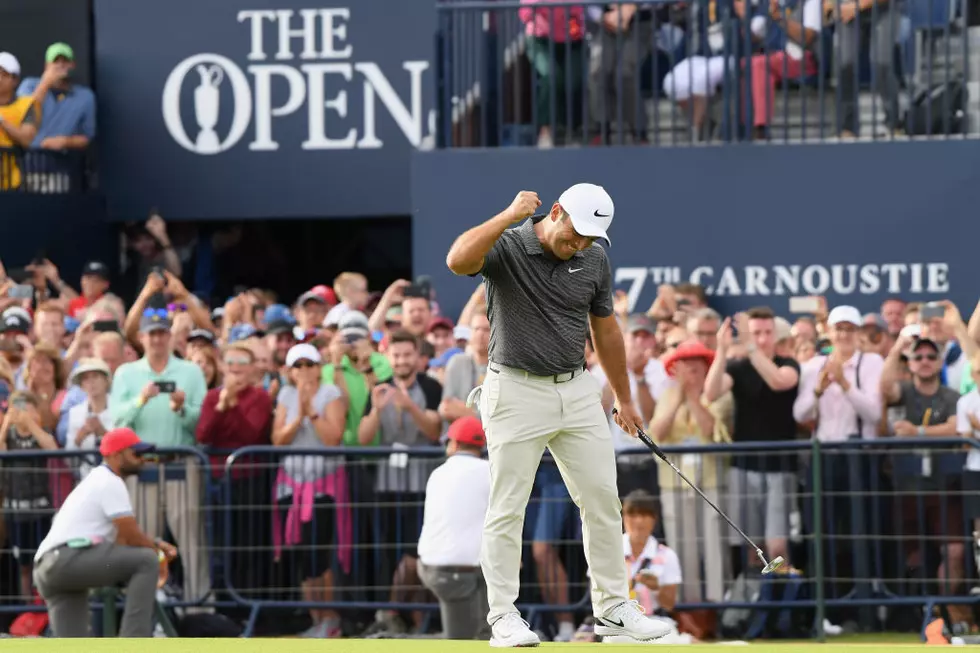 Francesco Molinari Breaks US Stranglehold on Majors
Getty Images
CARNOUSTIE, Scotland (AP) — The Latest on the British Open (all times local):
Francesco Molinari's win at the British Open has broken the American stranglehold on golf's major championships, with a U.S. golfer having won the previous five.
It caps a stunning stretch for the 15th-ranked Molinari, who has won on the PGA and European Tours in the previous two months.
Rory McIlroy, Justin Rose, Xander Schauffele and Kevin Kisner finished in a tie for second place at the British Open, two shots behind Francesco Molinari.
Molinari didn't drop a shot over the weekend at Carnoustie.
Francesco Molinari has won the British Open for his first major title after emerging from a crowded pack including Tiger Woods in a wild final round at Carnoustie.
Molinari shot a bogey-free, 2-under 69 to finish on 8-under 276. He became the first Italian to capture a major championship.
Francesco Molinari has set the clubhouse target at 8-under par after shooting a bogey-free, 2-under 69 at the British Open.
Molinari holed a 5-foot birdie putt at No. 18 to take the outright lead, leaving Xander Schauffele alone in second place on 7 under. Schauffele has two holes remaining.
Molinari would be the first Italian to win a major championship.
Tiger Woods shot 71 and was 5 under overall.
Francesco Molinari has taken the outright lead at the British Open for the first time, and Tiger Woods is still not out of it.
Molinari tapped in for birdie at the par-5 No. 14 to break out of a five-way tie for the lead, which included Rory McIlroy after his eagle at the same hole.
Woods also birdied No. 14 — after playing a pitch shot from the back of the green that is shared with No. 4 — to move back to 5 under, two off Molinari.
Eddie Pepperell says he was a "little hung over" during his round of 4-under 67 that has left him one shot off the lead at the British Open.
After shooting 71 on Saturday to start the final round eight strokes off the lead, Pepperell said he was "so frustrated" and had "too much to drink last night."
The No. 72-ranked English golfer hadn't been hopeful ahead of Sunday's round, saying "today was, really, I wouldn't say a write-off, but I didn't feel I was in the golf tournament."
Pepperell teed off at 11.40 a.m. local time with Phil Mickelson.
Tiger Woods has dropped out of the lead at the British Open after a double-bogey at the 11th hole.
Woods sent his second shot into the gallery, with the ball rebounding out into the rough. He duffed his chip, then three-putted from off the green.
He fell to 5 under, a stroke behind four players — Jordan Spieth, Kevin Kisner, Kevin Chappell and Francesco Molinari — heading into the tough back nine at Carnoustie.
Tiger Woods is in the outright lead of the British Open after a stunning turnaround at Carnoustie.
Woods has parred his last four holes and capitalized on collapses by Jordan Spieth and Xander Schauffele, the previous co-leaders.
Spieth bogeyed No. 5 then made double-bogey at the sixth hole after taking a drop then three-putting.
Schauffele bogeyed Nos. 5 and 6, then double-bogeyed the seventh hole.
Woods, seeking his 15th major championship and first since 2008, leads by one stroke on 7 under from playing partner Francesco Molinari and Spieth.
Tiger Woods is on the move in the British Open, edging to within a stroke of the lead on the front nine.
Woods birdied two of his first six holes to get to 7-under-par, a shot behind Jordan Spieth and Xander Schauffele. He was tied there with third round co-leader Kevin Kisner.
Woods, who is chasing his first major championship win in a decade, began the day four shots off the lead held by Schauffele, Spieth and Kisner. But while they were all over par on the front nine, he made birdie on No. 4 and then added another on the par-5 sixth.
Large crowds are following the 42-year-old Woods, who has yet to win in his latest comeback. He shot 66 in the third round to make a move up the leaderboard.
Kevin Kisner has dropped out of the lead at the British Open after a double bogey and a bogey in his first three holes.
Kisner, who has led or been tied for the lead after all three rounds, found a bunker off the tee at the par-4 second hole and made a 6. Then he missed a 4-footer for par at No. 3.
In fact, there are dropped shots everywhere in the final round at Carnoustie, where the wind is playing havoc.
Rory McIlroy has bogeyed two of his first five holes and is now 3 under, six shots off the lead, while Tommy Fleetwood bogeyed No. 5 to give up the stroke he picked up at the first before making double-bogey at No. 6.
Spieth and Schauffele have parred their first two holes.
Jordan Spieth and Xander Schauffele, the last pairing in the final round of the British Open, have teed off at Carnoustie where quite a stiff wind is blowing.
Tiger Woods has parred his first two holes and remains four shots back from Spieth, Schauffele and Kevin Kisner, who shared the third-round lead at 9-under.
Tommy Fleetwood also started his round at 5-under, like Woods, and birdied the first to a massive ovation.
Leaders are on the range at the British Open, where they will be greeted by warm breezes in the final round at Carnoustie.
Three players — including defending champion Jordan Spieth — are tied at the top of the leaderboard at 9-under par. Three other players are within three shots, while Tiger Woods is in a group of eight golfers at 5 under.
Ideal conditions in the third round led to a number of low scores, including a 64 by Justin Rose and 65s by Spieth and Francesco Molinari. But 69 was the low score among the first 22 players out in Sunday's final round as the breeze was blowing 15-20 mph.
Woods, who shot 66 on Saturday, is paired with Molinari, two groups behind the final twosome of Spieth and Xander Schauffele.
The yellow grass of a dry summer in Scotland comes to life Sunday because of a red shirt at the British Open.
Tiger Woods is in contention for the claret jug again.
Jordan Spieth was tied for the lead at Carnoustie as he tries to become the first repeat winner in 10 years at the British Open. But even the appeal of Spieth was no match for seeing Woods, in his traditional red shirt, in the mix at a major.
Woods was four shots behind. It's the closest he's been to the lead in a major since five years ago at Muirfield.
A victory would complete a most remarkable comeback for Woods, who has had four back surgeries, a marital scandal and a DUI arrest since his last major.