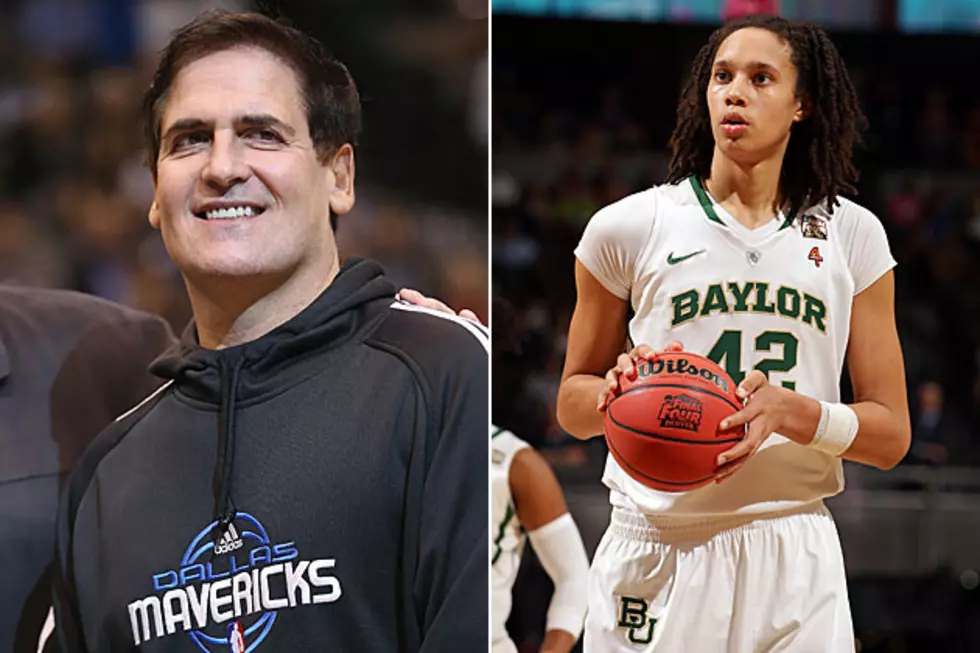 Mark Cuban is Thinking About Drafting Baylor Women's Star Brittney Griner
Getty Images
Dallas Mavericks owner Mark Cuban is thinking about giving his team a very different look this offseason.
Cuban explained his thinking:
"If she is the best on the board, I will take her. I've thought about it. I've thought about it already. Would I do it? Right now, I'd lean toward yes, just to see if she can do it. You never know unless you give somebody a chance, and it's not like the likelihood of any late-50s draft pick has a good chance of making it."
Even if the Mavericks don't draft Griner, Cuban would give her the chance to make a spot on the team's summer league team, adding, "I'm not going to carry her just to carry her. I don't think, anyways. But I certainly wouldn't be opposed to giving her the opportunity."
The six-foot-eight Griner is generally regarded as the best player in women's college basketball. She led the Lady Bears to the national championship last season and seemed poised to do so again this season before a stunning loss in the Sweet 16 ended the team's season, as well as her collegiate career.
Griner is pumped by the thought of playing for Cuban. She wrote on Twitter, "I would hold my own! Lets do it."
Griner wouldn't exactly be a pioneer here, either. Back in 1979, Ann Meyers earned a tryout with the Indiana Pacers.