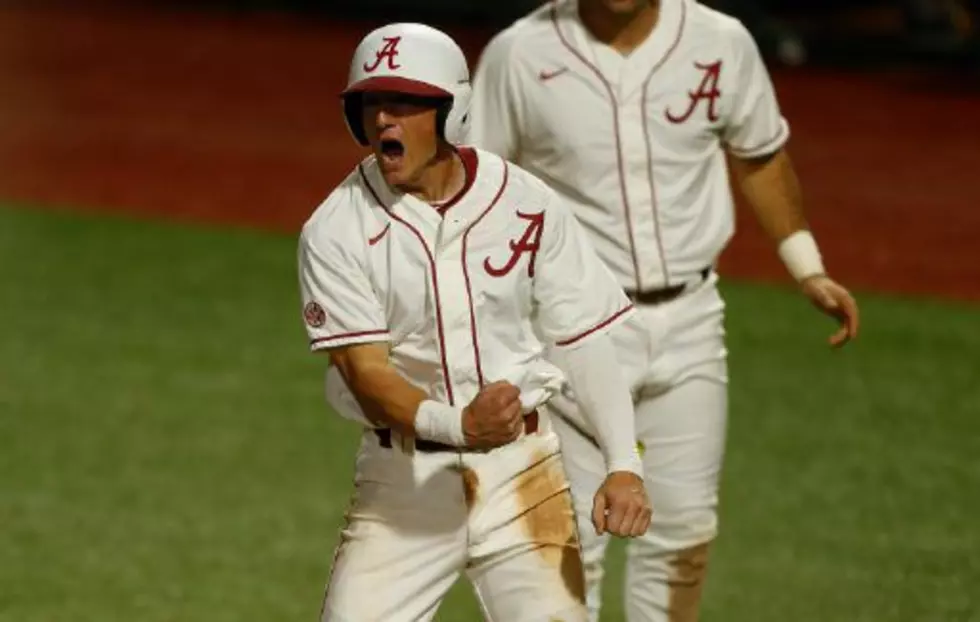 Pair of Five-Run Innings Helps Alabama Baseball Take Down Southern Miss, 12-5
Photo courtesy of Alabama athletics
Alabama baseball used a pair of five-run innings to claim a 12-5 win over Southern Miss in Wednesday's midweek matchup. With the win, the Crimson Tide moves to 3-1 overall on the early season.
"I thought this was one of our biggest team wins that we've had, and of my career, honestly," said Alabama head coach Greg Goff. "Just a lot of courage from our hitters, and some of our guys that hadn't played a lot stepped up tonight. You look at everyone we used, and it took everybody tonight, to beat a very good Southern Miss team."
The second and seventh innings decided the outcome on Wednesday evening with the Crimson Tide scoring 10 of its 12 runs across the two frames. The Alabama bullpen paired the offensive effort with a solid pitching performance down the stretch to help shut out the Golden Eagles over the final four innings.
Alabama's offense was highlighted by multi-hit efforts from three of its first four hitters, with the top of the lineup batting a combined .571 (8-14) and contributing all 10 RBI. Chandler Avant and Cobie Vance each went 3-for-4 while Avant added a career-high three runs scored. Vance, along with Hunter Alexander, who finished 2-for-3 with a home run, each posted three-RBI nights, while Gene Wood rounded out the top of the lineup, finishing with two RBI and a run scored to go with his two walks.
Crimson Tide relievers Zac Rogers (1-0) and Davis Vainer, who earned his first career save, tossed the final four scoreless frames and struck out a combined five batters as the offense put the game out of reach.
Southern Miss kicked off the night with a home run to take an early 1-0 lead. Alabama answered in the bottom of the second, using a one-out walk from Taylor Poe to start the five-run rally. Poe was followed by Keith Holcombe, who singled down the line in left to give the Tide a pair of baserunners. With two on, Avant sent a double to left to clear the bases and put UA in front, 2-1.
Avant moved himself up 90 feet with a stolen base, one of his two on the night, and then a 4-3 groundout by Wood plated Avant to make it a 3-1 contest. Vance used the next at-bat to single to center before Alexander followed with a homer to left that cleared the bases and pushed the advantage to 5-1 in the Tide's favor.
The Golden Eagles came back in the fourth with three runs, using a two-out rally to make it a 5-4 game. Two consecutive singles and then a walk loaded the bases, before a double to center crossed all three runners. The very next inning, Southern Miss used two straight singles followed by a one-out walk to load the bags once again. A walk with nowhere to put the batter brought in the tying run to send the game to the sixth even at 5-5.
Alabama answered back in the sixth, adding one, as part of its seven unanswered runs over the final three frames to put the game away for good. In the sixth, Avant led off with a double, his second of the evening, before a double from Vance one out later put the Tide in front once again, 6-5.
In the seventh, the Crimson Tide put the game out of reach with its second five-run frame of the night. Cody Henry led off with a double to left-center and then pinch-hitter Kyle Kaufman reached on a hit-by-pitch. With two on, Sam Finnerty singled off the third baseman's mitt to load the bases for Avant, and the Tide shortstop was hit by a pitch to bring one across. Wood followed by drawing a bases-loaded walk to score the inning's second run.
Vance then sent a sacrifice fly to right to advance all the runners and score one before a balk moved everyone up a base and brought the fourth run of the inning across. With Wood on third, Alexander sent a single to center to score the inning's final run and make it an 11-5 contest.
In the eighth, a Chandler Taylor walk and a Zack Coker single put runners on the corners. With two on, Connor Short grounded into a double play, but the twin-killing allowed Taylor to score the game's final run and put Alabama in front, 12-5.
Next up for Alabama is a three-game series with Oral Roberts from Feb. 24-26 at Sewell-Thomas Stadium. The Crimson Tide and Golden Eagles will square off at 5 p.m. CT on Friday night followed by a 2 p.m. CT start on Saturday. Sunday's finale is slated for a 1 p.m. CT first pitch with all three games airing on SEC Network+.