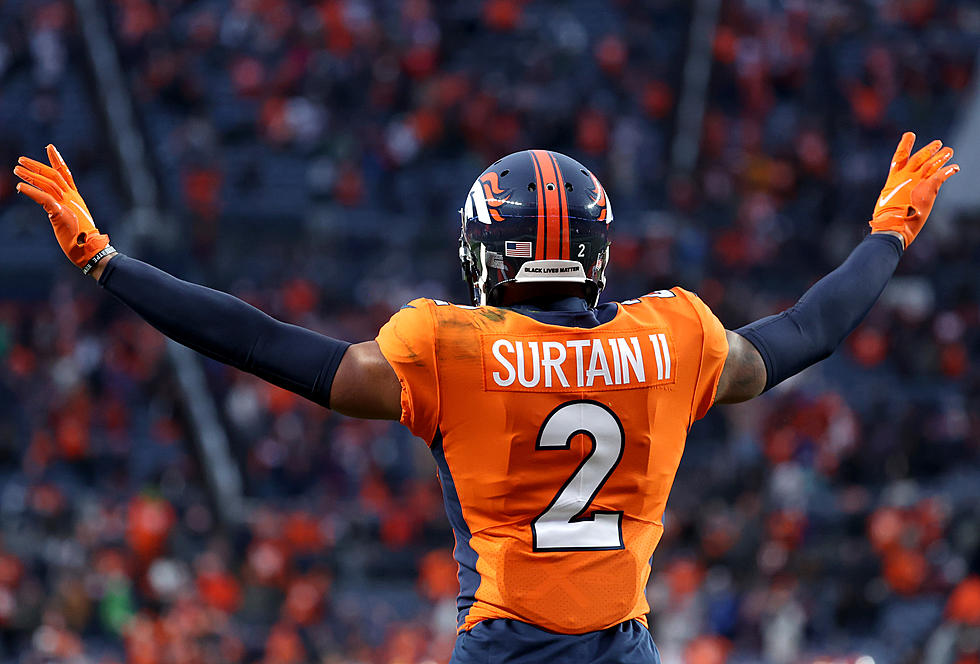 Patrick Surtain II is Embracing Facing Russell Wilson in Practice
Getty Images
The AFC West is loaded with talent at the quarterback position with Patrick Mahomes, Justin Herbert and Derek Carr in the division. Not to mention elite wide receivers, including Davante Adams and Keenan Allen that will be catching passes from them as well.
Patrick Surtain II heads into his second NFL season with high expectations and seeing new Broncos quarterback Russell Wilson every day is only going to make him better. Wilson, a nine-time Pro Bowler and Super Bowl champion was acquired by Denver in a blockbuster deal in March.
"It's helps me a lot, going against premiere talent like that with a great quarterback and great perimeter players," Surtain said. "That helps me as a player and [helps] build on my game. It's always great going against them."
"He's very dynamic. His second-play mentality where he's making something out of nothing with his scrambling ability — that's something that defenses may fear. His ability to utilize his legs and create plays on his own — that's something special about him."
Surtain proved to be on the game's premier young corners as a rookie. He registered 58 tackles, 14 passes defended and four interceptions, including a 70-yard pick-six against the Los Angeles Chargers in week 12, which earned him All-Rookie Team honors.
The former Alabama All-American has been impressive during the Broncos offseason workouts. He picked off Wilson on the first play of the 11-on-11 portion of organized team activities on Tuesday.
"He's a great technician," said defensive back K'Waun Williams. "It's been a joy just to watch him work."
Surtain is used to seeing tough competition every day in practice. During his time at Alabama, he faced NFL quarterbacks Tua Tagovailoa, Jalen Hurts and Mac Jones. Surtain would line up against wide receivers such as DeVonta Smith, Jerry Jeudy, Jaylen Waddle and John Metchie.
Facing NFL caliber players on a day-to-day basis helped mold the 22-year-old cornerback into the player he is today. At 6-foot-2 and 203-pounds, Surtain has a rare combination of size, speed and physicality for that position. His technique could be used as teach tape for defensive backs at all levels.
"I say this all the time about Pat, a guy with that size [and] speed and to still have the technique that he has is rare," said Broncos safety Kareem Jackson. "To be that young, anyway. For him, I know he wants to get better in every aspect. He comes out every day and he puts the work in."
Alabama's 12th Spring Practice 2022
Alabama was back on the practice field on Tuesday. The Tide started its final week of spring practice this week and will celebrate the end of spring practice with the annual A-Day Game on Saturday, April 16.
Alabama's Seventh Spring Practice 2022
The Alabama Crimson Tide holds practice on Thursday at the Hank Crisp Indoor practice facility. The Tide is preparing for a Saturday scrimmage this weekend.
Alabama Football's First 2022 Spring Practice
The Alabama Crimson Tide hit the practice field for the first time in 2022. It's Nick Saban's 16th season coaching at Alabama and the Tide are welcoming in several interesting newcomers.