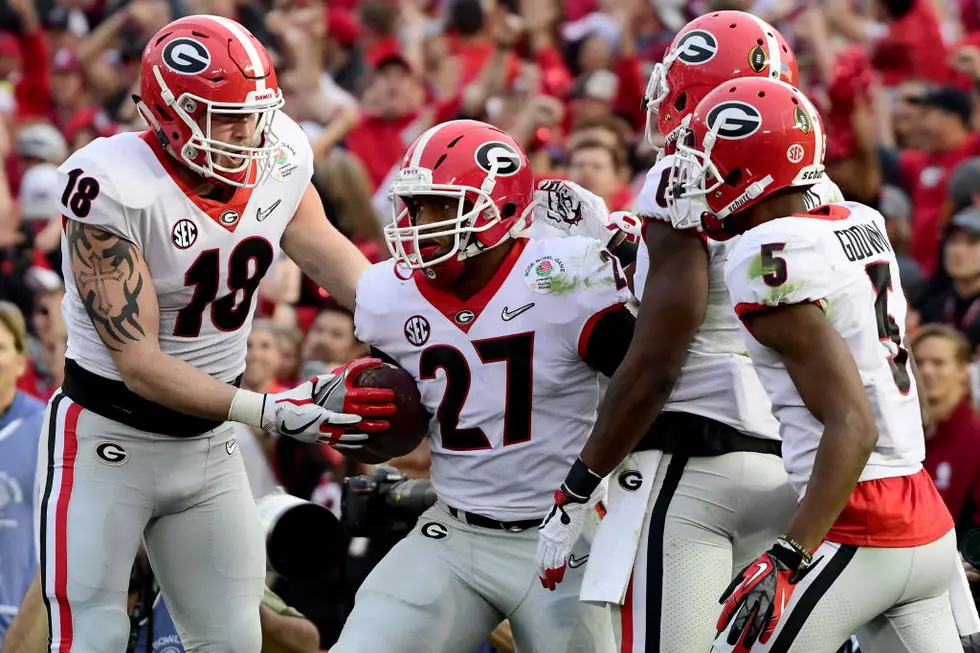 Staff Predictions for Alabama vs Georgia
Getty Images
Final game of the season and the Alabama Crimson Tide are 60 minutes away from another national championship in this all-SEC matchup.
The Georgia Bulldogs may have the home-state advantage, but does Kirby Smart have enough to get passed Nick Saban and sit atop of the conference and college football? Both teams come into this game after dominating performance in the semifinals where Alabama's defense shut down Clemson offense, and Georgia's offensive attack was just enough to get through Heisman trophy winner Baker Mayfield and the Oklahoma Sooners.
Here is who the Tide 102.9 staff has coming out with the victory in the final game of the college football season.
Martin Houston, Host of The Blitz
Teacher vs Student. Kirby appears to have learned and applied many of the lessons he was taught by the master. If you like good old-fashioned football, then this is your type of game.  They are built alike, they recruit alike, they coach alike, so what will be the difference? The first step is Daboll and Pruitt will have to produce another gameplan like last week's. If that happens, then I don't see Georgia effectively running the ball on Bama and Pruitt will feast on the true freshman QB, Fromm. I also see Georgia attempting to put it on the shoulders of Jalen. I think this approach backfires on Georgia and Daboll masterfully uses Bama's playmakers to create some opportunities in the running game, which leads to a very efficient Passing Game from Jalen. Look for Hurts to exercise some Demons, executing the short passing game and connecting on 3-4 pass plays of 20+ Yards. Bama's OL and front -7 dominate In a tight game early, but Bama pulls away in the 2nd half with a 2 score victory. I'm tempted to go 34-17, but Saban ties the Bear and establishes himself, as the greatest to ever walk a college sideline. Alabama 27- Georgia 17
Wimp Sanderson, Co-Host of Inside the Locker Room
Look for both teams to try to control the tempo. I don't believe either defense will give up a big play. In a slugfest I look for Georgia to win game in the 4th quarter. Georgia 17 Alabama 7
Barry Sanderson, Co-Host of Inside the Locker Room
I believe the Bama players won't be intimidated by this stage. Coach Saban has preached for a year to finish the deal. Look for Jalen Hurts feet to be the difference in the game. Alabama 27 - Georgia 17
Gary Harris, Host of The Gary Harris Show
Alabama is playing in its sixth National Championship Game in the last nine years. It's a remarkable accomplishment that we may not see again. For Alabama though it's not about getting to the game, it's about winning it. The disappointment still lingers from last year's loss to Clemson. This year, Kirby Smart and Georgia will provide the opposition. Nick Saban is 11-0 against his former assistants but this Georgia team will provide a formidable test. Still, I like Saban to run his record to 12-0 against his former staffers as he wins his fifth National Title at Alabama. Alabama 23 - Georgia 17
Travis Reier, Host of Southern Fried Sports
A week ago, Clemson's defensive line was the talk of the Sugar Bowl. Ultimately, it was Alabama's front that stole the show in New Orleans. Expect a similar situation on the other side of the ball this time around, with UA's rushing attack out-gaining UGA's self-proclaimed "Running Back U." Alabama 24 - Georgia 19
Aaron Suttles, Host of The Suttles Approach
What Georgia does well, Alabama is suited to defend. That is run the ball. Alabama fields the nation's top rushing defense. If UA stops the run, it should win. Alabama 27 - Georgia 17
Ryan Fowler, Host of The Game
To beat Alabama, you need an elite quarterback and an elite offensive line. Georgia has a good quarterback and a good offensive line but not good enough to beat a defense that looks to have found their mojo in New Orleans. Alabama 27 - Georgia 10
Ben George, Digital Managing Editor
It only took four years to get our first All-SEC playoff championship game but not many people would have guessed Kirby Smart would already have his team on the big stage. There's no question that Georgia's running backs are Uber talented and Jake Fromme has put together an impressive freshman campaign. These two teams look pretty identical in philosophy, strengths, and statistics, but how often can a team out-Alabama Alabama? The Tide has the better roster, more experience, and a quarterback that's already been through this. The Bulldogs had a heck of season, but it comes to end on Monday night with Alabama winning No. 17. Alabama 31 - Georgia 17
While Alabama and Georgia have two of the best defenses in college football, the two teams also have plenty that has the potential to light up the scoreboard on offense. The conventional wisdom suggests that Monday night's clash will be a low-scoring defensive struggle, don't be shocked if Nick Chubb, Sony Michel, Jalen Hurts and Damien Harris have something to say about the outcome of the game. Alabama 27 - Georgia 24
Thomas Paradiso, Producer
After a long season full ups and downs, we've arrived at the championship. Alabama and Georgia. A match-up that every one predicted for the SEC Championship, instead ends up as the National Championship game. With stellar run games on both teams, look for a knock-down, drag-out battle. I think Alabama gets it done, but it still will be close. Alabama 21 - Georgia 15
Marquis Munson, Brand Manager
Alabama got their swagger back against Clemson, especially on the defensive side of the ball. Losing Jennings is huge for Alabama especially after his performance last Monday. With Georgia having so much talent in the running game, Alabama needs every man in that front line to perform well. Similar to the Clemson game I think Alabama's defense is their best offense in this one and I think the Crimson Tide forces Fromm into difficult situations and they leave Atlanta with number 17. Alabama 27 - Georgia 20