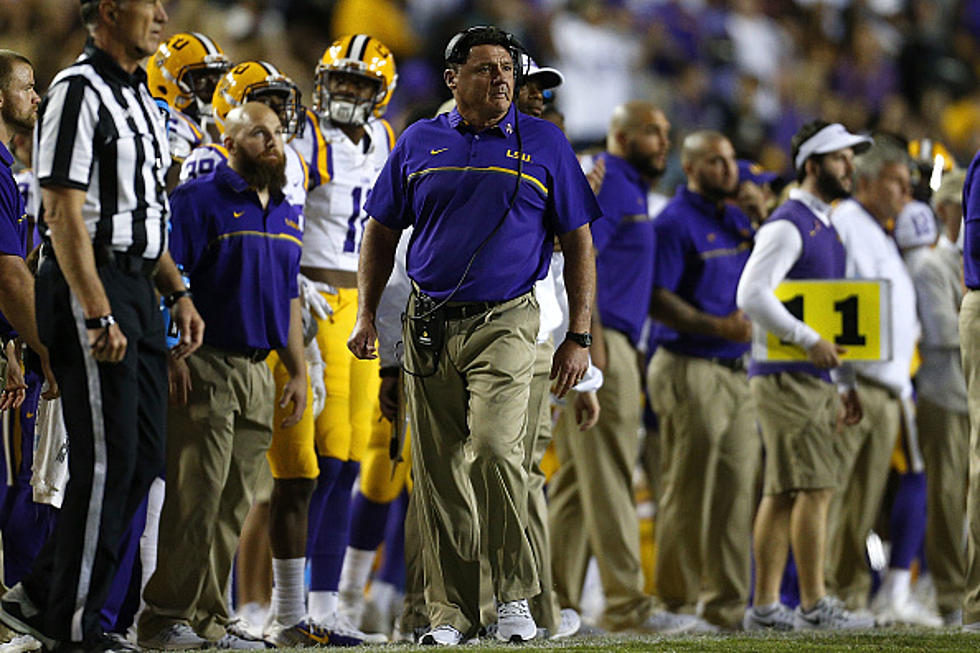 Three Things You Need to Know about LSU
(Photo by Jonathan Bachman/Getty Images)
After enjoying a bye week, Alabama and LSU face off in a contest that could determine who represents the SEC West in this year's SEC Championship Game in Atlanta.
Top ranked Alabama is undefeated at 8-0, 5-0 in the SEC while No. 19 LSU is 6-2 including a 3-1 mark in the conference.
The two teams first met in 1895 as LSU downed Alabama 12-6 in Baton Rouge. The Crimson Tide leads the series 51-25-5 and has won six in a row over the Tigers.
Kickoff is at 7 PM on CBS.
Prior to Saturday night's kickoff, check out three things you need to know about the LSU Tigers.
Road Team Holds the Upper Hand Since 1981
Similar to the Tennessee series, Alabama holds two of their longest winning streaks under Paul "Bear" Bryant and Nick Saban.
In addition to Saban's active streak of six consecutive wins, Bryant won 11 in a row over LSU from 1971-1981 and from 1919-1945, Xen C. Scott, Wallace Wade and Frank Thomas went a combined 9-0-3 against the Tigers.
Since 1981, the road team has a commanding 25-10-1 over the last 36 meetings with road team winning all four of the games that have gone into overtime.
Over the course of the series, Alabama has 26 of their 51 wins over LSU in Baton Rouge while LSU has 16 of their 25 wins over Alabama in Tuscaloosa, Birmingham or Mobile.
A clear indicator of how well the Tigers have performed under Ed Orgeron and Les Miles has involved reaching the 20-point benchmark.
LSU has scored 20 or more points six times this season and has a 5-1 record compared to a 1-1 record when they have scored fewer than 20 points.
Over the last three seasons, the Tigers are 21-1 when scoring at least 20 points.
In their six-game skid against Alabama, LSU has failed to reach 20 points in every loss including two shutout losses in the 2012 BCS Championship Game and last year's 10-0 loss in Baton Rouge.
Importance of Derrius Guice
For most of the last decade, LSU has struggled to find consistency in their passing game due to the ineffectiveness of the quarterback position.
However, running backs such as Stevan Ridley, Spencer Ware, Leonard Fournette and Derrius Guice have allowed LSU to maintain their position a top tier SEC program.
Since 2015, Guice has rushed for 2,534 yards on 358 carries with 24 career touchdowns.
In his LSU career, anytime that the junior running back has tasted success, it has usually resulted in a Tigers victory.
Guice has 10 career 100-yard rushing games along with 15 games where he has scored at least one touchdown.
LSU has won all 10 games in which he reaches 100 yards rushing and is 14-1 when the junior running back scores a touchdown.