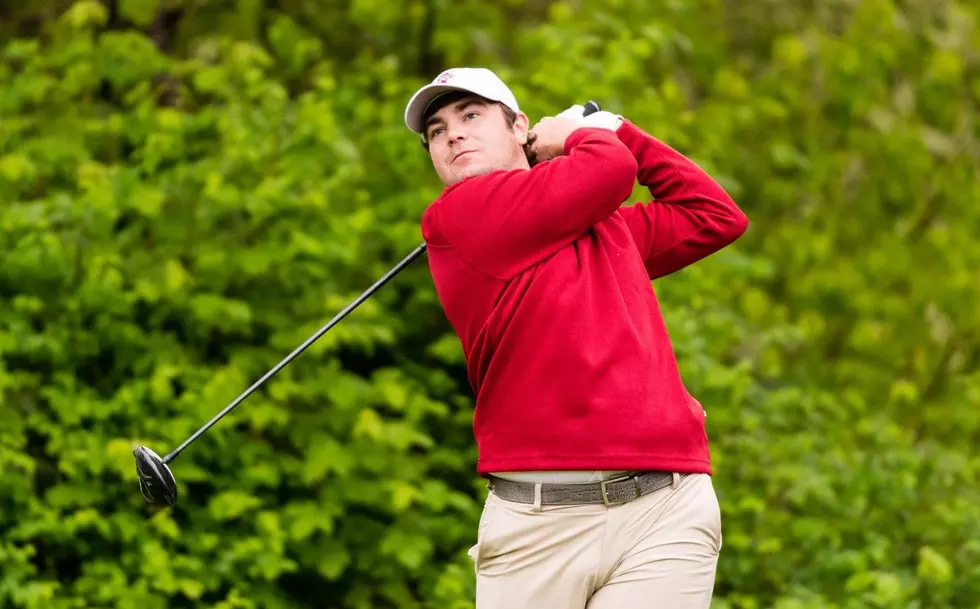 Two Golfers Among Top-10 to Lead Seventh-Ranked Alabama in Opening Round of NCAA Stockton Regional
Photo courtesy of Alabama Athletics
Senior Jonathan Hardee and freshman Davis Shore are among the top-10 individuals after Monday's opening round of the 2018 NCAA Stockton Regional, which is being played on the par 72, 7,239-yard Reserve at Spanos Park layout. As a team, the Crimson Tide ended the round in third overall following a score of 6-under par 282 – one of only five teams that shot below par on the day.
It was a tale of two different rounds within Alabama's opening 18 holes. The Tide combined to shoot +7 on the front nine, collecting 11 bogeys and just four birdies. However, the five UA players caught fire after making the turn, carding a total of -10 on the back nine, with 16 birdies compared to only six bogeys.
"Getting off to a solid start in the first round at an NCAA Regional is pivotal, and at the end of the day, that's exactly what we did," Alabama head coach Jay Seawell said. "I thought we did a great job on the back nine and made a lot of birdies. I'm proud of how we responded after a somewhat slow start and it turned the momentum around in our favor. There's not a lot of movement when you get to regionals, so we just need to do this same thing each day we are out here."
Hardee led the charge on the back nine after stringing together five birdies in a six-hole span. After opening with a pair of birdies and bogeys on the front nine to make the turn at even par, the Greer, S.C., native finished with five birdies and a bogey over the final nine holes. His opening round of 4-under par 68 puts him in a fifth-place tie entering Tuesday's second round.
Shore continued his solid play as of late, finishing the day at 3-under 69. The Knoxville, Tenn., native had just one bogey, the fewest by any Tide golfer, to go along with four birdies, and is in a tie for eighth overall after 18 holes.
"I am really proud of both Jonathan (Hardee) and Davis (Shore)," Seawell said. "Jonathan is a senior and has been playing some really good golf as of late. He led us today. He caught fire and made some birdies when we really needed them. It brings the entire team confidence when you have a senior leader that does that. I thought Davis was really good today as well. He was steady throughout the round. I am proud to see the way he has developed throughout the year and is showing why he was one of the top prep players in the nation coming out of high school."
Junior Davis Riley started his round at 2-over par through the first 10 holes, but went 2-under over his last eight to end the day with an even par 72. He is in a tie for 27th, one shot ahead of freshman Wilson Furr who finished with a 1-over 73.
Senior Lee Hodges, who entered the regional ranked No. 12 in the nation, also had a slow start by going 5-over par through the first 10 holes. However, he finished by carding three birdies and just one bogey over the final eight holes to finish in a tie for 52nd at 3-over par 75.
Unranked Iowa State is the surprise leaders after the opening round, carding a team total of 10-under par 278 to hold a three-stroke lead over No. 43 Kansas (281). TCU, ranked No. 31 in the nation, trails the Tide by one stroke and is in fourth with a 5-under 283, while No. 18 Stanford rounds out the top five with a 285.
The top five teams and the top individual finisher not on an advancing team will move on to the NCAA Men's Golf National Championship, which will be played at Karsten Creek Golf Club in Stillwater, Okla., on May 25-30.