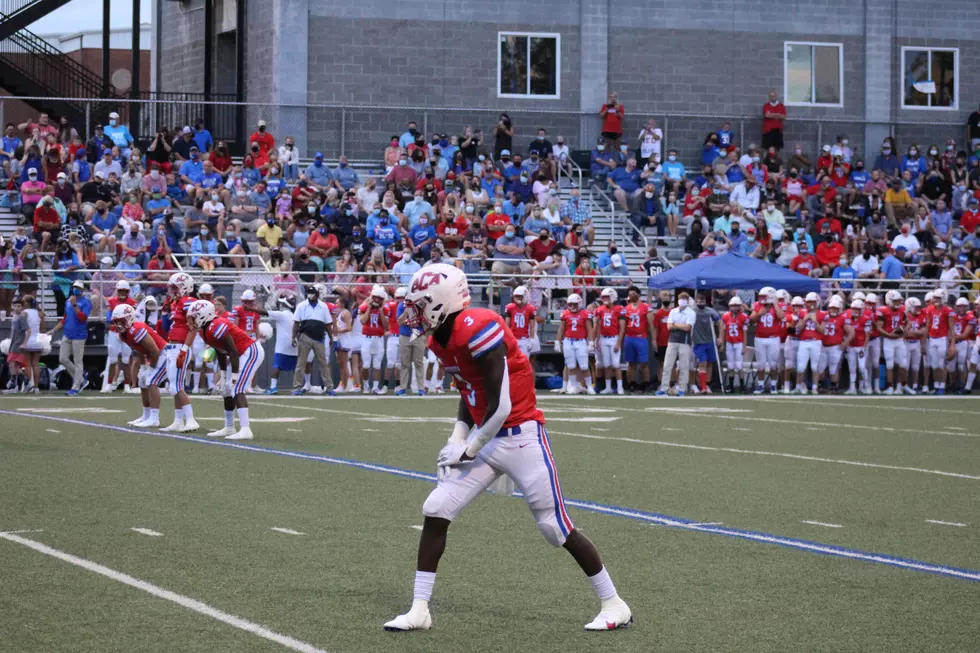 West Alabama High School Football: Week 5 Preview
Photo Courtesy of James Benedetto
Last Week's Picks: 6-0
This Season's Picks: 15-3
Last week, Tuscaloosa-area schools didn't look great. Besides a miracle in Wetumpka by Hillcrest, west Alabama was full of blowouts. Still, this week provides several big area matchups that could be big statement wins for a few schools in a rut.
Amercan Christian Patriots (4-0, 2-0) @ Bibb County Choctaws (4-0, 2-0)-
For the second year in a row, the Patriots and the Choctaws are entering their matchup undefeated. Last year, the Patriots fell in a heartbreaker 14-0. While both teams made deep playoff runs, both lost in the third round.
ACA is known around the Druid City to have firepower galore. So far this year, the Pats have outscored opponents 143-64. The Choctaws, on the other hand, have had a stout defense, only allowing 35 total points.
Bryant's Pick: Eventually, the levee has to break. Bibb County hasn't allowed many points this year, but in a battle of 4A Region 3 titans, I'm taking ACA to avenge last year's loss.
Hillcrest Patriots (4-0, 2-0) @ Hueytown Golden Gophers (1-3, 1-1)-
Hillcrest has had a rollercoaster of a season so far. After a close rivalry game victory over T-County and a big win over Brookwood, the Patriots escaped Wetumpka with a multi-lateral, game-winning play that has even gained attention from ESPN.
On the other sideline, Hueytown has had an "up-and-down" season of their own. After a loss to Minor, the Gophers had to forfeit two games due to COVID-19 complications. Last week, Hueytown returned to play with a blowout win over Brookwood.
Bryant's Pick: While Hueytown proved that they can score last week, Hillcrest has hit their sweet spot. This matchup will ultimately prove that Hillcrest is in mid-season form with a win over Hueytown.
Northridge Jaguars (4-0, 2-0) @ Brookwood Panthers (0-4, 0-2)-
The Jaguars had a scare two weeks ago against Paul Bryant. They escaped with a win, and last week they proved that they were still at the top of 6A Region 4 with a huge win over Bessemer City. Each week, Northridge is consistently providing one of the best rushing attacks paired with a defense that won't quit.
Brookwood, on the other hand, has struggled out of the gate. The Panthers have had a rough few weeks dealing with several key players and even head coach Mike Bramblett having to quarantine due to COVID-19. Regardless, the Panthers have been relentless in showing that they are completing this season.
Bryant's Pick: Brookwood will find a win this season- just not this week. Northridge is too good. The Jaguars will be winning big Friday night in a game that might get a little ugly.
Northside Rams (3-1, 1-1) @ Hamilton Aggies (3-1, 2-0)-
So far this year, Hamilton's only loss has come from a forfeit to Red Bay. In their other three games, the Aggies have had three victories that have been won by at least a touchdown.
Northside has performed oppositely. Of the Rams three victories, two have been won by seven or fewer points. Last week, Northside ran into the brick wall that is Gordo and lost a tough one, but the Rams are better than this.
Bryant's Pick: These two teams have never met in football in the 169 total years these schools have played. While Hamilton will win this inaugural matchup in a close one, have no fear Northside fans. This small speedbump will end next week.
Central Falcons (1-2, 0-1) @ Marbury Bulldogs (3-1, 1-1)-
Central Tuscaloosa is an interesting case. After a big week one showing against Holt, the Falcons have had some bad breaks against Northridge and a very good Demopolis team. Central has some great talent, but after some bad mental mistakes by the defense two weeks ago, the team had some fine-tuning to do in their bye week.
Marbury's three wins have come from a forfeit from Montevallo and two close wins to Dallas County and Jemison. Unfortunately for the Bulldogs; however, Region 3 of 5A is stacked with talented teams.
Bryant's Pick: This win is a must-win for the Falcons if they want to keep their playoff hopes alive. This game might be a little close for Central, but they will be walking away with a crucial region win.
Tuscaloosa County Wildcats (1-3, 0-2) @ Vestavia Hills Rebels (0-4, 0-2)
If high school football in Alabama was college, then 7A Region 3 would be the SEC. T-County has talent, but last week, Hewitt-Trussville showed the Wildcats why they deserve one of the coveted playoff spots. Fortunately for the Wildcats, they will travel to Vestavia to face a Rebels team that has been heavily affected by COVID-19.
Vestavia has yet to win a game. Their first two came as forfeits and their second two were both within one score. Don't let their record deceive you, though. The Rebels only lost to the nationally ranked Hoover Bucs by a field goal.
Bryant's Pick: The 2020 Vestavia season should have been Coach Buddy Anderson's victory lap. This year marks 43 since the coach started, and this weekend should be Anderson's sixth straight win over T-County. Senior running back and Troy commit Damien Taylor will have a good game against a tough region opponent, but Vestavia will get their first win of the season against the Wildcats.
Also in Tuscaloosa County, Gordo will look to continue their dominant season with a road trip to Haleyville.
After canceling their season, Sumter Central left Holt without an opponent. This week, instead, the Ironmen will host a Paul Bryant Stampede team that canceled their game with Grayson High School in Georgia due to distance.
Finally, in arguably the biggest game in the state this week, the #1 ranked Thompson Warriors will travel to Hewitt-Trussville to take on the #2 ranked Huskies in a matchup that will be aired nationally on ESPNU.
Enter your number to get our free mobile app