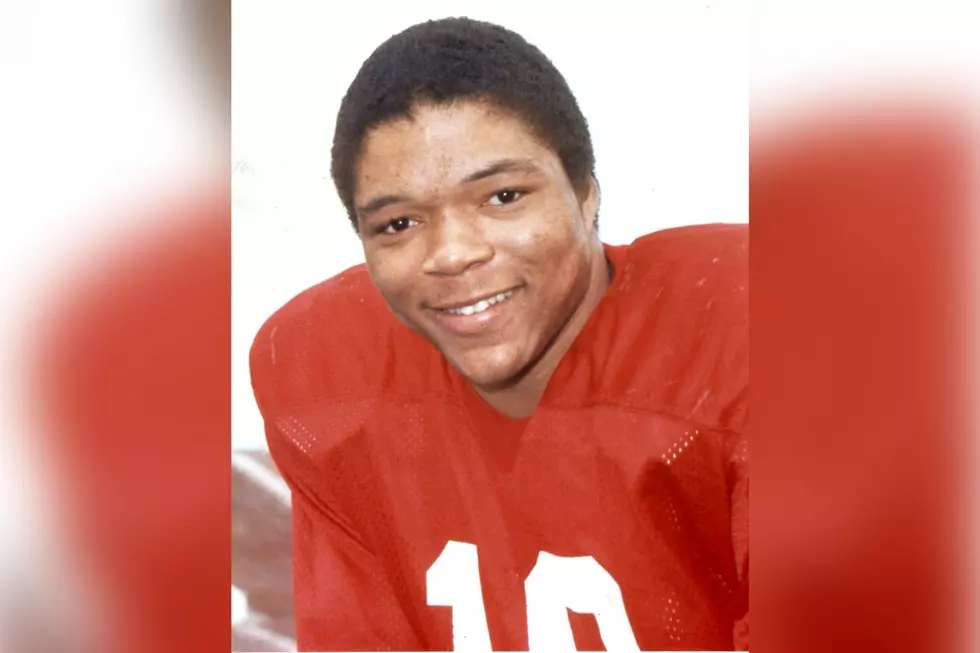 19 Days Away from Bama Kickoff: Jeremiah Castille
Photo courtesy of the Paul W. Bryant Museum
Each day counting down to Alabama's Week 1 matchup with Utah State, I will highlight a former player whose jersey number coincides with the amount of days until the game. The Crimson Tide takes the field in only 19 days, so let's take a look at Alabama legend Jeremiah Castille. 
Jeremiah Castille suited up at cornerback for Alabama from 1979-82 and put together a incredible record setting career in his time in Crimson and White. He was one of few players to find the field in just his freshman year under Bear Bryant, and helped the Tide to two conference titles and a national championship.
Castille was born in Columbus, GA in 1961 to a family struck by alcoholism and violence. In an interview with the Shelby County Reporter in 2016, the former Bama star defined his upbringing as, "Chaotic."
Castille said, "Chaotic is the word for it. When I say 'domestic violence' I'm talking about serious domestic violence from my mom and my dad (...) I'm talking about every week; alcoholism was the igniter of it. It affects you in a very negative way."
A product of his environment, Castille spent much of his childhood angry, looking for an outlet.
It wasn't until he was serving a suspension from summer school ahead of his eighth grade year that Castille found his answer. In the same interview with the Shelby County Reporter in 2016, he revealed that he attended a revival at a local Baptist church, and that experience is what placed him back on the right track.
Castille said, "I left that church a different person. I went in a sinner and came out a saint. The power of the gospel was resonant in me. I left there empowered."
The empowered adolescent quickly rose up recruiting boards over his next four years at then-Central-Phenix City High School and received a scholarship from his dream school, Alabama.
In his freshman season, Castille appeared in 11 games and recorded 13 tackles and an interception. The Tide finished the year 12-0 and was named the consensus national champions.
As a sophomore, the exciting young corner made his impact felt. Castille appeared in all of the Tide's games and finished with 42 tackles and three interceptions, all of which came in crucial moments throughout the season.
His junior season was even better as the third-year star compiled 43 tackles, 10 pass deflections and five interceptions. Alabama finished 9-2-1, losing in its bowl game to Texas, but won a share of the SEC crown.
Castille's final year in Tuscaloosa saw the senior finish with 58 tackles and a whopping seven interceptions. He placed himself firmly in the Crimson Tide record books as the program's then-all-time leader in picks (16), which stood until 1993.
He was drafted in the third round of the 1983 NFL Draft by the Buccaneers and spent four seasons with the team before joining the Denver Broncos in 1987.
Castille played for just two years in Denver before he felt he was being called away from playing football.
He said, again to the Shelby County Reporter in 2016, "There was a battle between [god] and I," Castille said. "Internally there was a struggle. I'm a very competitive person and wanted to keep playing. In that process, the Lord stripped me of all that competitiveness."
Since retiring from football, Castille has spent the last few decades working to minister across the state of Alabama. He founded the Jeremiah Castille Foundation in 1999 and it has since put together several projects aimed at helping local residents like the "Castille Character Camp," and "Bags of Hope," which gathers school supplies for children in need.
Now, he resides in Woodlawn, AL with his wife Jean. The pair raised six children together, three of which suited up for the Crimson Tide themselves, and work with one another in running the foundation.
Salute this Bama legend and stay locked in to Tide1009.com for the countdown to Alabama football. Check out the rest of the list here.
Iconic Photos From Alabama's 18 National Championships
Claimed or recognized, no FBS football program has more national championships than the Tide. Look back on all 18 titles in Alabama history with these photos.
Highest Rated Recruits of the Saban Era By Year
Check out Alabama's highest-rated recruit from each Crimson Tide recruiting class during the Nick Saban era.