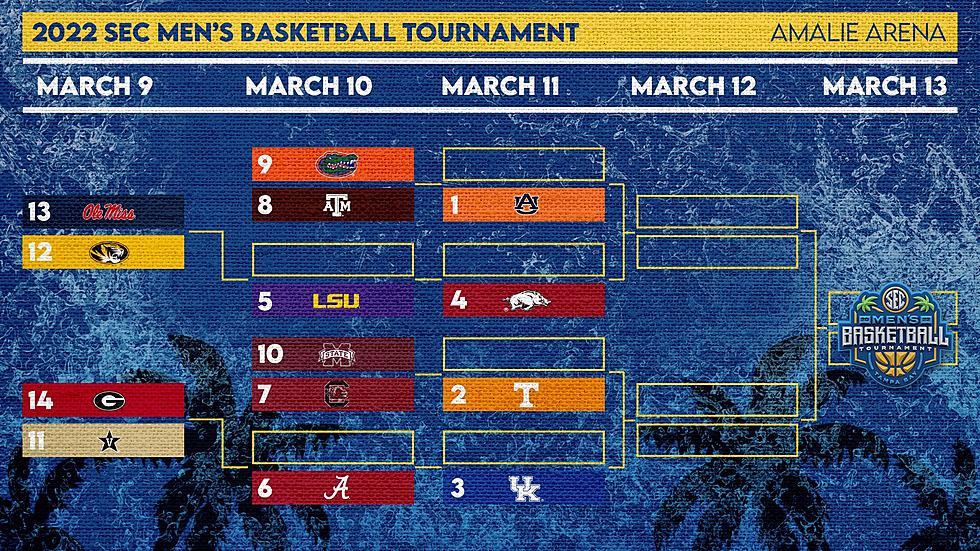 2022 Men's Basketball SEC Tournament Bracket Revealed
Courtesy of @SEC via Twitter
After a final weekend of men's college basketball that featured eight teams changing spots in the SEC standings, the 2022 SEC Tournament is finally set.
The Auburn Tigers (27-4, 15-3) will be the No. 1 seed going into the tournament after beating South Carolina 82-71 on Saturday and securing their first outright regular season crown since 1999. Auburn received their first No. 1 ranking in the AP Top 25 poll in their program history earlier this season, and held the spot for three weeks before losing road games to Arkansas, Florida, and Tennessee and being bumped down to No. 5 going into the final week of play. With Saturday's win, the Tigers also clinched an undefeated season at home.
Tennessee (23-7, 14-4) and Kentucky (25-6, 14-4) finished in a tie for second place in the SEC, but Tennessee will be the No. 2 seed in the tournament via tiebreaker. The Volunteers also finished with an undefeated record at home after a 78-74 win against an Arkansas team that came into Knoxville winning 14 of their last 15 games.
Kentucky was able to stay in the No. 3 spot by beating Florida on the road 71-63 on Saturday, while Arkansas (24-7, 13-5) dropped from No. 2 to No. 4 in the final weekend of play with their loss to Tennessee on Saturday.
LSU (21-10, 9-9) overtook Alabama for No. 5 in the tournament by beating them in Baton Rouge, 80-77 OT, on Saturday.
The Crimson Tide (19-12, 9-9), who won last year's SEC Tournament by beating LSU in the championship, fell to the No. 6 seed after dropping their last two games of the regular season to Texas A&M and LSU. Even with a .500 record in the SEC, Alabama has given some trouble to the conference's top teams this season, playing close games against Auburn and Kentucky and pulling off wins against Tennessee and Arkansas.
The tournament rankings 7-14 are in this order: South Carolina, Texas A&M, Florida, Mississippi State, Vanderbilt, Missouri, Ole Miss, and Georgia.
In this single-elimination tournament, the top four seeds get double byes and don't have to play until the quarterfinals on Friday. Seeds 5-10 get single byes and don't have to play until Thursday, even though the fifth and sixth seeds' opponents aren't decided yet as they will come from the winners of the No. 12 vs. No. 13 and the No. 11 vs. No. 14 games, respectively, on Wednesday, while No. 7 vs. No. 10 and No. 8 vs. No. 9 are already locked.
The tournament will be played at Amalie Arena in Tampa, Florida and is set to begin on Wednesday, March 9 with No. 12 Missouri vs. No. 13 Ole Miss at 5 p.m. CT and No. 11 Vanderbilt vs. No. 14 Georgia at 7:30 p.m. CT. The tournament will go from March 9-13, with all games being played either on the SEC Network or ESPN.
Alabama Basketball All-Time Scoring Leaders
Bama All Time Steals