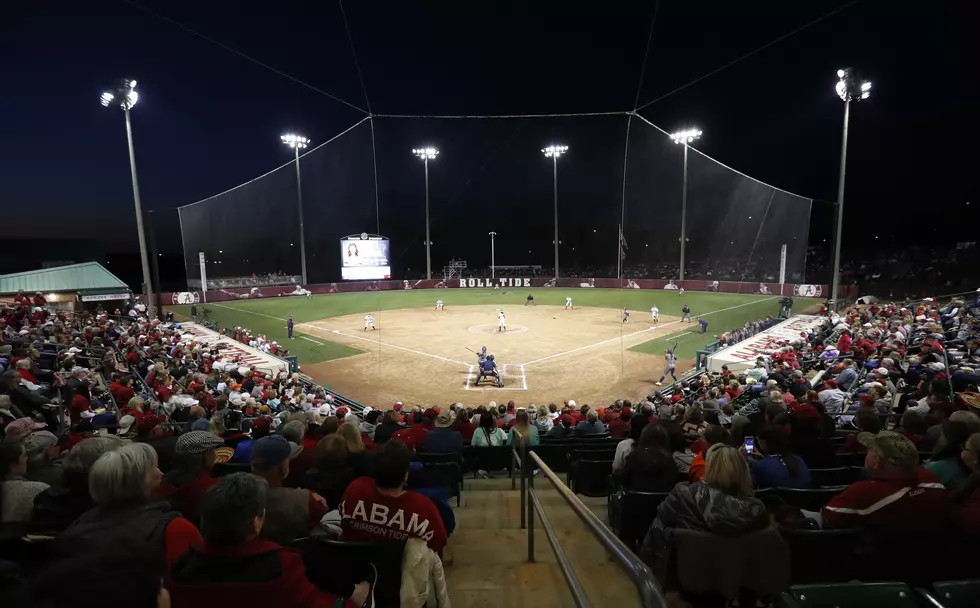 Across the Diamond: Easton Crimson Classic
Crimson Tide Photos/UA Athletics
Alabama gets set for a 10-game homestand as Michigan State, Southern Miss and Saint Francis University come in for the three-day Easton Bama Bash at Rhoads Stadium Friday through Sunday.
Following last week's Easton Bama Bash, Alabama travelled up to Birmingham for their first of two meetings with UAB. The Crimson Tide had not trouble with the Blazers in an 8-0 win in six innings.
Bailey Hemphill hit two home runs while Skylar Wallace hit her second long ball of the season in the victory.
In addition to the big hits, Alabama scored at least one run in five of their six at bats. During his visit with Travis Reier on Southern Fried Sports, Murphy relayed how he likes to see that type of consistency in his offense.
"That's one of the things that we love to do is score every inning if we can." Murphy said.
The Crimson Tide opened the scoring with the first of Hemphill's two homers in the top of the first inning. Besides getting out to an early lead, the long ball eased any worries that Murphy had about a let down against the Blazers.
"I'm always kind of worried about kind of a let down, especially after a big tournament. It's a road game, and people are tired. As soon as Bailey (Hemphill) hit a bomb, it kind of just alleviated all the pressure and then everybody just started to hit." Murphy said.
KB Sides "A Big Time Spark"
Through the first three weeks of the season, sophomore outfielder KB Sides has provided a steady presence in the number two spot in the order. The Dora, Alabama, native has hit safely in 12 of 16 games, has seven multi-hit games and has six multi-RBI games in 16 games.
Against UAB, Sides went 1-4 with a double and a run scored. In his conversation with Travis Reier, Alabama's head softball coach praised the contact Sides is getting from the plate along with her consistency in producing runs.
"KB Sides has continued to hit the ball hard, big time RBI producer in the two spot which is one of the things that we needed, and she's provided it. She's just been a big time spark for us." Murphy said.
Easton Crimson Classic Field
On paper, Alabama has an opportunity for another five-game sweep as Southern Miss, Michigan State and Saint Francis have been inconsistent away from home this season.
Southern Miss has the best record of the three opponents coming into the weekend with a 9-5 mark but have won six of their nine games at home. Due to the winter weather up north, Michigan State and Saint Francis have played all their games on the road. Saint Francis has split their first 14 games while Michigan State has struggled at 3-10 and has lost nine in a row.
One player to keep your eye out for this week is Southern Miss senior infielder Sarah Van Schiak. The Petal, Mississippi, native is currently on a nine-game hitting streak and is seventh in Conference USA with a .425 batting average.
Another player to watch is Saint Francis senior slugger Hayley Norton. The Spring Grove, Pennsylvania, native leads the Northeast Conference in hits (25), home runs (6) and RBIs (22). In their 12-7 victory over Bowling Green last Sunday, Norton had a season-high four hits with two round trippers and three RBIs. For the entire Gardner-Webb Softball Tournament, she finished 10-16 with three home runs, 12 RBIs and 10 runs scored in five games.
Easton Crimson Classic Schedule
Similar to last week, weather could play a factor in this weekend's schedule as rain is in the forecast for Sunday.
Southern Miss vs. St. Francis 11 AM
Michigan State vs. St. Francis 1:30 PM
Alabama vs. Michigan State 4 PM
Alabama vs. Southern Miss 6:30 PM
Michigan State vs. St. Francis 11 AM
Alabama vs. St. Francis 1:30 PM
Alabama vs. Southern Miss 4 PM
Southern Miss vs. Michigan State 6:30 PM
Southern Miss vs. St. Francis 11 AM
Alabama vs. Michigan State 1:30 PM