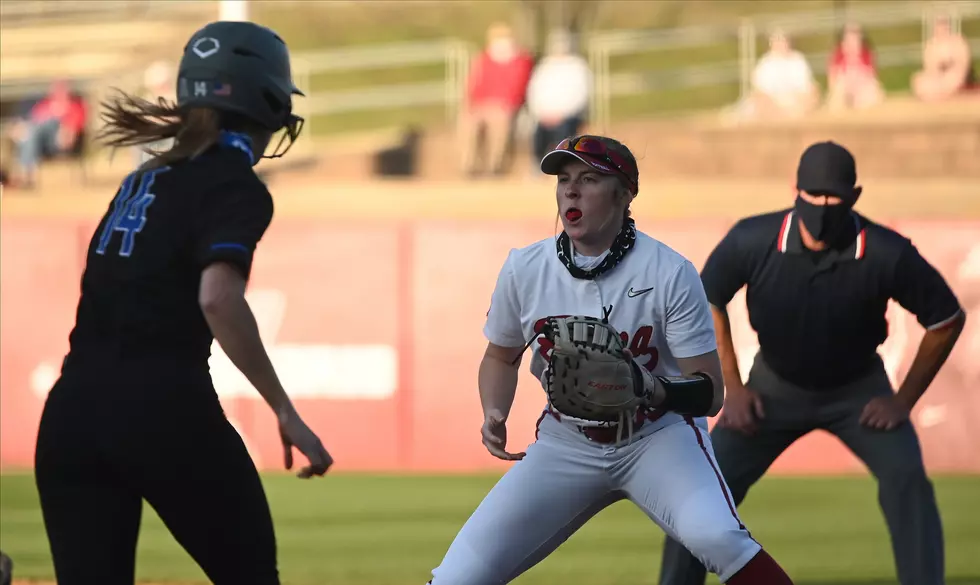 Alabama Softball Sweeps Memphis in Easton Crimson Classic
Crimson Tide Photos / UA Athletics
Game 1: 8-3 win vs. Memphis
It doesn't take long to figure out if junior Montana Fouts is locked in at the circle.
When Fouts throws the first pitch for a strike, Fouts' best pitching assets, her accuracy and velocity, are on full display and it's very difficult to slow her down. In her start against Memphis on Friday, she threw a first pitch strike to 14 of the 19 batters she faced in the game.
"If you can get to 0-2, that should be a done deal for Montana," head coach Patrick Murphy said. "Then it is a cat-and-mouse game [between her and the hitter]. 'Where is she going to throw it?' is going through the hitters head and chances are if she gets a corner it's going to be a strike so you better swing. That's a huge advantage for the pitcher."
Her hot start kept Memphis off the board for the beginning of the game, as she maintained a no-hitter through the first three innings. During that span, Fouts allowed one baserunner and retired 10-straight batters before allowing a hit in the fourth inning.
Even after a two-run home run trimmed the lead to two, Fouts went back to work by recording back-to-back strikeouts to end the inning. The Grayson, Kentucky native picked up her fourth win on the season as she finished the game with 11 strikeouts allowing three runs on four hits.
The consistency in the circle continued even when Fouts was taken out of the game as freshman Jaala Torrence pitched two innings of shutout relief where she allowed one hit and tallied five strikeouts.
"It was amazing and great experience," Torrence said when asked about pitching at Rhoads Stadium for the first time. "I really felt the support of all the fans and just my teammates and knowing that the defense was working hard behind me it was, it was an amazing experience."
Game 2: 5-1 win vs. Memphis
Similar to the first game, Alabama received another solid pitching performance in its 5-1 victory over the Tigers.
In her first start, graduate student Krystal Goodman picked up her first win of the season as she pitched a complete game allowing one run on six hits and striking out two. Similar to Fouts' start, Goodman had success by getting ahead of the Memphis hitters as she threw a first pitch strike to 11 of the 26 batters she faced.
"That's one of her best games that she has thrown at Alabama," Murphy said. "No walks, two [strikeouts] and a complete game, that's a great outing for her so I'm really proud of her. One of the things that she worked on with [pitching coach Stephanie VanBrakle Prothro] all fall was eliminating walks and giving up freebees so it was really good that she did that tonight."
The start allowed Alabama to cling to a one-run lead until the bottom of the fifth inning where the team scored four times in the inning.
After a Bailey Hemphill RBI-single, senior Kaylee Tow sent a towering three-run home run to left-center field. It would be business as usual for the Louisville Slugger/NFCA Player of the Week, who lost the lead for most RBIs on the team to freshman Bailey Dowling, but quickly reclaimed the honor after her four RBI performance.
"I want them to fight for RBIs," Murphy said. "Obviously Bailey [Hemphill] is hitting third, Tow fourth, Dowling fifth and Claire [Jenkins] sixth but Claire doesn't want the leftovers and that is what she is getting right now because Tow and Dowling are clearing the bases. It's going to be fun when all three or four of them really start hitting and it's going to be tough for the opposing pitcher to decide who to throw to."
Alabama will be back in action on Saturday with a doubleheader against North Carolina. First pitch for Game 1 is scheduled for 11 a.m.
The 10 Greatest Athletes from Alabama