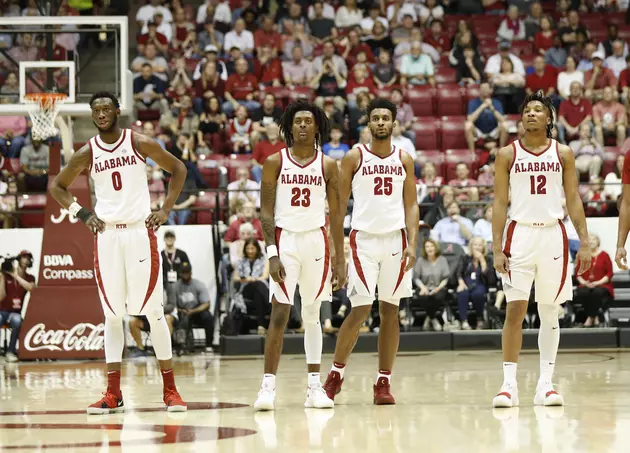 Alabama Basketball Podcast, Ep. 23: Alabama's Losing Streak, FBI Investigation, and Tournament Trouble?
Crimson Tide Photos / UA Athletics
We've arrived at the final week of the regular season and Alabama is looking to finish off the year on a high note after losing three straight games.
The Crimson Tide fell to 17-12 on the season after losses at Auburn and at home to Arkansas and suddenly find itself with an outside chance of having to play on Wednesday of the SEC Tournament and potentially missing the Big Dance. But that's worst-case scenario and Bama has a chance to turn it all around and erase any doubts with games against Florida and Texas A&M this week.
To get you set for the final week of the season, we published episode 23 of the Alabama Basketball Podcast on Monday and hit on these topics:
We look back at Bama's last two losses at Auburn and against Arkansas and discuss what went wrong.
Does Alabama play better with Collin Sexton not on the court like one SEC coach said?
What's causing Donta Hall's recent struggles offensively?
In segment 2, we turn our attention to the FBI investigation and Yahoo's report. Should Bama fans be concerned about Collin Sexton's name being mentioned? What are some of the bigger issues and how much will this impact the NCAA Tournament?
Segment 3 looks at the SEC standings and where the Tide could be seeded in the tournament next week. What about the latest Bracketology projections? Is Ben or Caleb concerned about Alabama's chances after three straight losses?
Finally, we wrap up the show with a look at the final week of the season with games against Florida and Texas A&M.
Check out the full episode on Soundcloud below or subscribe on iTunes to get it delivered to your phone as soon as it's released.