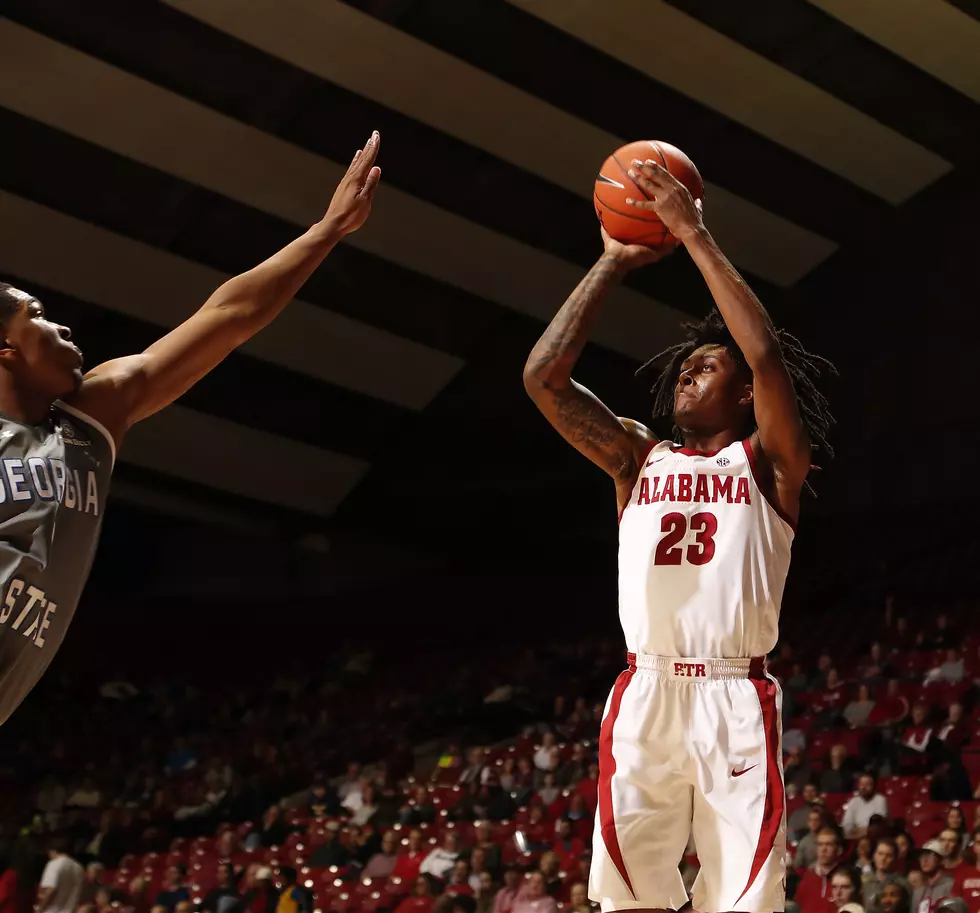 Alabama Falls to a Buzzer-beater in the Final Second, 83-80
12-04-18 MBB vs Georgia State John Petty Photo by Robert Sutton
The Alabama men's basketball team fell in a heartbreaker to Georgia State Tuesday night, 83-80, on a buzzer-beater three-pointer inside Coleman Coliseum. Georgia State (6-3) used a strong second half and stifling defense to come back from a 21-point halftime deficit and secure a narrow win over the Crimson Tide (5-3).
Four Alabama players scored in double digits in the losing effort. Freshman guard Kira Lewis Jr. led the Tide with 19 points, including knocking down five threes on the night. Junior Dazon Ingram had a strong showing off the bench with a season-high 17. Senior forward Donta Hall recorded his third double-double of the year with 11 points and 11 rebounds, while junior forward Tevin Mack started in his first game this season and put in 12 points of his own.
"It was a tale of two halves tonight," Alabama head coach Avery Johnson said. "We got off to a really good start with shooting the ball really well in the first half and kept them on their heels. We were attacking with ball movement, player movement and our shots were falling and I thought we did a decent job at the line in the first half. It all fell apart in the second half. We just didn't do a very good job on either end of the floor, we didn't get enough support help from the weak side. Offensively we had too long of a scoring drought. We saw it a little bit in our last game, but we just didn't do a good job.
"Like I've been saying since day one, I'm the coach, I'm the one responsible, not the players. As much as I was responsible in the first half, it was the same in the second half, even more. I didn't sense the focus at halftime and I was very concerned because I knew this game wasn't over. Hopefully we will learn and grow from it, but this was a tough loss and we can't lose games like this at home when you're trying to build a resume. I'm hoping we will get back to work, focus and know that we have to finish games."
The Crimson Tide started the game on a strong note with two quick runs in the first half. Using an 8-0 run in only a 1:39, Alabama was able to jump out to an 18-9 lead. Georgia State cut the lead to five before Alabama used a 17-2 run over a 3:34 stretch to increase its lead to 47-29. The Tide led going into halftime, 52-31.
The second half saw Georgia State capitalize on a long offensive drought from Alabama. The Crimson Tide was unable to hit a field goal for a span of 9:18 over the course of the second half. During that time the Panthers were able to trim the lead to 69-61.
D'Marcus Simonds, who led all scorers with a game-high 23 points, scored nine straight in under two minutes to put Georgia State up 80-78 with 43 seconds left in the second half – the Panthers' first lead of the contest. Ingram responded with a made layup on the other end of the court to draw even with 24 seconds remaining in regulation. However, Georgia State's Malik Benlevi drilled a game-winning trey from the wing as the buzzer sounded to result in the final score.
Alabama will play its second straight home game on Sunday, Dec. 9, when it takes on Arizona at Coleman Coliseum. The game will tip off at noon and will be televised on ESPN.