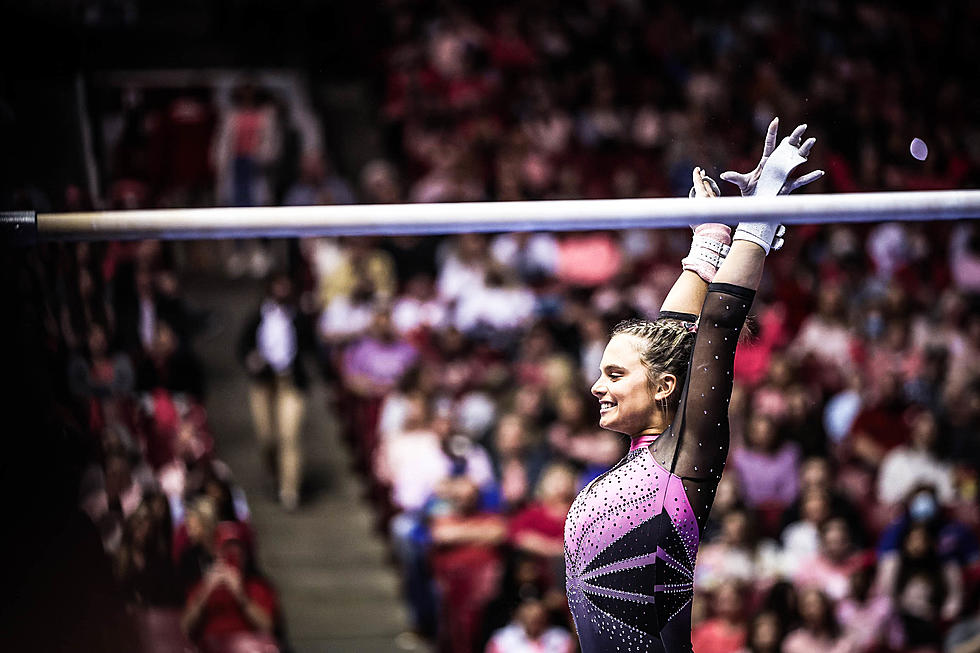 Alabama Gymnastics Hits New Milestone
Photo Courtesy of @BamaGymnastics via Twitter
The Crimson Tide gymnastics team joined the 198.00 club Friday night when it competed in the Metroplex Challenge against Oklahoma, Arkansas, and Stanford. The meet was on podium and was Alabama's first quad meet of the season. Having the opportunity to compete on podium this early in the season and in a quad meet should give the Tide a leg up when it reaches post season.
"I love when we have the opportunity to prepare for championship moments, and that's what tonight felt like," Alabama head gymnastics coach Ashley Johnston said.
Alabama started the meet off on the uneven bars and scored a 49.425 on the event. Lilly Hudson led off on bars and posted a 9.900. Karis German made her uneven bar debut at the meet and scored a 9.850. Mati Waligora followed German's performance with a 9.875. Cam Machado's 9.675 was dropped as Makarri Doggette and Luisa Blanco finished the rotation with 9.900's. The Crimson Tide was in first place after the first rotation. The top-ranked Sooners trailed the Crimson Tide with a score of 49.375 followed by the Razorbacks (49.200) and Stanford (49.175.)
Oklahoma took the lead with a phenomenal bar performance of its own in the second rotation. The Sooners had one gymnast score a 9.975, two gymnasts score 9.950's and two other gymnasts score 9.900's for a total bar score of 49.675 and an overall score of 99.050. Alabama couldn't keep pace with Oklahoma on the balance beam but did have a solid rotation. Ella Burgess led off with a 9.900, and Blanco anchored the lineup with a 9.900 of her own. Freshman Rachel Rybicki scored a career high 9.875 and Waligora and Hudson matched that score with their routines. Gabby Gladieux's 9.800 was dropped. Alabama's total score at the half-way point was 98.850 followed by Arkansas (98.425) and Stanford (98.400.)
The Crimson Tide performed its hearts out on floor and had four scores of 9.900+ including three 9.950's! Waligora led off with a 9.875 while Shania Adams scored a 9.900 followed by Gladieux, Hudson and Blanco's 9.950's. Shallon Olsen's 9.700 was dropped. Oklahoma only had two scores of 9.900+ in the third rotation which gave Alabama the lead going into the final rotation. Alabama led 148.475 over Oklahoma (148.450), Arkansas (147.800), and Stanford (147.475).
Stuck landings has been a point of emphasis for Alabama and the message was drilled home in the vault rotation. Four out of six gymnasts stuck their vaults Friday night to give the Tide its highest vault score of the season. Doggette led off with a stuck 1.5-yurchenko that earned a 9.925. Olsen performed a double-twisting yurchenko and stuck the landing as well and scored a 9.875. Jordyn Paradise and Blanco each stuck their 1.5-yurchenkos and scored 9.925's. Gladieux closed the meet with a 1.5-yurchenko and earned a 9.875. Hudson performed a 1.5-yurchenko and took a slight hop forward resulting in a 9.825 which was dropped.
Oklahoma showed why they're the number one overall team in the country in the final rotation and outmuscled Alabama in the end. The Sooners won 198.125 followed by the Crimson Tide (198.00), Arkansas (197.125), and Stanford (196.725). While Alabama didn't get the win, it performed well on all events for the first time this season and should serve as a meet to build upon the rest of the season. The Crimson Tide travels to Athens, GA where it'll face the Georgia Bulldogs on Friday. The meet will start at 6:00 C.T. and will air on the SEC Network.