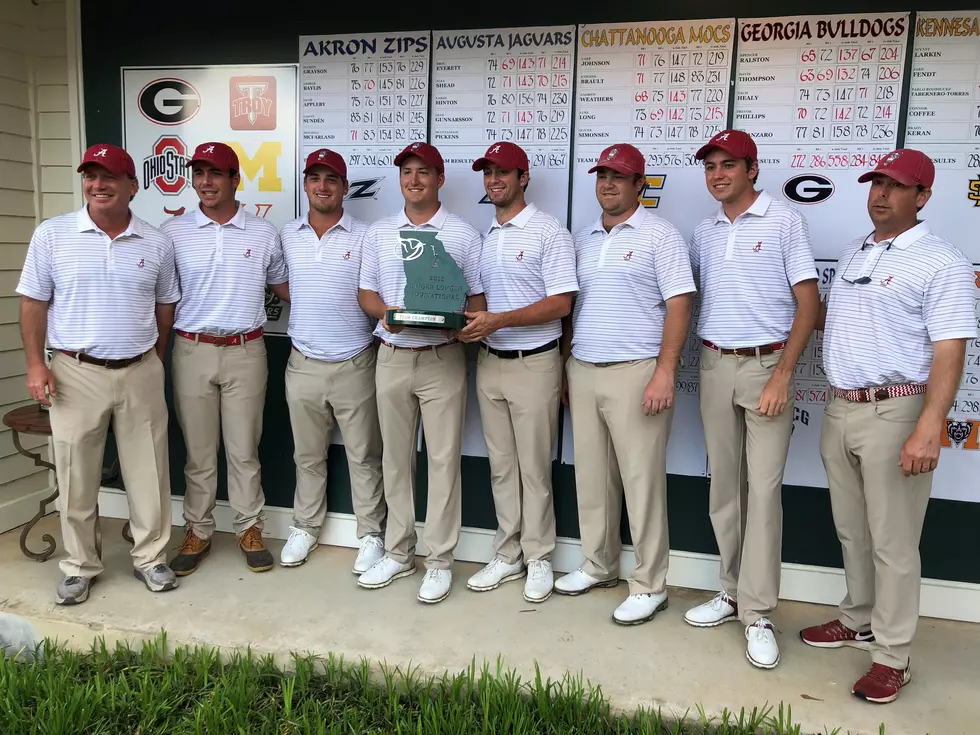 Alabama Men's Golf Wins Linger Longer Invitational, Lee Hodges Claims Medalist Honors
Photo courtesy of Alabama Athletics
The No. 8-ranked Alabama men's golf team claimed its fourth title in seven tournaments this season – and first this spring – as it captured the 2018 Linger Longer Invitational. The Crimson Tide carded a final round total of 7-under par 281 and finished the three-day, 54-hole event with a 24-under par 840 (277-281-282) to take a two-shot victory over second place Georgia.
"It was a big day today," Alabama head coach Jay Seawell said. "We felt like we've played good golf this spring, but just haven't been able to put four scores together and we did a good job of that this week. Everyone had a hand in this tournament win and that is what it takes. It was a good week and we saw the fruits of our labor. We've been working hard and that's what is most exciting about this win and what makes it even more special."
Senior Lee Hodges led the way for Alabama, as he claimed his second medalist honor in three tournaments during the spring season (also won the individual title at the Puerto Rico Classic), finishing with a season-low 54-hole total of 14-under par 202 (67-68-67). It was the second-best tournament score in Hodges' career, while the 14-under was a career-best mark in relation to par.
"Lee played stellar golf, especially down the stretch," Seawell said. "We had a front move through and I bet the wind was blowing as much as 25 miles per hour over the last nine holes. For him to play under par the way he did was great to see and I was really proud of him."
"I felt I played solid all week," Hodges said. "I never really hit any bad spots and gave myself a chance to get up-and-down for makeable putts. I putted really well which always helps, so I am pleased with how I played overall."
Hodges, who came into this week's event ranked No. 23 in the nation according to Golfstat.com, carded three consecutive rounds in the 60s. He tied for tops in the tournament in total birdies (17) and par 4 average score (3.83), while ranking second in the field in par 3 scoring average (2.82). In three tournaments this spring, the Ardmore, Tenn., native has shot six rounds in the 60s and has not finished any lower than 11th place.
Junior Davis Riley collected his fourth top-five result of the year and sixth top-10 finish as he placed fifth overall with a total of 6-under par 210 (69-72-69). The Hattiesburg, Miss., native, who came into the tournament ranked No. 6 in the nation, has recorded par or better in 17 of the 21 rounds he has played on the year. Riley tied Hodges for the lead on par 4 scoring average for the tournament (3.83), while his 13 birdies of the course of 54 holes tied for eighth-most.
Freshmen Wilson Furr (73-72-73) and Davis Shore (71-75-72) finished tied for 25th as both carded a tournament total of 2-over par 218, on the par-72, 7,073-yard Great Waters Golf Club course. It marked the best finish of Furr's collegiate career, while Shore collected his fifth top-30 result in seven tournaments this season.
Senior Jonathan Hardee rounded out the Crimson Tide golfers has he tied for 32nd overall with a three-day score of 3-over par 219 (70-70-79).
Sophomore Josh Sedeno, playing as an individual, entered the final round of play in a tie for 56th overall with a 5-over par 149 (72-77). However, he was forced to withdraw with an injury and did not compete in the final round of play.
The Tide and Bulldogs pulled away from the 16-team field and were in a battle to the end, before Alabama pulled away. Georgia finished at 22-under par 842, 14 shots ahead third-place Penn State (-8, 856). Ohio State (861) placed fourth, while Virginia (865) rounded out the top five.
It marks the fifth time in the last eight years that Alabama has claimed the Linger Longer's team title. The Crimson Tide also won the event in 2016, 2013, 2012 and 2011.
Alabama will return to action on April 7-8 when it travels to Bryan, Texas, to compete at the Aggie Invitational.