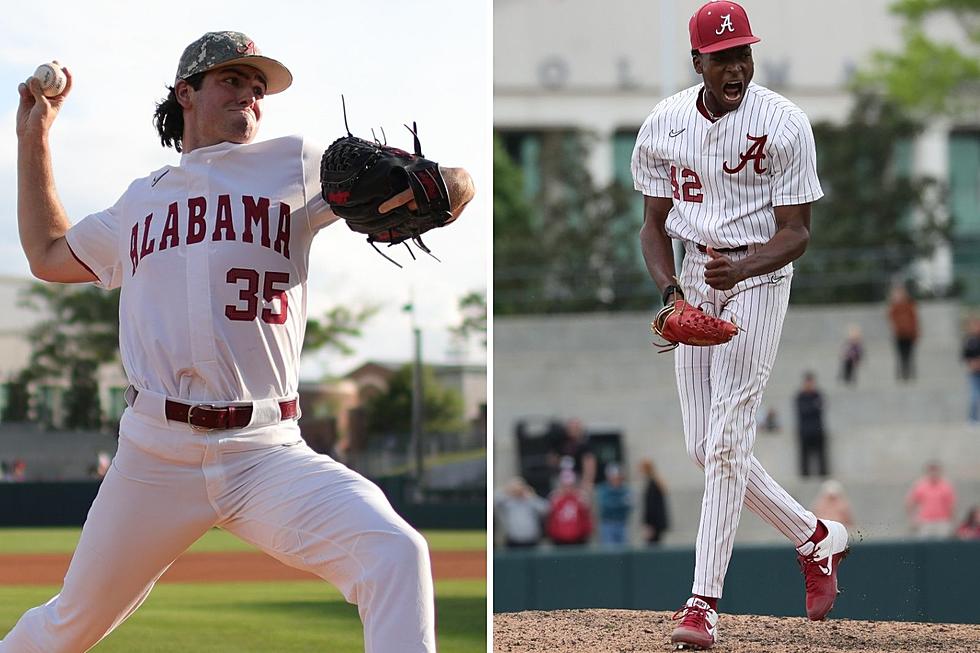 Alabama Pitchers Invited to USA Baseball CNT Training Camp
Crimson Tide Photos / UA Athletics, Canva
Two Alabama baseball pitchers received an invite to the 2023 USA Baseball Collegiate National Team's training camp.
Alabama Athletics announced on Tuesday afternoon that Alton Davis II and Luke Holman both got the invite to the camp which will take place in late June.
"The duo help make up a collection of 56 of the premiere non-draft eligible college players. The group will take part in a four-game Stars vs. Stripes intrasquad series at Cary, N.C., from June 25-28. USA Baseball will name a final, 26-man Collegiate National Team roster after Training Camp that will represent the United States in friendship series against Chinese Taipei and Japan from June 30-July 12," said RollTide.com.
Davis has earned the closing spot in the bullpen during his freshman campaign. He is 1-2 with a 3.86 earned run average, has made 28 appearances and has earned eight saves, as well as recording 32 strikeouts, 30 hits, 14 runs (14 earned), and 11 walks.
Holman earned a spot in the starting rotation this season, making 14 starts in 15 total appearances. He has a 7-3 record, a 3.46 earned run average and has recorded 79 strikeouts, 48  hits, 32 runs (29 earned), 31 walks, and 11 home runs.
"All four Training Camp games will be played at the USA Baseball National Training Complex in Cary. The series begins on June 25 at 2 p.m. CT, with three games following over the next three days. Game two will be on June 26 at 5 p.m., game three on June 27 at 6 p.m. and game four on June 28 at 5 p.m," said RollTide.com. 
The Alabama Crimson Tide baseball team takes on Wake Forest in Game 1 of the Winston-Salem Super Regional on Saturday, June 10, 2023, at 11 a.m. CT. Coverage will be on Tide 100.9 FM and the Tide 100.9 app which is free to download in the App Store.
Alabama Baseball 2023 Roster
Take a look at the Alabama baseball roster for the 2023 season.