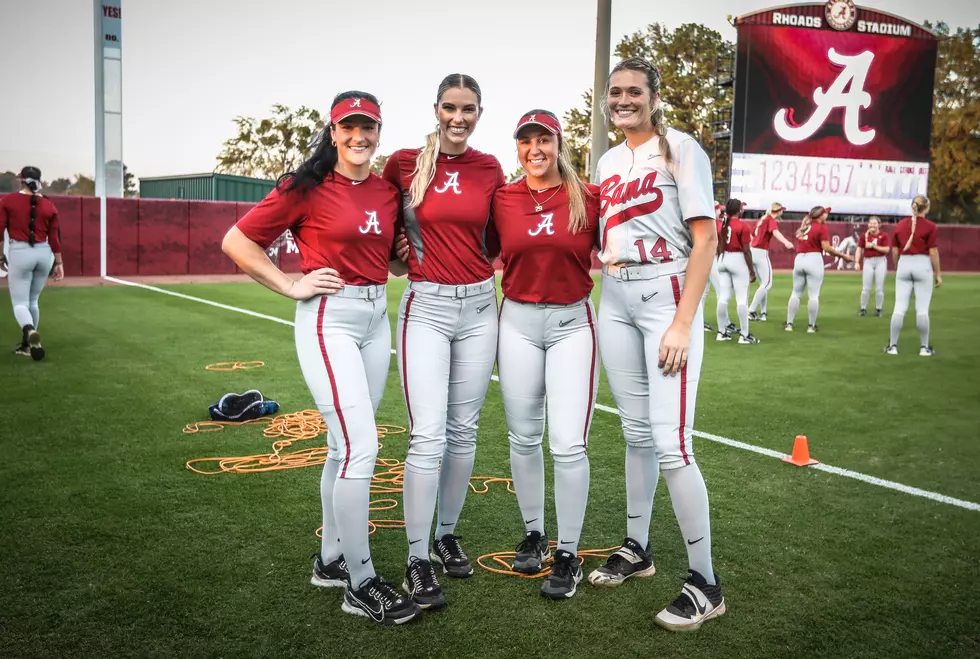 Alabama Softball Senior Days Announced
Photo Courtesy of Alabama Softball via Twitter.
Alabama softball head coach Patrick Murphy has announced the senior days for the four Team 27 members that will finish their college career this spring.
Feb. 25: Faith Hensley. Hensley is a Ball State transfer, who is playing her first season at the Capstone. Last season, she had a .404 batting average, 63 hits in 156 at bats, accounted for 51 runs, batted in 40 runs, hit 17 home runs, drew 37 walks, and stole 13 bases last season.
March 18: Ally Shipman. Shipman will play her second season for the Crimson Tide after transferring from Tennessee in 2021. Last year, she started in 54 games with a .350 batting average, 57 hits, 46 runs batted in, eight home runs, five stolen bases, and drew 14 walks. She also recorded a .998 fielding percentage, only making a single error in the field.
April 8: Ashley Prange. Prange will play her second season at Alabama this spring as well. Last season, the Ohio State transfer recorded a .333 batting average, 50 hits, 31 walks, 27 runs batted in, eight home runs, and two stolen bases.
April 21: Montana Fouts. The Alabama softball ace finishes out her collegiate career this year. Last season, she pitched 190 innings with a 2.10 earned run average and a 24-8 recorded. Fouts recorded 275 strikeouts, 135  hits, 68 runs, 57 earned runs, 53 walks, and ten home runs.

Murphy was on The Gary Harris Show on Tide 100.9 FM on Tuesday morning to discuss the four.
"This is the first time in our history that we have four fifth-year kids. It doesn't happen in softball. Montana's in grad school. Shipman, Prange, and Faith are all getting their masters degrees, so that was a kind of an unintended benefit of the COVID year," said Murphy. "But there's a lot of experience there and that's the cool part of it."
The Alabama Crimson Tide softball team kicks off its season against Lehigh on Friday, Feb. 10, at 3:30 p.m. CT. Coverage will be on ME-Tv 97.5 FM and the ME-Tv 97.5 app which is free to download in the App Store.
Ten Year Throwback to Tide's WCWS Title
In honor of the 10 year anniversary, let's take a look back at the Alabama Crimson Tide's 2012 Women's College World Series championship.