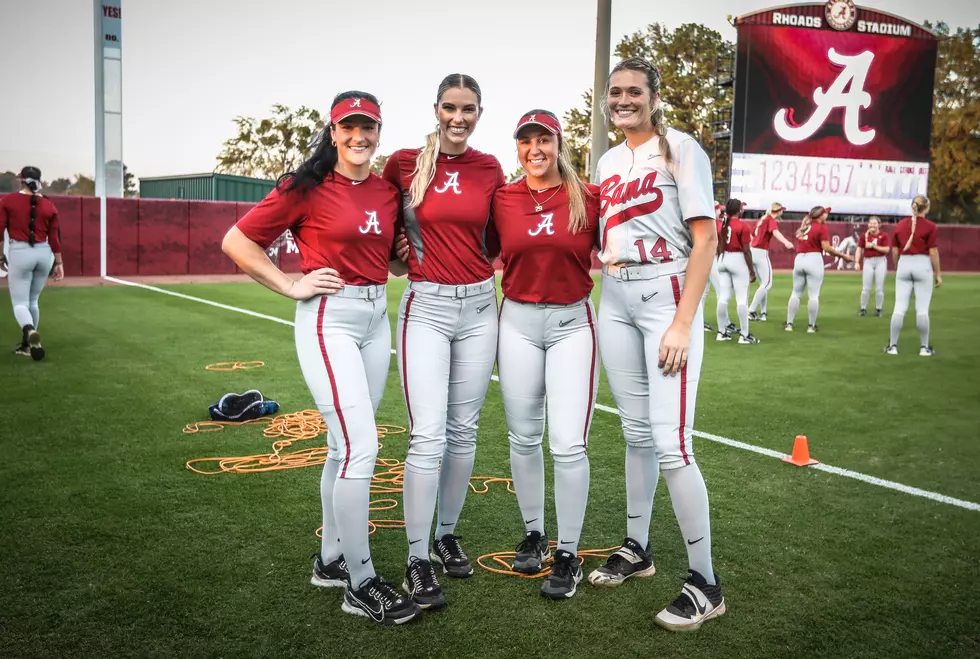 Alabama Softball Shuts Out SLU
Photo Courtesy of Alabama Softball via Twitter.
Team 27 finished off its Saturday doubleheader with an 11-0 win against Southeastern Louisiana. Alabama was able to run-rule Indiana State in its previous game 14-4.
Montana Fouts started on the mound for the Crimson Tide. After striking out two of the first three SLU hitters, the Tide wasted no time in continuing its hitting spree from the previous game. Ally Shipman got things started with an RBI single just staying within the first-base line. Bailey Dowling followed it up shortly after, with a two-RBI hit that bounces off the left field wall. Within the inning, the Tide was able to steal two more runs at home due to missed pitches by the SLU catcher. Alabama ends the first inning up 5-0.
Dowling, again, in the second inning found her pitch and with a full count, homered over the left-field fence. Not only was hitting on focus this game but also excellent defensive play. Shipman, in an effort to get an out at second, made a quick save to protect home plate from a runner trying to steal.
Fouts pitched at a high level through out the game as she finished with nine strikeouts through four innings. While the defense held SLU to zero runs the hitters for Alabama continued to pour on the runs. Kenleigh Cahalan scored the next runs for the Tide with a two run homer. This put her hit streak to 13 games and put the Crimson Tide up 10-0 at the start of the fourth inning.
Faith Hensley capitalized on her senior day to end the game with her second homerun of the day, having one in each of the games. A long ball over the right-field wall that put Alabama up 11-0. Lauren Esman was put in to relieve Fouts and she was able to end the game after the first half of the fifth inning. Hensley had an incredible showing for her senior day as she went four for three at bat and had two home runs.
"The love and support that was flowing through my coaches, teammates, support staff, everybody involved with this program today was incredible and its really easy to go up there and be confident when you are energized by the people are you," said Hensley.
Team 27 will return to the Rhoads House to play the Kennesaw State Owls on Feb. 26. Tune in to listen on 97.5 Me TV.
Alabama Softball's Season Opener
Alabama softball's 2023 season opening weekend.
Alabama Baseball 2023 Roster
Take a look at the Alabama baseball roster for the 2023 season.
Alabama vs. Georgia
No. 1 Alabama basketball defeats Georgia.