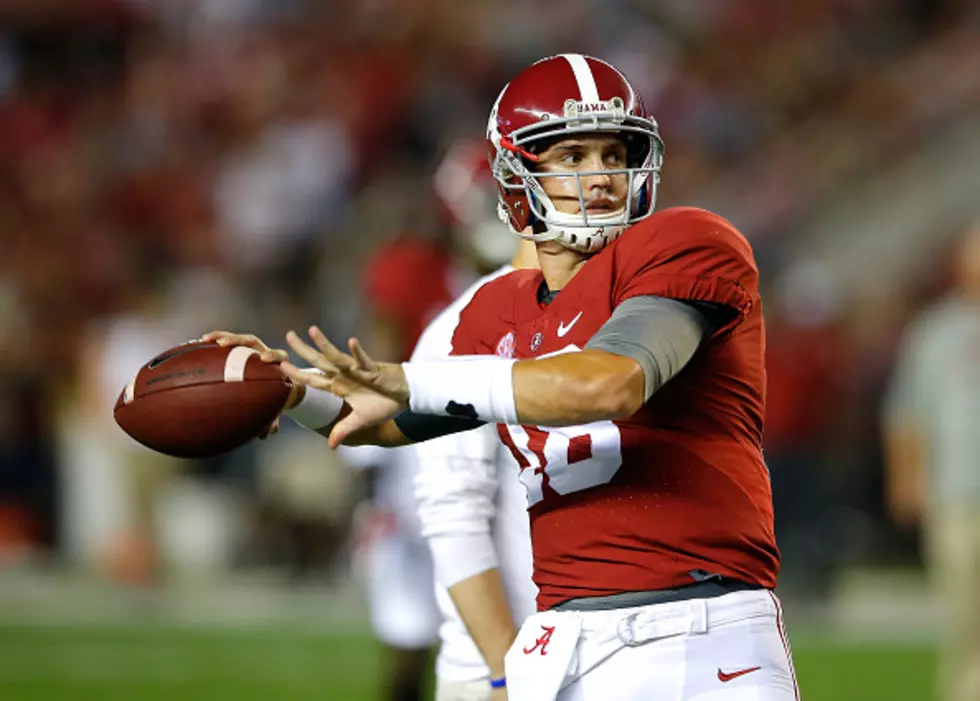 Alabama Starts Cooper Bateman at QB vs. Ole Miss
(Photo by Kevin C. Cox/Getty Images)
From longshot to starting quarterback.
Cooper Bateman received the nod as Alabama's starting quarterback against No. 15 Ole Miss Saturday, taking the opening snap behind center on the team's first offensive series.
Though not official at the time, Aaron Suttles, of Tuscaloosa News/TideSports.com, was the first to report the news, just under an hour before the game's kickoff.
Bateman, a sophomore who redshirted during his first season on campus in 2013, starts over redshirt senior Jake Coker, the Crimson Tide's starter in its first two games this season. Though coach Nick Saban has yet to name a definite starter at the position, Coker was the favorite to start for the third straight game.
During pregame warmups, Coker worked with the first-team offense, while Bateman worked with the second team. When announcing the starting lineups on the video board prior to kickoff, both Bateman and Coker were revealed as starters.
"I think we're closer. I think we started Jake two games in a row. I think there's a reason for that," Saban said after last Saturday's 37-10 win over Middle Tennessee State. "I think we want to give Cooper Bateman an opportunity, and I also think in giving him an opportunity he needs to have experience in case he needs to play somewhere down the road."
Since then, Bateman has split duties in relief of Coker. Against Wisconsin, Bateman played the final three series after entering the game late in the third quarter; against Middle Tennessee State, he started and played the entire second half.
"I think both guys need to improve, and we evaluate this on a day-to-day basis," Saban said. "We're going to make the decision based on what we think is best for our team. If it's to play two guys, it'll be two guys. If we think one guy is going to give us a better chance in this game we'll certainly play that guy."
Prior to this season, Bateman, a Murray, Utah native, had never seen the field at quarterback, though he did serve as the team's holder on field goals in 2014. Through two games, Bateman continues to fill that role on the team, in addition to his quarterback duties.
Bateman joins John Parker Wilson, Greg McElroy, AJ McCarron, Blake Sims and Coker as starting quarterback during Saban's era at Alabama.