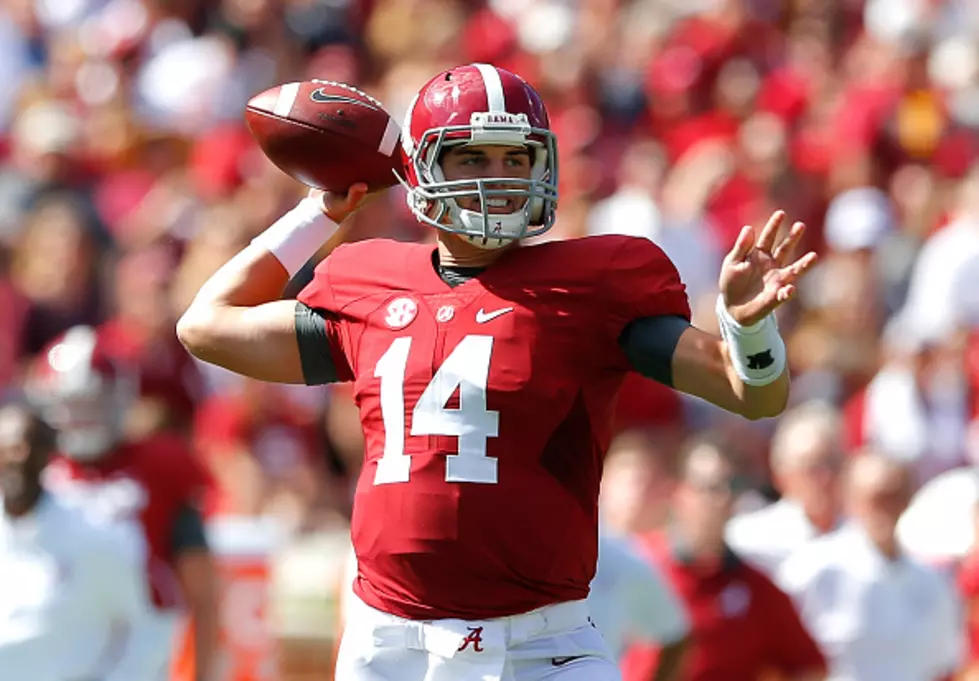 Notebook: Coker, Bateman Continue Split Duties at Quarterback
(Photo by Kevin C. Cox/Getty Images)
It was a tale of two halves on Saturday, at least in terms of who was behind center for Alabama.
After splitting duties at quarterback last week against Wisconsin, both fifth-year senior Jake Coker and sophomore Cooper Bateman again saw reps at the position in the Crimson Tide's 37-10 win over Middle Tennessee State.
Coker, making his second straight start, played the entirety of the first half (eight series overall). Bateman, his main competition as made evident by last week's reps, took over on Alabama's first series of the second half and played the rest of the game (eight series) until junior Alec Morris replaced him with just under two minutes remaining.
Neither Coker nor Bateman played quarterback at all in the other's half.
Both Coker and Bateman played to varying levels of success. Coker completed 15 of 26 passes for 214 yards with one touchdown and an interception, while Bateman also threw for one score and a pick on 11-for-17 passing for 98 yards.
Saban, however, was not overly impressed with the two quarterbacks' performances.
"Both guys really need to improve," Saban said. "I think that, offensively, we started to establish an identity, I thought, against Wisconsin. I don't think we had much of one today, but that not all the quarterback's fault.
"But there are many things that the quarterbacks can do better and we will certainly focus on trying to have them play better. We will evaluate the situation and do what's best for our team."
On each of the quarterbacks' touchdown passes, a short pass was completed inside the red zone, where the receiver did the rest. Sophomore Robert Foster turned a Coker screen pass into a 19-yard score for the game's first touchdown and running back Kenyan Drake took a Bateman shovel pass 14 yards into the end zone.
Conversely, both quarterbacks' interceptions were ill-advised. Up 21-3 near midfield with 4:49 to go in the half, Coker threw a pass into double coverage that was intercepted at the Middle Tennessee State 1 by Blue Raiders safety Kevin Byard. Then, in the fourth quarter on the MTSU 20, Bateman threw it straight into the waiting arms of Jeremy Cutrer – who nearly returned it for a touchdown – on the 3-yard line.
"Both interceptions that we threw were bad decisions by the quarterback," Saban said. "The ball should probably not been thrown, so we obviously have to do a better job of taking care of the ball and make good choices and decisions about that."
Morris did not attempt a pass when he came into the game late. Instead, he handed the ball off three times -- once to Derrick Gore and twice to Ronnie Clark.
Last week, Coker also played the first eight series, before making way for Bateman at the start of the team's ninth drive near the end of the third quarter. Bateman played the final three series of the game, with Morris handing off the ball to run out the clock on the game's final possession.
Entering the first game of the season, only one position on the offensive line appeared to be up for the taking. Now, through two games, it looks decided.
Junior Alphonse Taylor looks to have the right guard position locked up over sophomore Bradley Bozeman, his main competitor and co-starter at the position according to Alabama's depth chart released two weeks ago.
For the second straight week, Taylor took the majority of the reps at the position, playing the first 14 of 16 total series in the game.
When Bozeman came into the game on the team's 14th series, he initially played left guard in place of redshirt freshman Ross Pierschbacher, who moved over to left tackle on that drive. By the 15th series, which began with 8:39 left in the fourth quarter, Alabama had pulled all of its starters, allowing Bozeman to finish out the game at right guard over the team's final two possessions.
In addition to Bozeman's late-game entrance, J.C. Hassenauer played at center in the team's final three drives, while Lester Cotton (left tackle), Dallas Warmack (left guard) and Brandon Greene (right tackle) played in the final two. Hassenauer is a sophomore, who filled in briefly at center last season against Texas A&M, while Cotton and Warmack are true freshmen. Greene, who has also played at tight end for the Crimson Tide, is a junior.
Alabama's starting lineup against Middle Tennessee State was the same as it was against Wisconsin last week. From left to right, Cam Robinson, Pierschbacher, Ryan Kelly, Taylor and Dominick Jackson were the game's starters.
Only two games into his Alabama career, true freshman safety Ronnie Harrison is already setting Crimson Tide firsts.
When Harrison, from Tallahassee, Florida, blocked a Middle Tennessee State punt in the end zone during the second quarter of Saturday's win, it marked the first time an Alabama player has done that in a game since playing Colorado State on Sept. 21, 2013.
The blocked punt, which rolled out of the back of the end zone, also marked the team's first safety since Trey DePriest did it against then-No. 1 Mississippi State last season. Against the Blue Raiders, senior Michael Nysewander almost fell on the loose ball in the end zone for a touchdown, but it had just rolled out of bounds.
Drake recorded the block on the team's last blocked punt two seasons ago, and linebacker Dillon Lee ran it in for a 15-yard score.
Both true freshman Minkah Fitzpatrick and junior Dakota Ball made their first-career starts during Saturday's win over Middle Tennessee State.
Fitzpatrick, a defensive back from Old Bridge, New Jersey, played extensively in last week's season-opening win against Wisconsin, primarily at the team's Star position.
Ball, who began his Crimson Tide career as a defensive lineman before moving to tight end last season, was not targeted in the game but saw significant time in the game as an additional blocker along the offensive line.
To get credited for a start, a player must be on the field during the team's first play from scrimmage on either offense, defense or special teams.
Cornerback Cyrus Jones, linebacker Denzel Devall and running back Kenyan Drake served as Alabama's captains on Saturday.
All three players are seniors. Jones and Devall start at their respective positions, while Drake is a versatile backup at his behind junior Derrick Henry.
Alabama won the opening toss and elected to receive.
Last week against Wisconsin, center Ryan Kelly, linebacker Reggie Ragland and defensive lineman A'Shawn Robinson were the team's captains.