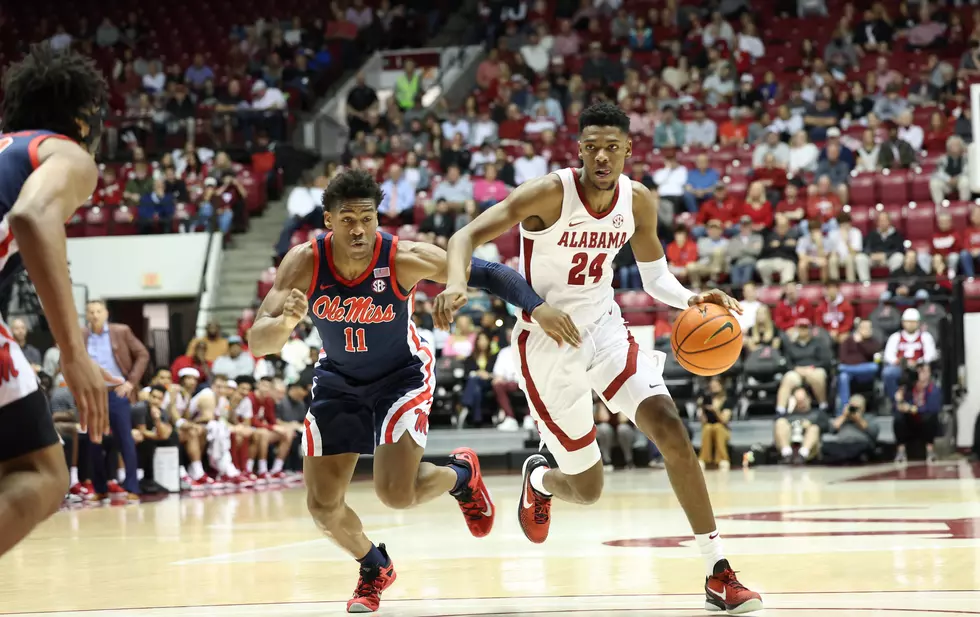 Alabama vs Kentucky Preview
Crimson Tide Photos / UA Athletics
The No. 7 Alabama Crimson Tide and the Kentucky Wildcats will play each other this Saturday in one of the most exciting games of the 2023 college basketball season for both the SEC and the nation. The Crimson Tide and Wildcats will face off in this game for the 156th time.
The Cats travel to Tuscaloosa on Saturday after defeating LSU 74-71 on Tuesday in their first SEC game. The Tide won its second conference game, 84-62, over the Ole Miss Rebels.
The last time Kentucky faced Alabama while the Crimson Tide was rated in the top 25, and Kentucky was not, was on January 26, 2021. Alabama won the regular season and conference tournament in that exact year.
Given the star power involved, the statements that could be made across the conference, and the fact that it will be featured on ESPN's Blockbuster Saturday Showdown broadcast, this contest carries a lot of weight.
WHAT'S NEW WITH THE WILDCATS?
The Kentucky Wildcats enter this game 10-4 and 1-1 in the SEC, with their only loss in the conference against Missouri before the new year. Preseason All-American Oscar Tshiebwe leads coach John Calipari's team once again. Even though he could have entered the NBA Draft last year, the 6-foot-9, 260-pound senior returned for his final season to improve. He has continued to progress significantly from last year and was voted National Player of the Year. This season, Tshiebwe is averaging 16.8 points per game, 13.8 rebounds per game, and a 61.1 field goal %, leading the country in rebounding.
Calipari also brings forwards Jacob Toppin and Ugonna Onyenso, as well as guards Cason Wallace, Antonio Reeves, and Sahvir Wheeler. Wheeler is another returner with extensive experience, having transferred from Georgia a few years ago. He leads the squad in assists, averaging 6.8 per game and 9.1 points per game.
Wallace, a freshman guard, is another name to keep an eye on Saturday. The 6-foot-4 guard from Dallas, Texas, leads the Wildcats in steals (2.3 per game) and is second on the team in scoring (12.9). Wallace leads the team in three-point percentage shooting at 45.6%, which is one of the team's bright spots.
Kentucky has the highest three-point percentage in the SEC. It has a team shooting percentage of 39%. Wallace shoots 45.6%, Wheeler shoots 41.7%, Reeves shoots 40.3%, Chris Livingston shoots 39.1%, and CJ Fredrick shoots 38.8%. So, if Alabama wants to win, the Tide must figure out how to limit Kentucky's three-point shooting.
This hasn't been one of Calipari's most talented teams, but there is a lot of skill on this team, and even though they haven't established their identity yet, the Crimson Tide doesn't want to be the team that jumpstarts their confidence. The Tide intends to continue kicking the Wildcats while they are somewhat down - by their standards.
KEYS TO VICTORY FOR ALABAMA
Alabama must maintain the momentum that it has built since the start of the season. Alabama is now 12-2 overall and 2-0 in the SEC. Brandon Miller, a Freshman of the Year candidate and future NBA lottery pick, has spearheaded coach Nate Oats' squad. Potential lottery pick Noah Clowney, Ohio transfer Mark Sears, freshman guard Jaden Bradley, and a handle full of veterans and other skilled players will be joining him. The Tide's strength is their length, size, and pace of play. Alabama has one of the country's longest lineups and tops the SEC in rebounding. Furthermore, the Tide's style of play has helped them win huge games against North Carolina, Houston, Memphis, and Michigan State.
For Alabama to defeat the Wildcats, it must:
CONTAIN TSHIEBWE
Tshiebwe of Kentucky is one of the top players in the country. With his stature (6'9" and 260 pounds), he is a force in the paint and on the boards, where he leads the nation in rebounding. The Tide must find a way to impede its output by utilizing its length. Tshiebwe will most likely be guarded by Alabama forwards Clowney (6'10"), Noah Gurley (6'8"), Charles Bediako (7'0"), and Nick Pringle (6'9"). Bediako is the starting center and measures 7 feet tall. He gained a lot of weight this offseason and currently weighs 225 pounds. He's still 38 pounds lighter than Kentucky's big man, but Bediako has battled him before, and this season he's faced other All-American big men like Gonzaga's Drew Timme and North Carolina's Armando Bacot. Hopefully, that experience will be enough for Alabama's big guys to take on the reigning National Player of the Year.
Nick Pringle, Alabama's considerably heavier big man, would be another crucial matchup against Oscar Tshiebwe. Pringle, who stands 6-foot-9 and weighs 220 pounds, is an athletic and explosive center. The junior college transfer did not see much playing time at the start of the season since he was still adjusting to the level of play, but as the season has progressed, his production and playing time have increased. Pringle has grabbed important rebounds for the club and adds another long body to an already stacked bunch of long athletes, in addition to being a great lob catcher and finisher around the basket.
PLAY BAMA BLUE-COLLAR BASKETBALL
Unlike Kentucky, this Crimson Tide squad understands who it is. Alabama has one of the top-scoring teams in the country, as well as one of the deepest and longest. The Tide's identity, which coach Oats introduced to Tuscaloosa four years ago, is quick speed, tough effort, and stout defense.
Miller, who leads all division-I freshmen in scoring with 19.1 points per game, tops their scoring. Miller has also been active on the boards, averaging 8.6 per game. He will be the primary player that Kentucky will want to take away. Miller is also one of the reasons that 32 NBA scouts will be in attendance inside Coleman Coliseum.
This team has more players who can score points. Sears, a transfer from Ohio, is averaging 14.6 points per game while shooting 42.5% from beyond the arc.
Clowney is averaging 9.8 points per game and 8.7 rebounds per game, and his basketball IQ on the pick-and-roll is wise beyond his years, as is his ability to capitalize on offensive putbacks.
As the team's point guard and playmaker, Bradley has been one of the team's bright spots, improving with each game. He is averaging 9.1 points per game and is tied for first in assists with 3.8 per game.
Jahvon Quinerly, the returning senior, is regaining his SEC tournament MVP form. Quinerly struggled at the start of the season after undergoing surgery this off-season but has now begun to improve. Quinerly is averaging 6.5 points and 3.8 assists per game while shooting 33.3% from three. However, in his previous two games against Mississippi State and Ole Miss, he has shot 45% from three, indicating that his confidence is building at the opportune time.
FEED OFF THE CHAOS
The fact that this game is sold out means that many Alabama fans will be cheering on their squad, knowing how remarkable this group is becoming before their very eyes. If you are not sporting red and white, Coleman Coliseum is one of the hardest venues to play in. As coach Oats stated, "we are going to enjoy him [Miller]," the Crimson Chaos Student Section will be in full force knowing that Kentucky is in town, Alabama is ranked in the top 10, and they have a superstar who will play in the NBA next year.
Alabama basketball is at a higher level when Coleman is full. The most recent instance was the primetime contest last year versus the Baylor Bears, who had previously won the national championship. Whereas this year's team is significantly superior to last year's, Alabama defeated them 87-78. The players benefited from the crowd's energy since it was so amazing, energetic, and into the game for the full 40 minutes.
When playing at home, Alabama is unbeaten. In contrast, Kentucky has not had a road victory all season. The Wildcats are searching for their first road victory while the Tide is hoping to maintain their perfect home record similar to the 2020–21 campaign when Alabama won the SEC. The Wildcats fell on the road to Gonzaga, who recently defeated the Tide in Birmingham, and then to Missouri.
You could say that rebounding and shooting are essential to Alabama's success, but the Crimson Chaos and spectators will be crucial to the Crimson Tide's ability to play with more energy and battle the Kentucky Wildcats.
POTENTIAL STARTING LINEUPS:
UK
Sahvir Wheeler G - 5'9"
Cason Wallace G - 6'4"
Chris Livingston F - 6'6"
Jacob Toppin F - 6'9"
Oscar Tshiebwe F - 6'9"
UA
Mark Sears G - 6'1"
Jaden Bradley G - 6'3"
Brandon Miller F - 6'9"
Noah Clowney F - 6'10"
Charles Bediako C - 7'0"
#7 Alabama will take on Kentucky on Saturday at 12 p.m. CT on ESPN. In Coleman Coliseum, in front of a sold-out crowd.
Highest Rated Recruits in Bama Hoops History
Take a look at the highest rated recruits to play for Alabama since 2000 according to 247Sports.
Notable Bama Players to Play in the WNBA
Alabama Women's Basketball Photo Shoot 2022-23