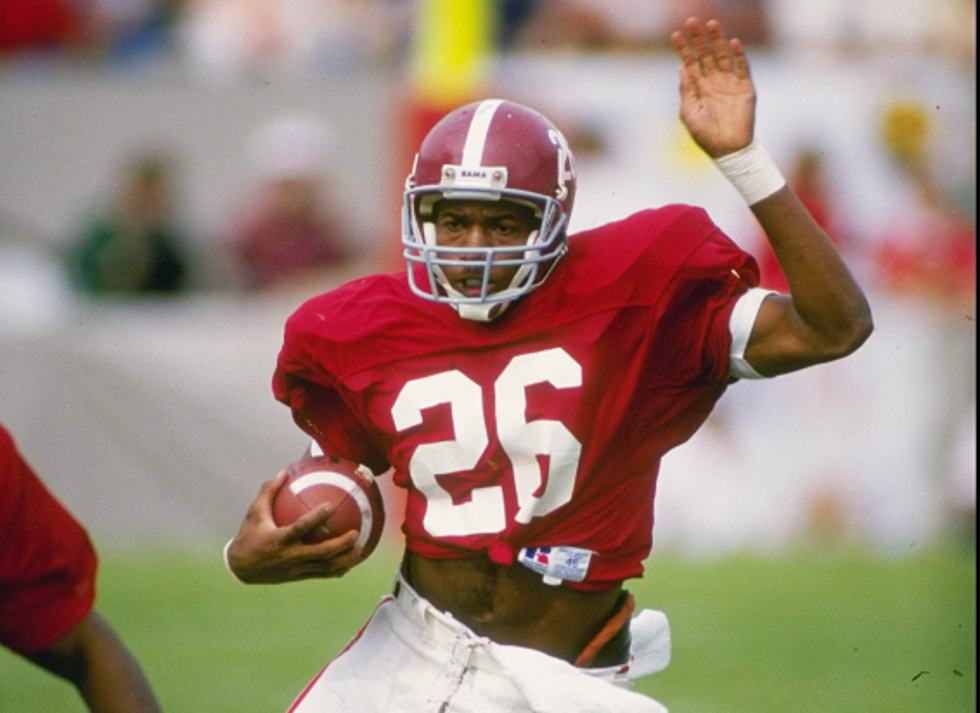 Bobby Humphrey Not Elected into 2016 College Football Hall of Fame Class
Getty Images
SCOTTSDALE, Ariz. – Former Alabama running back Bobby Humphrey will have to wait at least another year before induction into the College Football Hall of Fame.
Humphrey was on the ballot for Friday's National Football Foundation announcement at the JW Marriott Camelback Inn but not among the 14 players selected. The unveiling was televised live on ESPNU as a part of the buildup for Monday's College Football Playoff National Championship between Alabama and Clemson.
Humphrey, a Birmingham native, played at Alabama from 1985-88, finishing his Crimson Tide career as one of the school's top all-time running backs. A 1987 first-team All-American and United Press International Offensive Player of the Year, Humphrey still holds numerous Alabama school records, most notably the career all-purpose yards record with 4,958.
Upon conclusion of his collegiate career, Humphrey ranked atop nearly all of Alabama's rushing marks, including yards in a game (284), yards in a season (1,471) and yards in a career (3,420).
The Denver Broncos selected Humphrey with the third overall pick in the 1989 supplemental draft. He played five seasons in the NFL, the latter two with the Miami Dolphins.
Humphrey was one of 76 players on this year's ballot and the lone representative from The University of Alabama. Five coaches were also up for induction, with two elected Friday.
Of the eligible players and coaches, only former UNLV quarterback Randall Cunningham and Harvard tight end Pat McInally were in attendance. Former Florida State linebacker Derrick Brooks and Purdue defensive back Rod Woodson joined the broadcast via phone. Prior to the announcement, the NFF revealed that four new inductees would be present.
For a player to be eligible for the College Football Hall of Fame, players must have been named a first-team All-American by a major selector as recognized and utilized by the NCAA. Additionally, they must have last played at the collegiate level at least 10 years earlier before consideration, played within the last 50 years and cannot be currently playing professional football.
Humphrey would have been the 25th former Alabama player or coach in the College Football Hall of Fame.
Linebacker Derrick Thomas, who was Humphrey's college teammate, was the last Alabama player inducted into the College Football Hall of Fame, in 2014. Thomas was a unanimous first-team All-American in 1988, earning the Butkus Award and SEC Defensive Player of the Year honors along the way after recording an NCAA-record 27 sacks in a single season.
Though he was not elected, Humphrey could become one of 15 automatic holdover candidates for next year's Hall of Fame ballot, allowing him to bypass the district screening process.
Humphrey is the father of current Alabama starting cornerback Marlon Humphrey, a redshirt freshman.
The induction ceremony will take place during the National Football Foundation Annual Awards Dinner Dec. 6 at the Waldorf Astoria in New York City.
2016 College Football Hall of Fame Class:
Marlin Briscoe, Nebraska QB
Derrick Brooks, Florida State LB
Tom Cousineau, Ohio State LB
Randall Cunningham, UNLV QB
Troy Davis, Iowa State RB
William Fuller, North Carolina DT
Tim Krumrie, Wisconsin DT
Bill Royce, Ashland (Ohio) LB
Mike Utley, Washington State OG
Scott Woerner, Georgia DB
Bill Bowes, New Hampshire
Frank Girardi, Lycoming (Pa.)