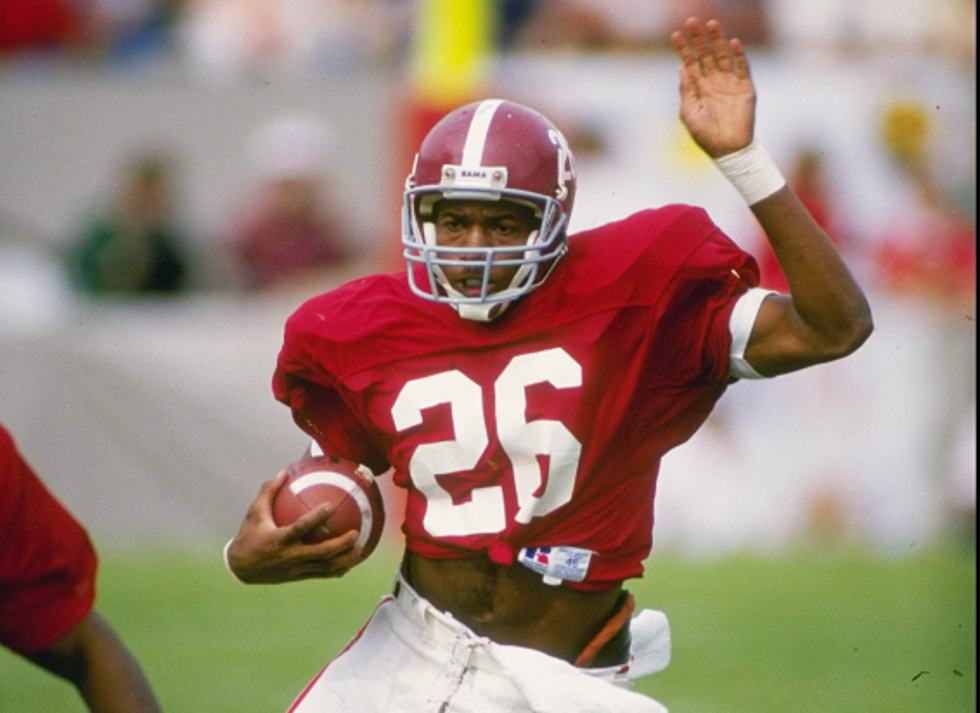 Bobby Humphrey on the 2016 College Football Hall of Fame Ballot
Getty Images
The National Football Foundation and College Hall of Fame have announced the names on the 2016 ballot for induction into the College Football Hall of Fame and former Alabama running back Bobby Humphrey is among the 92 players listed.
The Birmingham native played four seasons for the Crimson Tide (1985-88) and is still considered one of the school's best running backs of all-time. He still holds the Alabama record for most career all-purpose yards (4,958) and is one of only two running backs to rush for over 250 yards in a single game (284 vs Miss State in 1986).
Humphrey earned First Team All-American and UPI Offensive Player of the Year honors in 1987, but the year prior is still one of the greatest in school history. As a junior, Humphrey for 1,471 yards, which was a school record until Mark Ingram surpassed him in 2009, and averaged 168 all-purpose yards per game. That's a school record that still stands to this day.
The 2016 class will be announced the Friday prior to the 2016 College Football Playoff National Championship Game in Arizona. Humphrey is the lone representative from The University of Alabama among the 92 players and 27 coaches on the ballot.
"It's an enormous honor to just be on the ballot when you think that more than 5.06 million people have played college football," said NFF President & CEO Steve Hatchell. "The Hall's requirement of being a First-Team All-American creates a much smaller pool of only 1,500 individuals who are even eligible to be on the ballot, so being in today's elite group means an individual is truly among the greatest to ever have played the game, and we are proud to announce their names. We look forward to announcing the 2016 Hall of Fame Class on the Friday before the College Football Playoff National Championship."
The last player inducted from Alabama was linebacker Derrick Thomas in 2014. In total, the Crimson Tide has 20 players in the College Football Hall of Fame, which is tied for first in the SEC with Tennessee but is only tied for eighth nationally.
Click here to see the full list of players and coaches on the 2016 ballot.