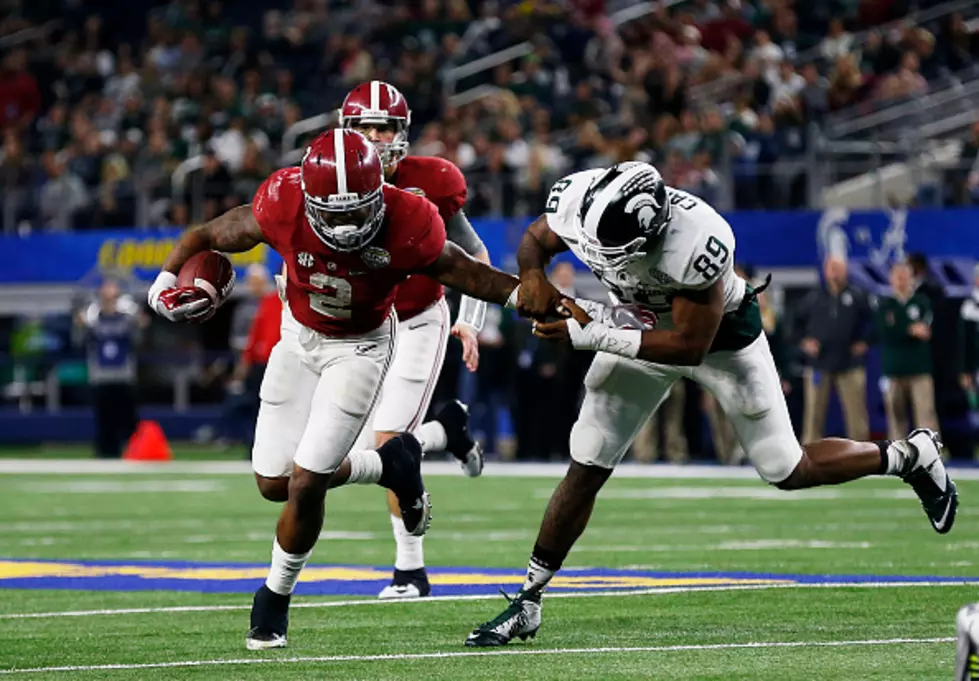 Derrick Henry Becomes First 2,000-Yard Rusher in SEC History, 19th in FBS History
(Photo by Ron Jenkins/Getty Images)
Even after winning the Heisman Trophy, Derrick Henry hasn't finished adding to his resume.
Henry, who rushed for 75 yards and two touchdowns on 20 attempts in the blowout victory, had 1,986 rushing yards entering the game. He reached the mark on a 4-yard carry, his fifth of the game, just before the end of the first quarter.
For comparison purposes, Georgia legend Herschel Walker – with bowl game stats included – needed 410 carries to get to 1,975 yards – the previous all-time single-season rushing record in SEC history before Henry broke it against Florida in the SEC Championship Game – during the 1981 season. Henry needed only 344 carries to reach the 2,000-yard mark.
On his first carry of the game against the Spartans, a 6-yard run, Henry passed Trent Richardson's single-season all-purpose record of 2,083 yards, needing only a single yard to take sole possession of the mark. (He was tied on the mark with Richardson entering Saturday's game.)
Later, Henry moved into sole possession of the SEC single-season rushing touchdowns record with his 24th. (He later scored his 25th on an 11-yard run in the fourth quarter.) Henry tied the previous record of 23, shared by Tim Tebow and Tre Mason, in the SEC Championship Game earlier in December.
His game-opening touchdown Thursday also extended his (rushing) touchdown scoring streak to 19 games, an SEC record also previously held by Tebow (14 games).
For the season, Henry has now rushed for 2,061 yards and 25 touchdowns on 359 attempts.
Now, Henry needs just 133 yards to move past Shaun Alexander for first on Alabama's career rushing yards list. Alexander rushed for 3,565 yards on 727 carries across four seasons from 1996-99. Henry should break that mark with significantly less carries (currently 567 carries) in only three seasons.
Henry, who was third on the Alabama career list before Thursday's game, moved past Bobby Humphrey's 3,420 yards for second during the third quarter. Henry needed 63 yards and 357 career rushing attempts to move past Humphrey, whose career total came on 615 carries.
Alabama plays Clemson in the College Football Playoff national championship on Jan. 11 in Glendale, Arizona.