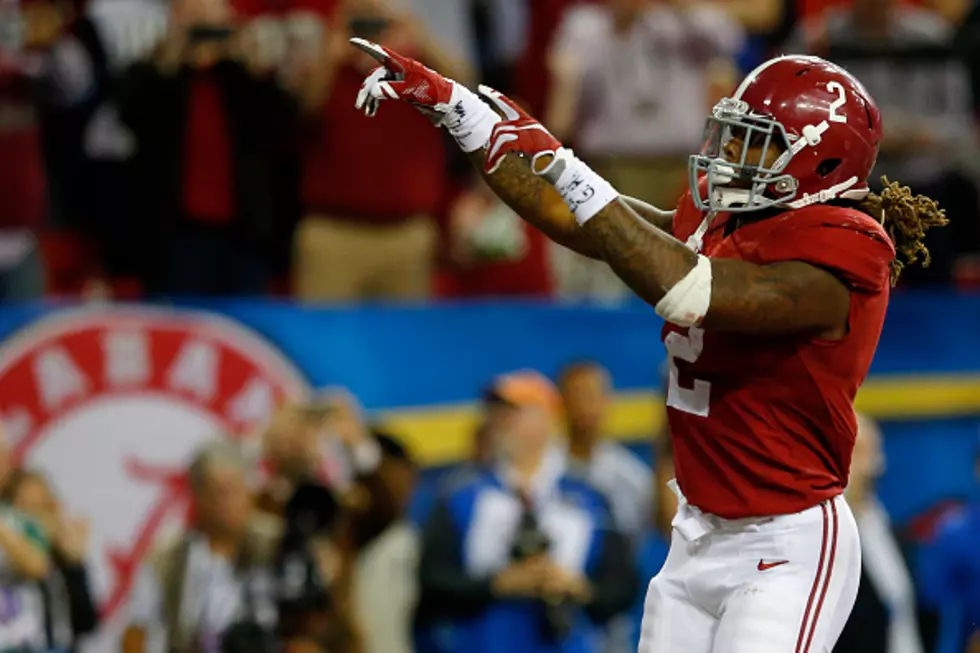 Derrick Henry Breaks Herschel Walker's SEC Single-Season Rushing Record
(Photo by Kevin C. Cox/Getty Images)
ATLANTA – Thirty-four years later, the record has fallen.
In the second half of Saturday's SEC Championship Game against Florida, Derrick Henry surpassed Herschel Walker's SEC single-season rushing record of 1,891 yards set in 1981.
Henry, who rushed for 189 yards and a touchdown on 44 carries, set the new mark on his 28th rushing attempt of the game, a 7-yard run late in the third quarter. At the time of his record-breaking run, Henry had 100 yards and a touchdown.
Entering the game, Henry needed 95 yards to surpass Walker's total set during his sophomore season with Georgia. While Walker set his mark in 11 games, two less than Henry, the junior running back needed only 323 carries to break the record compared to 385 from the Bulldogs legend.
For the season, Henry, who was named SEC Championship Game MVP, has now rushed for 1,986 yards on 339 carries.
"It's a blessing, and God is good," Henry said on breaking Walker's record. "I'm still going to give credit to my teammates and coaches because without them it wouldn't be possible. But they are like my heroes, my football heroes. Growing up and hearing their name and just watching what they did is incredible. For my name to be mentioned with theirs, it's an honor and a blessing."
Earlier in the game, Henry tied Tim Tebow and Tre Mason's SEC single-season record of 23 rushing touchdowns on his 2-yard score that gave Alabama a 12-7 lead just before halftime. It was also the 18th straight game he's scored a (rushing) touchdown, an SEC record also previously held by Tebow (14 games).
Additionally, Henry broke Shaun Alexander's single-season school record of 302 rushing attempts on the first play of the second quarter, his eighth total of the game. Henry also fumbled the attempt, and Florida recovered on its 28-yard line.
Henry, who ranks first nationally in rushing yards and rushing touchdowns, reached the 100-yard mark rushing for the ninth time this season and 14th time in his Alabama career, tying Mark Ingram (2009) and Trent Richardson (2011)'s single-season school record and placing him one shy of Alexander and Bobby Humphrey's career mark of 15.
"I can't tell you how proud I am of this guy," Alabama coach Nick Saban said. "He's had a phenomenal season, and he deserves every accolade that anyone could ever throw his way."
With bowl game statistics included, which the NCAA did not count toward a player or team's season total until the 2002 season, Henry also surpassed Walker's 1,975 yards (on 410 carries) from the 1981 season, set in 12 games. Henry passed the 1,975-yard mark on his 337th attempt of the season (43rd of the game), 73 less than what it took Walker to reach that total.
Henry now needs 14 rushing yards to become the 25th collegiate running back to reach 2,000 rushing yards in a season in stats dating back to 1956 and 208 to break Alexander's single-season school career rushing total of 3,565 yards (1996-99) on 727 rushing attempts.
Henry, who has 97 receiving yards this season, also needs just one more total yard to break Richardson's single-season all-purpose yards record of 2,083 yards (1,679 rushing, 338 receiving, 66 kickoff return) set in 2011.