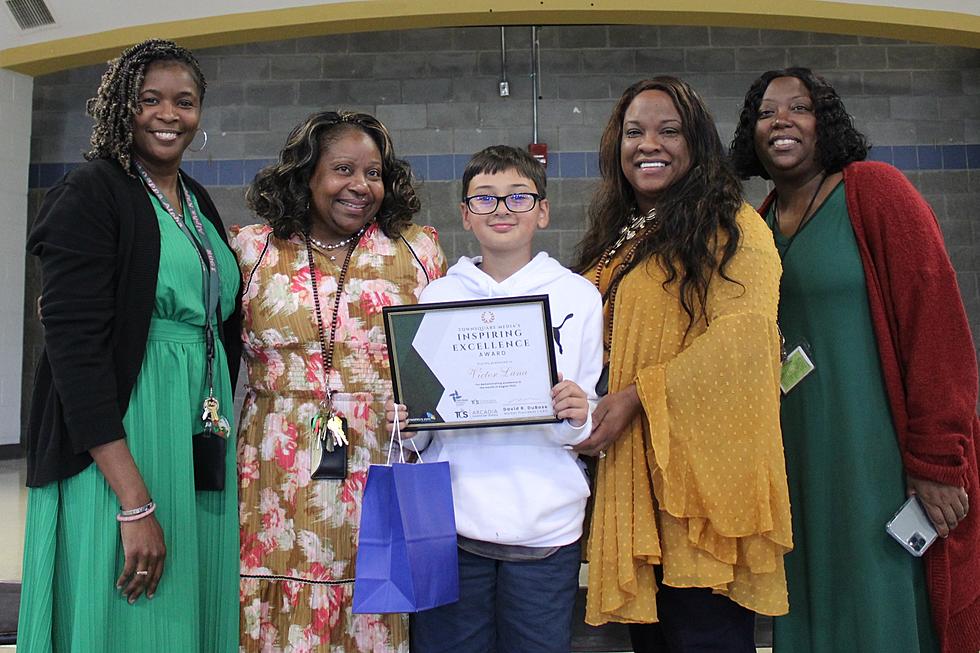 Victor Luna Inspires Excellence at Tuscaloosa's Arcadia Elementary
(Stephen Dethrage | Tuscaloosa Thread)
Tuscaloosa City Schools, along with Townsquare Media Tuscaloosa and Child Abuse Prevention Services, will highlight and recognize Inspiring Excellence Student Of The Month from each of the 21 schools in the district during the 2023-2024 school year. Every month, two to three outstanding TCS students will be highlighted in this series.
Students and staff surprised a vibrant young leader at Tuscaloosa's Arcadia Elementary School with a short ceremony in his honor Thursday as he was named their 2023-2024 Inspiring Excellence Student of the Month.
The honoree, fifth grader Victor Luna, is kind, and polite and it's immediately clear that he is not your typical fifth grader. Victor said he enjoys playing soccer, reading and learning to code, and that he was honored to receive the award Thursday.
"I feel like I've been a really good student, I've been listening really well and I've been really trying to put effort into school," Luna said. "I have a really good class and I want to go to the University of Alabama, to get a good scholarship and learn well and to become a great person in the future."
Gladys Wright, the principal at Arcadia, was effuse with praise for the young man.
"Victor Luna is an amazing 5th-grade student who strives for greatness. He is a true leader at Arcadia Elementary," Wright said. "Victor is a straight-A student with outstanding citizenship. He is Arcadia's morning announcer which includes greeting the faculty, staff and students. He leads the school body in the Pledge of Allegiance as well as our school oath, The Stampede Way. He serves as Arcadia Elementary School Ambassador and SGA member. Victor enjoys reading and computer time."
Luna was presented with a gift bag from CAPS Tuscaloosa and interviewed by the Big Dawg Dre Day, a DJ on Townsquare Media's 105.1 the Block and 92.9 WTUG. His message will air all month on all eight of Townsquare's live and local radio stations.
The fifth-grade prodigy said he hopes his good behavior can serve as inspiration for his classmates.
"I hope I inspire them, I can make them be like me and listen to our teachers and maybe one day they can do announcements and speak to the whole school, too."
For profiles of Inspiring Excellence Students Of The Month from each of the Tuscaloosa City Schools this academic year, stay connected to the Tuscaloosa Thread.
Top Stories from the Tuscaloosa Thread (8/28 - 9-4)
10 of the Top Stories published by the Tuscaloosa Thread during the week of August 28th, 2023)