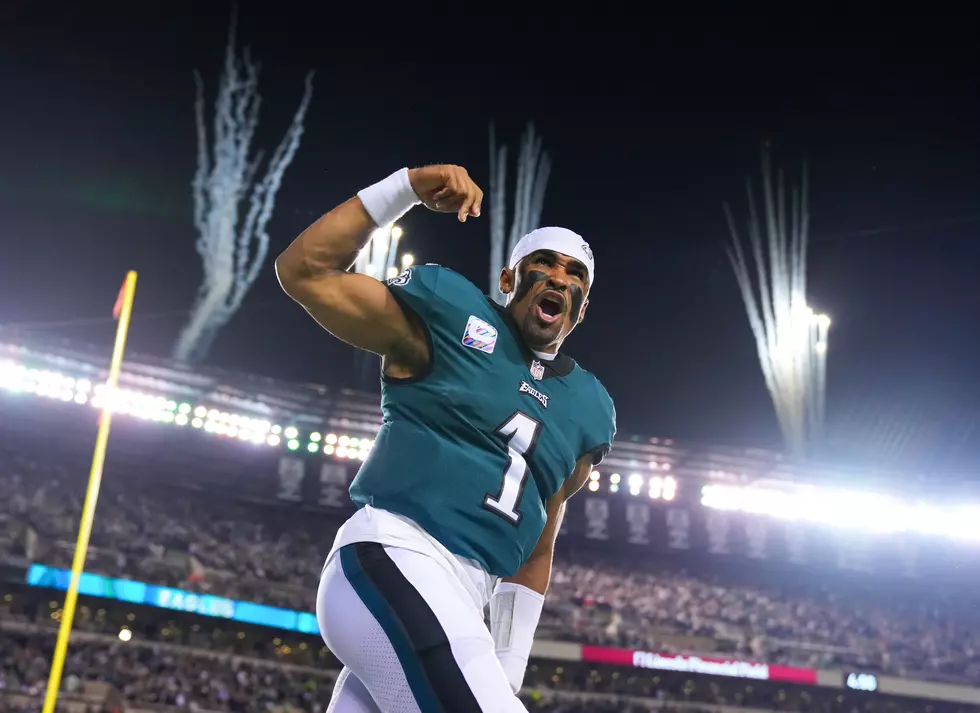 Jalen Hurts Continues to Dominate Against the Steelers
Getty Images
The Philadelphia Eagles crushed the Pittsburgh Steelers 35-13 led by former Alabama quarterback Jalen Hurts. Hurts had a 140.6 passing rating and finished the game with 285 yards and four touchdowns. The Eagles are still unbeaten and ranked first in the NFC at this time.
The Eagles, coming off a bye week, showed no signs of rust, scoring touchdowns on their first two possessions of the game. Hurts scored on a 39-yard pass from A.J. Brown. They connected for another touchdown, this time for 27 yards, on the next possession. Hurts and Brown's connection appeared unstoppable in the first half, when they scored their third touchdown for 29 yards.
Jalen Hurts connected with Zach Pascal on a 34-yard touchdown pass, his fourth of the game. Hurts isn't shocked when his teammates do amazing things on the field; in fact, he's always thrilled to see what they'll perform next.
"When I see them make those plays in the game or better yet when I'm playing with them in the game, I'm like I got my popcorn ready after I have thrown them the ball." Said Hurts "I want to make sure I do my job to get them the ball and then I can be a fan and watch them go to work."
Despite the fact that the Steelers are one of the NFL's worst teams this season, Hurts and the Eagles did exactly what they were meant to do: they dominated their opponent. Hurts should be considered for the MVP, and he will have an opportunity to show off his skills and this high-powered offense when he returns to his hometown of Houston Texas to face the Texans on Thursday Night Football.
Notable Bama Players to Play in the WNBA
Alabama Women's Basketball Photo Shoot 2022-23
2022 Black History Makers of Alabama