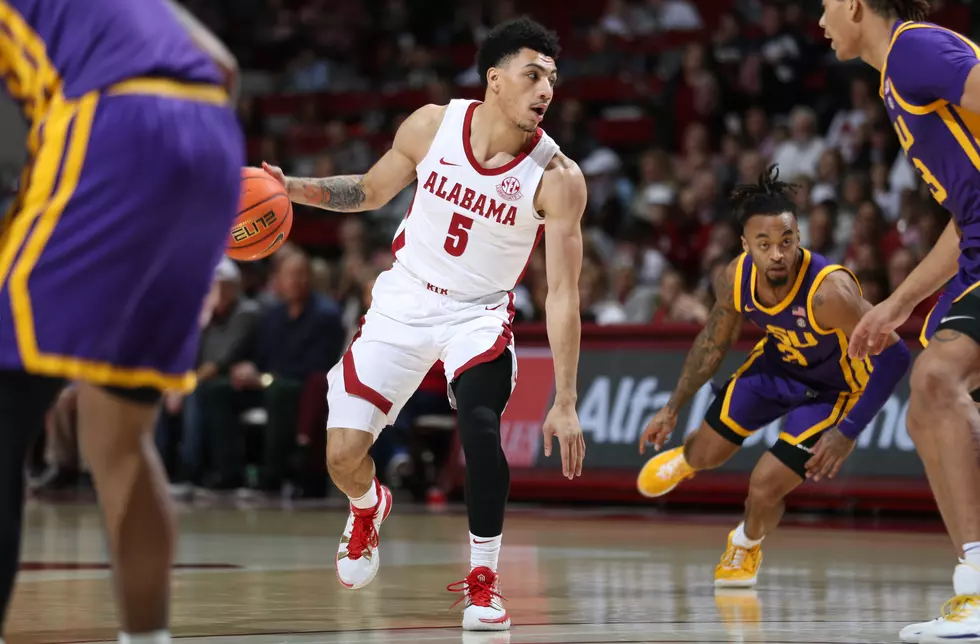 JQ is Finally Hitting his Stride
Crimson Tide Photos / UA Athletics
Alabama basketball is having their best season in years. The team is currently the number three team in the nation and undefeated in SEC play. One of the key pieces to Alabama's success this year is guard, Jahvon Quinerly.
Last season, JQ suffered a ACL tear in Alabama's Round of 64 matchup against the Notre Dame Fighting Irish. He was expected to come back just in time for SEC play but was able to debut in Alabama's third game against South Alabama. Quinerly appeared in only four minutes, going 0-2 from the field.
Throughout the next few games, Quinerly struggled and could not make any of his shots. These struggles led many Alabama fans to call for him to be benched.
However, it takes time to recover from a torn ACL and many athletes are never the same after sustaining an ACL injury.
The NJ., native gradually started to come into his own as the season progressed. He finally started  to look like his old self during Alabama's January 3rd matchup against Ole Miss, where he recorded 11 points and zero turnovers on 57% shooting.
From that game onward, Quinerly has been a key piece in Alabama's recent stretch of dominance, averaging nine points, three assists, on 40.1% shooting.
Elite guard play late into March can be the difference maker between the teams who are serious title contenders and teams that get eliminated early. Quinerly's ability and experience could be vital for the Crimson Tide when the NCAA tournament starts up next month.
When JQ is playing at the top of his game, he is one of the best guards in the SEC, if not the nation.
Alabama vs Florida - Feb 8, 2023
The Alabama Crimson Tide hosted the Florida Gators Feb 8, 2023 and came out on top 97-69.
Northridge vs TCHS