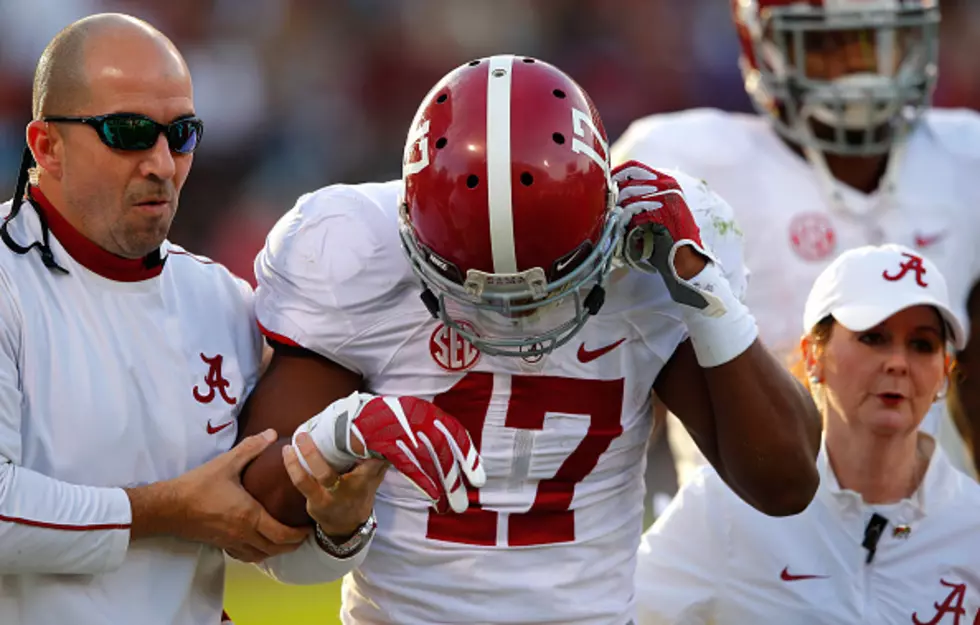 Kenyan Drake Fractures Arm in Mississippi State Win
(Photo by Kevin C. Cox/Getty Images)
STARKVILLE, Miss. -- Alabama running back Kenyan Drake sustained a fractured arm during the Crimson Tide's 31-6 win over Mississippi State and is expected to miss three weeks, coach Nick Saban said during his postgame press conference Saturday.
Saban said Drake will have surgery on the arm Sunday.
Drake, a senior, picked up the injury while making a tackle on a kickoff return in the first half against the Bulldogs. The first player down the field, Drake stuck out his right arm to trip up Mississippi State returner Brandon Holloway, then immediately reached for the arm in pain as a result of the collision.
After a few moments on the ground, Drake walked off the field and into the locker room alongside trainers. Drake returned to the sideline in street clothes after halftime.
Saban compared Drake's injury to the fractured arm former Alabama defensive end Alex Watkins suffered in 2011. Watkins fractured his left arm against Tennessee that season, then played two weeks later in the team's next game against LSU.
"It's going to be something that they have to repair," Saban said. "Playing defensive end is a little bit different than running the ball, so I think we'll just have to see how it goes, but hopefully, in a couple weeks, we'll know a lot more."
With Drake unlikely to play in Alabama's final two regular-season games plus a potential SEC Championship Game berth, the Crimson Tide has just three scholarship running backs left behind starter Derrick Henry, all of whom are freshman (Ronnie Clark, Damien Harris and Bo Scarbrough).
For Drake, it's his second significant injury in two seasons. Last year, he broke his leg at Ole Miss on Oct. 3, causing him to miss the rest of the season.
One of the team's more versatile players, Drake ranks second on the team in rushing this season with 333 yards and a touchdown on 68 carries. He's also made 21 catches for 234 yards and one score.