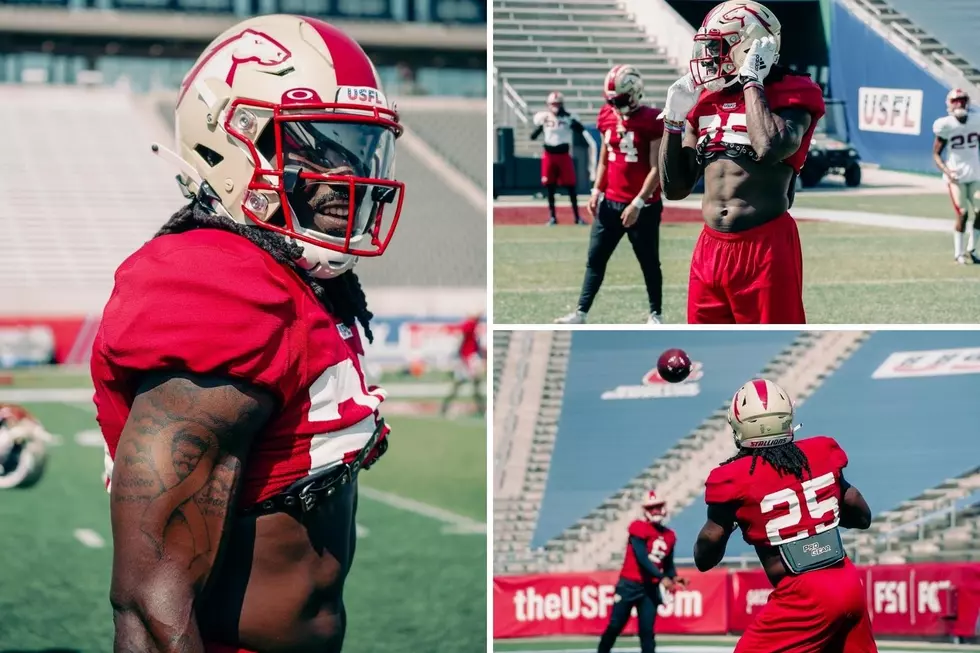 LOOK: Bo Scarbrough Takes the Field with Birmingham Stallions
Photos courtesy of @USFLStallions on Twitter
Former Alabama running back Bo Scarbrough officially made his practice debut with his brand new team this week.
After spending nearly a year away from professional football, the Tuscaloosa native joined the USFL's Birmingham Stallions, instantly becoming one of the league's most recognizable names.
Read More: Former Bama Running Back Suiting Up for Birmingham Stallions |
In a tweet shared by the team, Scarbrough can be seen warming up at his first practice and looks to still be in great playing shape.
Prior to joining the Stallions, Scarbrough had a brief stint in the NFL in which he played for five teams in three years, finding the most success in his short time with the Detroit Lions.
As a member of the Lions in 2019, Scarbrough started five games and rushed for nearly 400 yards, but was waived less than a year later after an injury and the drafting of rookie backs D-Andre Swift and Jason Huntley.
Injuries were nothing new for the big bodied back though, as he also dealt with them in both his high school days and his time at Alabama
In his first three years at Northridge High School in Tuscaloosa, Scarbrough suffered a broken ankle, torn ACL and high ankle sprain before moving over to Tuscaloosa County High School and ultimately IMG Academy for his senior season.
After dominating opposing defenses for a year in Florida, Scarbrough joined the Tide as a five-star prospect, but was again bit hard by the injury bug, suffering another torn ACL as a freshman and a broken fibula as a sophomore.
If Scarbrough can manage to stay healthy, he will instantly provide one of the most explosive rushing attacks in all of the league to the top team in all of the league.
The undefeated Birmingham Stallions (4-0) take on the Philadelphia Stars (2-2) May 15 at Protective Stadium in Birmingham at 11:00 A.M. as Scarbrough looks to make his USFL debut.
Alabama Crimson Tide All-Time Rushing Leaders
Highest Rated Recruits of the Saban Era By Year
Check out Alabama's highest-rated recruit from each Crimson Tide recruiting class during the Nick Saban era.
The 10 Greatest Athletes from Alabama