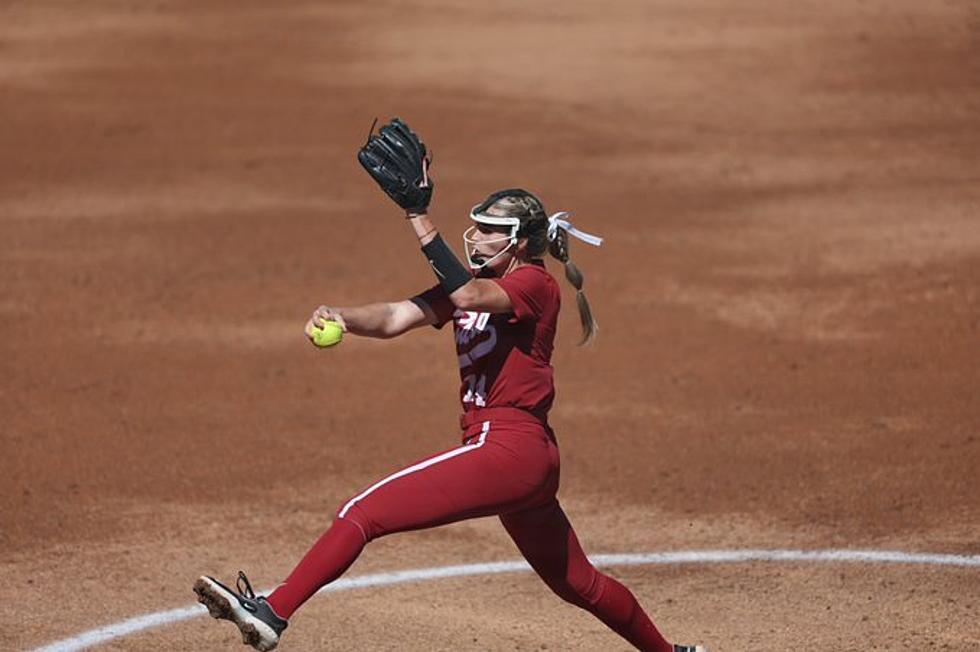 Montana Fouts Completes Perfect Game Against Longwood
Photo Courtesy of Alabama Softball
Montana Fouts threw for her third career perfect game in a dominant 8-0 win over the Longwood Lancers (10-9) Sunday afternoon.
"I felt really good with my riseball and our defense has been killing it," Fouts said. "So I was really thinking to trust them. Lance Thompson, our pitching coach, and I were really on the same page."
Fouts had a dominant weekend against the Longwood Lancers, throwing for a complete game shutout on Saturday and a perfect game on Sunday. Across 13 innings pitched, she struck out 26 batters, gave up only three hits, and allowed just four runners to reach base.
Fouts commanded the game early on, retiring Longwood on seven pitches in the first inning. Later in the first, Ally Shipman scored on a single and a fielding error by the Lancers' center fielder.
The rest of the game was a Montana Fouts' clinic, as she struck out the side in the 2nd, 4th, and 5th innings.
Emma Broadfoot, Dowling, and Shipman produced most of Alabama's offense at the plate and on the basepaths. Broadfoot and Dowling both had a pair of hits and drove in a run each. Broadfoot recorded her first stolen base of the season.
Shipman played a critical role in catching Fouts' dominant outing. The graduate catcher was perfect at the plate, recording a sacrifice fly, a triple, and walked twice.
"Shipman was making me look better than I probably was," Fouts said. "So it was a good game."
Ashley Prange broke the game wide open in the bottom with a three-run home run to expand Alabama's lead to 7-0. Jordan Stephens hit a walk-off RBI single in the sixth inning to activate the mercy rule.
It was a dominant weekend for the entirety of Alabama's pitching staff, starting with Lauren Esman's complete game shutout against Robert Morris on Friday. Jaala Torrence threw her first ever no-hitter in a 10-0 mercy rule win overt Robert Morris on Saturday.
"We have a circle drawn around the position," coach Patrick Murphy said. "It's a pretty important position and you saw it this weekend. All of our pitchers looked pretty good this weekend."
"Our pitchers have straight up dominated this weekend," Prange said. "So it's been really fun to play behind them."
With the win, the No. 9 ranked Crimson Tide improved their record to 16-3. Western Michigan visits Rhoads Stadium Tuesday, March 7. First pitch is at 6 p.m. CT.
Alabama Softball's Season Opener
Alabama softball's 2023 season opening weekend.
Alabama Crimson Tide Softball Record Book
These are the names that stand above the rest in the Alabama Crimson Tide softball record book.
Alabama Baseball 2023 Roster
Take a look at the Alabama baseball roster for the 2023 season.