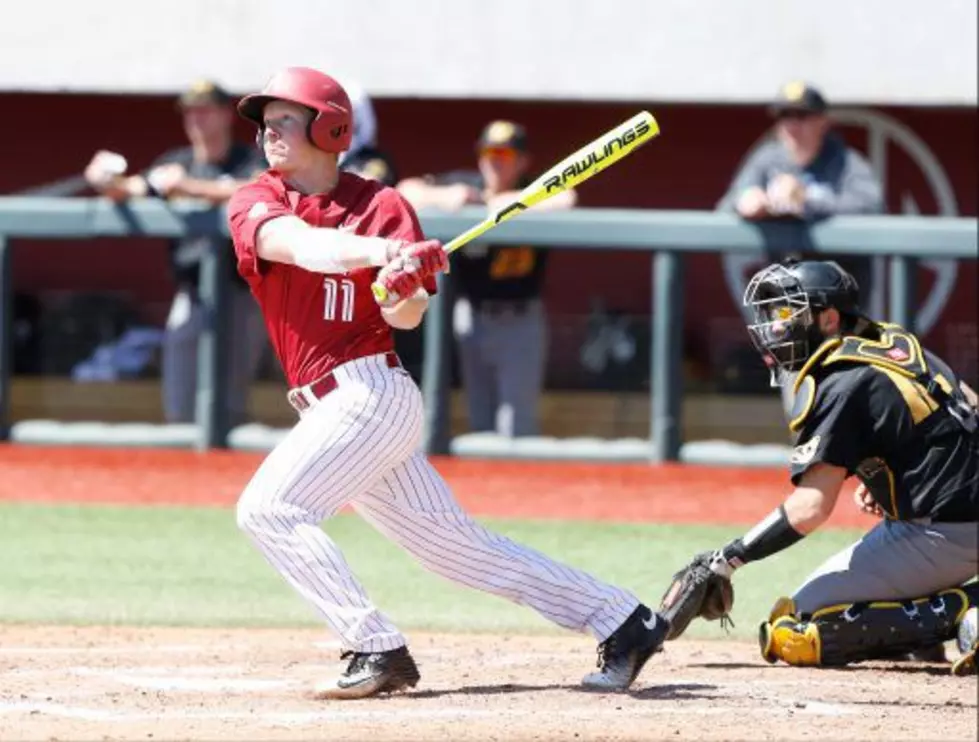 PREVIEW: Alabama Baseball Weekend Series at South Carolina
Photo courtesy of Alabama Athletics
The Crimson Tide (11-10) hits the road for an SEC series against South Carolina (15-5) this weekend, and it's only the second time this season that the Tide have played away from Sewell-Thomas Stadium. 
Last time out for the Crimson Tide:
The Crimson Tide traveled for the first time of the season earlier this week, topping UAB (13-8) 4-1. Freshmen lead the Tide on the mound, showing that a bright future is in store for the three.
In his career debut, Deacon Medders kept UAB scoreless for four innings, allowing three hits, walking two, while striking out three batters in 53 pitches. Lefty Garret Rukes (2-1) earned his second win of the season, relieving Medders for 3.1 scoreless innings. Rukes gave up two hits, striking out a pair before Davis Vainer stepped to the mound for his third save of the season. The Tide closer finished off the last 1.2 innings of play, allowing one unearned run and a hit, striking out three Blazers.
The Tide was lead offensively by Gene Wood's perfect 3-for-3 night, which included a walk, an RBI and one run scored. Hunter Alexander finished 2-for-4 with a double, leading the team with two runs batted in. Connor Short launched a ball deep over the center-field for his second home run of the season.
Last time out for South Carolina:
The Gamecocks (15-5) hosted and defeated Charleston Southern (11-7), 3-0, on Wednesday night.
Four Gamecocks pitchers combined for nine scoreless innings, giving up only five singles. Sophomore Graham Lawson earned his second win of the season, allowing two hits and striking out two. John Parke, Reed Scott and Colie Bowers combined as relievers for the five-hit shutout.
South Carolina scored its three runs in the fifth inning. LT Tolbert and Madison Stokes opened with back-to-back singles. Tolbert scored on a sacrifice fly by Hunter Taylor. Alex Destino scored Stokes with an RBI single. After some wild pitches, the bases were loaded and Jacob Olson was walked to score the third run.
Probable Pitchers:
Friday: The junior right-hander Jake Walter (3-2) has the fourth lowest earned run average for the Tide with 1.91. In 28.1 innings pitched, Walter has struck out 29 batters. Walter is tied with Dylan Duarte with the most strikeouts in a single game for the Tide, mowing down 8 Missouri batters last weekend.
Saturday: The sophomore left-hander Duarte (2-1) has an earned run average of 2.18. Pitching 22.2 innings, Duarte has struck out 26 batters. Duarte pitched a season high of eight strikeouts against Louisiana Monroe. Later Duarte tied his high against Arkansas-Pine Bluff
Sunday: Senior right-hander Nick Eicholtz (1-0) has one of the highest earned run averages for the Tide with 6.48. In four appearances on the mound, Eicholtz has pitched for 16.2 innings, striking out 11 batters. On average Eicholtz strikes out three batters per appearance.
Key players to watch:
Chandler Avant: The junior short stop is batting .349 with a team high 30 hits and six runs batted in. Avant, who has earned his way on base in eight straight games, leads the team and is tied sixth best in the SEC with eight doubles. Avant is second on the team with 14 runs scored, just under Chandler Taylor who has 16. The lead-off batter also leads the Tide with six stolen bases, which is tied for eigth best in the SEC. Avant's batting average is 22nd-best in the SEC
Hunter Alexander: The junior third baseman is batting .308 with 24 hits, with 16 runs batted in, and a slugging percentage of .474. Alexander is second on the team in RBIs, just under Vance who has 17. Tied with Vance, Alexander has hit 5 doubles for the third most on the squad.  Alexander also ties Connor Short with two home runs on the season so far, the third best for the Tide.
Alex Destino: The junior left-fielder has the second-highest batting average at .315 with 23 hits, four doubles and four home runs. Destino leads the team with 18 runs batted in and six multi-RBI games. Destino also leads the team in home runs, tied with Chris Cullen and Jacob Olsen.
Jacob Olsen: The sophomore utility infielder has the second-most hits (20) for South Carolina and is second on the team with 13 RBI. Both Olsen and Destino are both tied second with 12 runs scored.
As a Reminder:
Game times are currently scheduled with the first pitch Friday at 6 p.m. at Founders Park in Columbia, South Carolina. The second game on Saturday with a 3 p.m. start, then the series finale Sunday at 12:30 p.m.
You can listen to each game on Tide 102.9 and 100.9 FM, or online at tide1029.com