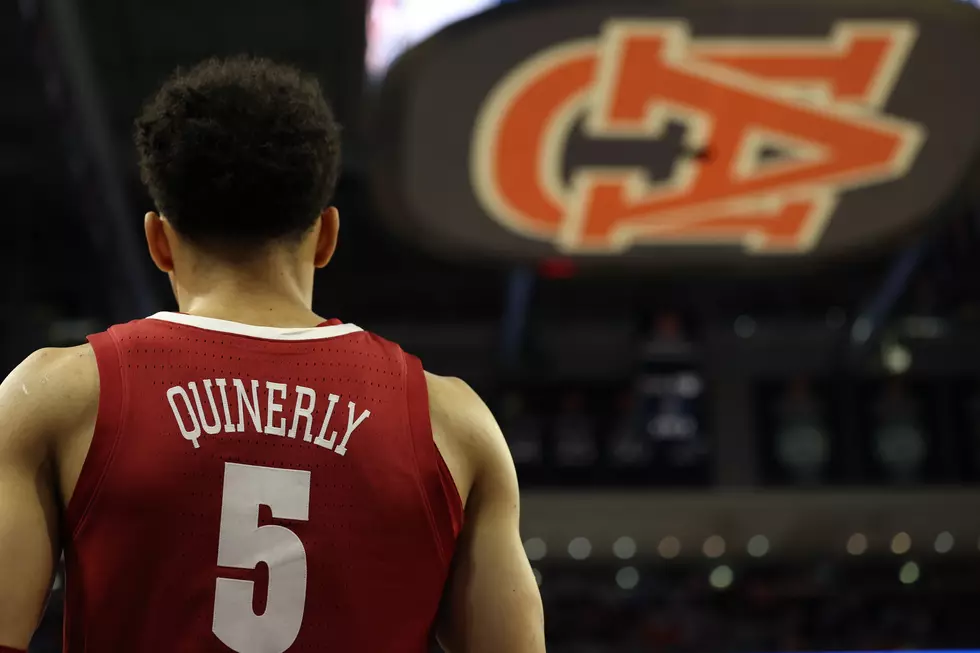 Quinerly Wins Co-SEC 6th Man of the Year
Crimson Tide Photos / UA Athletics
Alabama guard Jahvon Quinerly has been selected SEC Co-Sixth Man of the Year. This season, the fifth-year senior has averaged eight points per game with 3.7 assists, ranking sixth in the conference, and is shooting 39.9% from the field and 35% from three. Quinerly was honored alongside Kentucky guard Antonio Reeves as SMOTY.
Quinerly is the first University of Alabama basketball player to get the award. In addition, he is one of six Alabama players to collect SEC accolades this season, including Jaden Bradley, Brandon Miller, Noah Clowney, Charles Bediako, and Mark Sears.
Quinerly averaged 13.8 points, and 4.2 assists, and started 27 games last season. This season, he has served as the team's sixth man and has not started a game, but has started in the second halves of the last two games against Auburn and Texas A&M.
JQ suffered an ACL injury in the first round of last year's NCAA tournament game against Notre Dame. His rehabilitation period was shorter than most people expected going into the season along with whether he would return to Tuscaloosa or not. Quinerly made his season debut against South Alabama in November. He was just on the field for four minutes.
Quinerly's contributions on and off the court have helped Alabama have a great regular season. He has served as the team's veteran leader, particularly for freshman standout guard Jaden Bradley.
Back in the Phil Knight Invitational against North Carolina, JQ had a season-high 21 points and eight assists in 44 minutes against the nation's top team at the time. Quinerly advised head coach Nate Oats to keep point guard Bradley in late in the game in the upset victory over Houston because he observed how well the offense was operating with him at point guard, demonstrating confidence in his players and the leadership that he had.
Alabama has had some trouble holding onto the ball this year. The Crimson Tide has averaged 14 turnovers per game, and those turnovers have cost the team several games. Alabama turned the ball over 19 times in the game against Tennessee, and Quinerly had six of them, and fans were not thrilled with him at the time.
Yet, in the crucial "Iron Bowl of Basketball" game against Auburn, Quinerly led the way with 24 points as Alabama claimed the regular season championship over their archrivals. Something about the month of March has always been beneficial to JQ, as seen by his SEC tournament MVP performance in the 2020-21 season.
The Tide are attempting to win their second SEC tournament championship in three seasons. To reach that target, Alabama will need Quinerly to perform at the same level in both the league tournament and the NCAA tournament. Alabama will await the winner of the Mississippi State vs Florida game on Friday.
Alabama vs Auburn 3-1-2023
Alabama knocked off Auburn 90-85 in overtime in Coleman Coliseum to secure the 2023 SEC Regular Season Championship.
Alabama Basketball vs North Carolina - PKI 2022
No. 8 Alabama Beats No. 1 Houston
The No. 8 Ranked Alabama Men's Basketball Team took down the No. 1 Houston Cougars 71-65 after mounting a 15-point second half comeback in Houston on December 10.